Home / Sports / Minor League Sports
Overtime a 4-letter word again for RoughRiders, who fall to Waterloo, 3-2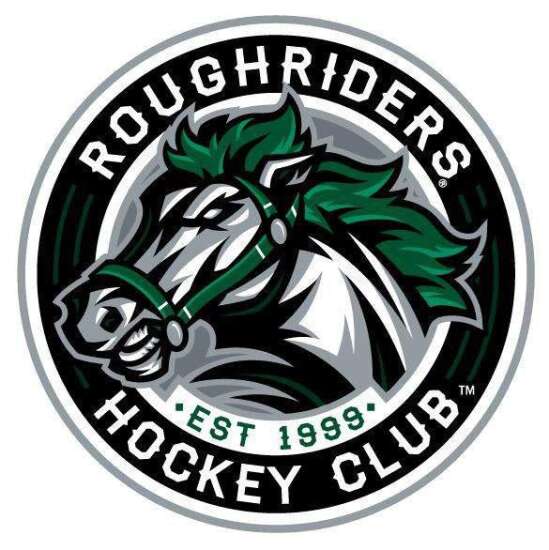 CEDAR RAPIDS — Team Overtime was back at it again Saturday night at the Cedar Rapids Ice Arena.
This was the sixth time in their last nine games the Cedar Rapids RoughRiders have gone past regulation. Unfortunately, it was the fifth time in those six games they couldn't find a way to win.
Mason Palmer scored off a 2-on-1 one-timer less than two minutes into the extra period to give Waterloo a 3-2 victory before a season-high 3,851 fans at the Cedar Rapids Ice Arena. It was just the defenseman's second goal of the season, naturally.
'We just have to keep working hard,' said RoughRiders captain Marc McLaughlin. 'Stick with it towards the ends of games. It's just a matter of keeping our confidence, keeping our cool ... in those situations. I think it's going to come.'
The RoughRiders continue to creep up the standings in the USHL's Eastern Conference, but you can't help but think what could have been. They lost both games this weekend in OT, dropping a 6-5 decision Friday night at Chicago on a disputed goal in which the official asked the goal judge if the puck went into the net.
Just how it's been going for Team Overtime.
'It's nothing major at all,' said RoughRiders Coach Mark Carlson, when asked what his team has to do to turn around these games. 'I think we've been playing a lot of good hockey. That means we've been in a lot of hockey games. It's a one-shot deal, so I don't think there's anything (different) we need to do.'
Perhaps somewhat surprisingly, Carlson said he loves the USHL's 3-on-3 overtime format. It does create a ton of open ice and opportunities.
On the winning goal, Palmer outsprinted a RoughRiders player from his own end to get into the play, taking a feed from teammate Garrett Klee. He didn't get a ton on his shot, but C.R. goaltender Blake Pietila couldn't quite get over quick enough to stop it.
Pietila was very good in this game with 22 saves. He was busier than Waterloo counterpart Jared Moe, though Moe did stop McLaughlin on a penalty shot after being taken down on a short-handed breakaway with 14:44 left in the third period.
Cedar Rapids was up at the time, 2-1. Moe's save was followed less than a minute later by a game-tying power-play goal from Jackson Cates.
Niko Esposito-Selivanov opened the scoring for the Black Hawks 7:10 into the first period, with C.R.'s Chase Blackmun tying it late in the period. Jordan Timmons put the RoughRiders ahead late in the second period on a one-timer from the faceoff dot, after being set up on a sweet right-wing rush by defenseman Tyler Jubenvill.
l Comments: (319) 398-8259; jeff.johnson@thegazette.com