Home / Sports / Minor League Sports
New season gives Cedar Rapids Kernels, fans hope
Watching games again makes things 'OK'
Ashton Pollard and Jonathan Mills - correspondents
May. 10, 2021 8:30 am, Updated: May. 10, 2021 10:21 am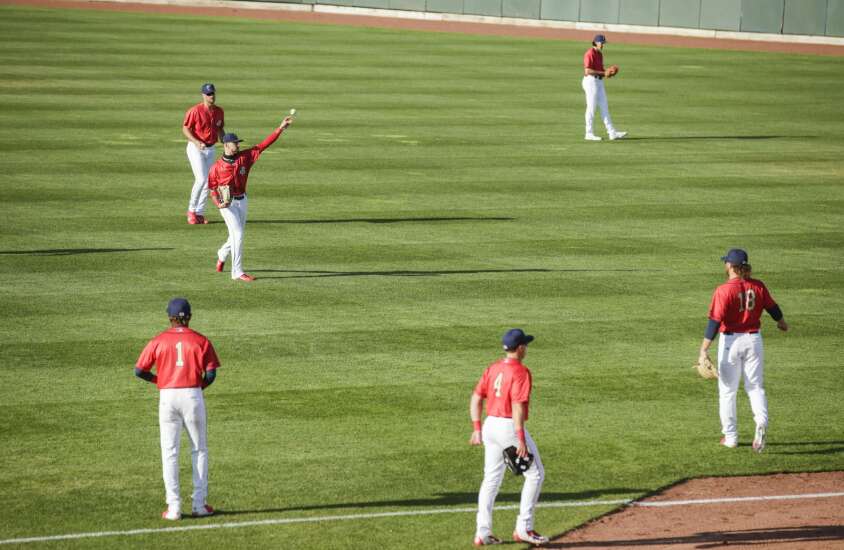 CEDAR RAPIDS — Nine months ago, minor league baseball was of little concern for the people of Cedar Rapids.
An unexpected derecho ravaged the town. A life was lost. Homes, businesses and vehicles were destroyed. Flooding wiped out millions of acres of crops, debris littered the area and some were without power for weeks.
Against that backdrop and the COVID-19 pandemic, sports seemed trivial.
But nine months later, Veterans Memorial Stadium reopened its gates last week to a community desperate for an escape.
"Just getting away from everything and just being able to enjoy the Kernels. It's definitely been nice," said Daniel O'Rear, a lawn care worker in Cedar Rapids who was heavily involved in storm cleanup.
Violent winds and thunderstorms badly damaged the ballpark. The outfield wall, ribbon board and stadium lights were destroyed. Additionally, Kernels general manager Scott Wilson said there was extensive damage to many of the stadium offices.
"When the wind came in the water was literally just coming underneath the windows like the faucet was turned on," Wilson said.
Stadium repairs have totaled $1.3 million and are ongoing, but Wilson said hours of hard work by countless individuals made it possible for fans to return on Opening Day.
"It's been a herculean event," Wilson said. "Just to get to where we are now, and be able to do this, wow."
When the first pitch was thrown on Tuesday, Wilson was overcome with emotion.
"I just felt this new sense of relief," he said. "And it was weird. I get goose bumps just thinking about it now. It was like the feeling I had, and the added sense of protection I felt after I got the first vaccine shot."
As fans walked around the ballpark, the aftermath of the storm lingers. Makeshift lighting on the far left and right sides of the stadium is visible, but new LED lighting will be installed this week when the Kernels go on the road to the Quad Cities.
So while the Kernels are fortunate to have the resources to quickly repair their home, many Iowans are still hurting and trying to recover.
Kernels radio play-by-play broadcaster Chris Kleinhans-Schulz said the return of minor league baseball in Cedar Rapids should not overshadow what Iowans are going through.
"You know, minor league baseball and really any of this in the grand scheme of things isn't important," Kleinhans-Schulz said.
But all in all, the Cedar Rapids community is just thrilled to be back watching baseball.
"My motto has always been as soon as our season starts this year, for every crack of the bat, I'll forget 20 minutes of 2020." Wilson said. "We're doing all right. I'm forgetting a lot of it right now. We're doing OK."
Ashton Pollard and Jonathan Mills are graduate students in the sports specialization Masters program at Northwestern's Medill School of Journalism, Media, Integrated Marketing Communications. Twelve students were in Cedar Rapids, Davenport, Des Moines and South Bend this week reporting and writing stories on Minor League Baseball.