Home / Sports / Minor League Sports
Kernels blow 4-run lead, lose to Quad Cities in 10 innings, 5-4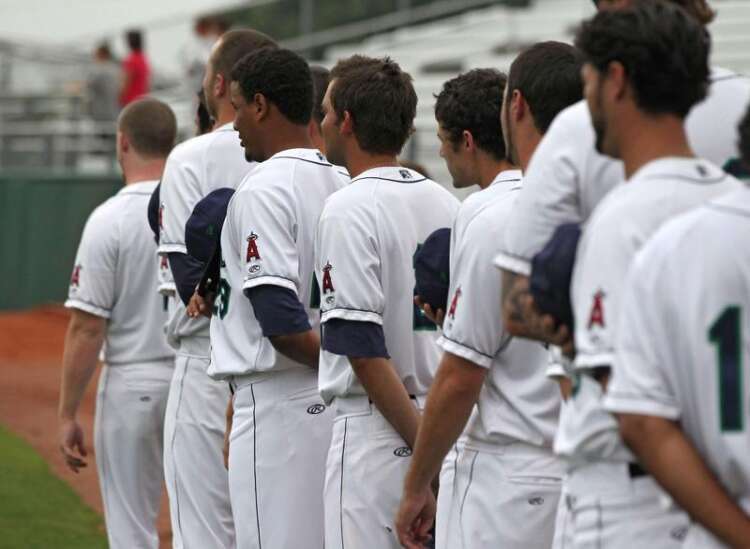 DAVENPORT — This was a gigantic missed opportunity.
Josh Rojas singled home pinch runner Luis Payano with one out in the 10th inning to give the Quad Cities River Bandits a 5-4 win Saturday night over the Cedar Rapids Kernels in Game 1 of the Midwest League Western Division championship series.
The Kernels blew a 4-0 lead after six innings and must win Sunday afternoon's Game 2 to extend this best-of-three set. First pitch is 4:05 at Veterans Memorial Stadium.
'It hurts a lot,' said Kernels Manager Tommy Watkins. 'Being up four runs like that. But that's part of the game. We've got to bounce back tomorrow.'
Houston Astros major league rehab infielder Colin Moran led off the 10th against losing relief pitcher Ryan Mason with a walk. Payano pinch ran for him and went to second base on Chuckie Robinson's sacrifice bunt.
Mason intentionally walked Abraham Toro-Hernandez, but Rojas lined a single to right field, with Payano sliding home safely just ahead of right fielder Jimmy Kerrigan's throw.
The Kernels scored four runs in the second against Quad Cities starting pitcher Carlos Sanabria. Lewin Diaz doubled leading off, Caleb Hamilton walked and Kerrigan walked with one out to load the bases.
Ben Rortvedt singled home Diaz and Hamilton, with a wild pitch scoring Kerrigan. Ariel Montesino then singled to score Rortvedt.
Starting pitcher Tyler Watson was brilliant through six innings but couldn't get the final out of the seventh. With the bases loaded and two away, number nine hitter Bryan De La Cruz singled to left to score a pair of runs.
Logan Lombana relieved Watson, but Chas McCormick singled to score a third run. With runners at the corners and two outs, Moran hit a grounder toward the middle that Kernels shortstop Royce Lewis couldn't handle cleanly, his throw to first ruled a shade late, though Watkins thought it was in time.
'Nothing we could do about that,' Watkins said. 'Honestly, I thought he was out.'
Cedar Rapids had a great chance to take the lead in the ninth. Hamilton walked with one out, Trey Cabbage was hit by a pitch and Kerrigan reached on an infield single to load the bases.
But Quad Cities reliever Jesus Balaguer struck out Rortvedt swinging and Montesino looking to end the threat.
'We just got too big there (at the plate),' Watkins said.
l Comments: (319) 398-8259; jeff.johnson@thegazette.com