Home / Sports / Minor League Sports
Kala'i Rosario seeks to be next Hawaiian in the big leagues
Cedar Rapids Kernels outfielder has been his team's hottest hitter in May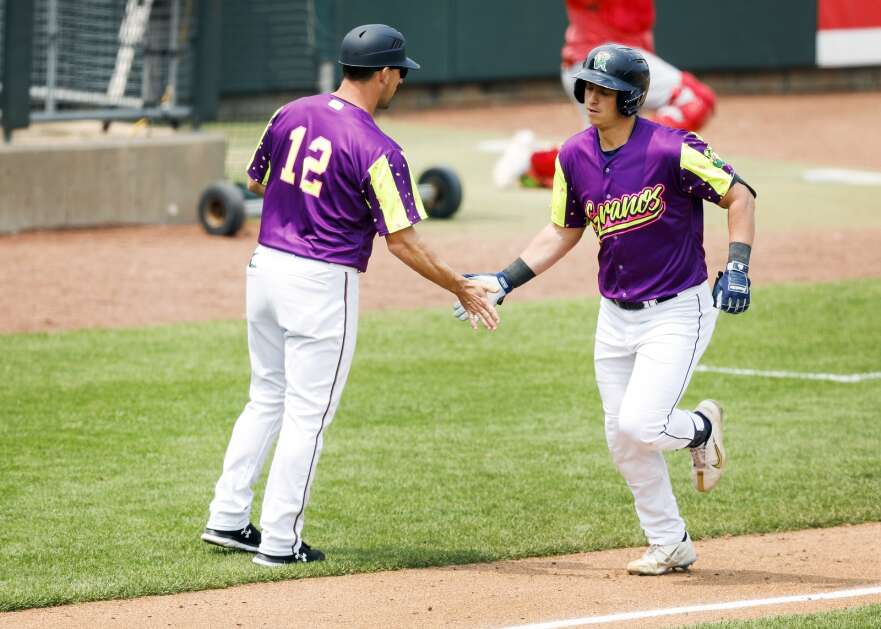 CEDAR RAPIDS - They do play some baseball on the Hawaiian Islands.
Kolten Wong has been in the major leagues for 11 years. His brother, Kean, has played in the bigs.
Kodi Medeiros has, too. Outfielder Kala'i Rosario hopes to join that club someday.
"Baseball is a really big sport in Hawaii," said the Cedar Rapids Kernels outfielder, whose team lost Wednesday afternoon to Peoria at Veterans Memorial Stadium, 6-4. "I wouldn't say we've got a lot people that scout our islands. But the passion is there. We've got a lot of good players. You're not going to find the biggest guy over there, but we've got guys who love the game. It was kind of cool for myself getting drafted. I've kind of had all these kids look up and say 'You got it. Come on, let's go and get it, too.'
"That was kind of like me looking up to Kolten and Kean Wong, guys like Kodi Medeiros. They did it, so I just feel like if I put in the work, I can be just like them."
Rosario has been the hottest Kernels batter in May. He's hitting .377 this month, including 2-for-4 with a double Wednesday.
The surge has bumped his season batting average to .288. Rosario is walking, too, his team's most consistent offensive force.
"Out here in C.R., it's a little bit different than Florida. I was in Florida all last year (with low-Class A Fort Myers), and it's a little bit colder here," Rosario said. "My swing, I made a few little adjustments. But it was mostly just keeping my mindset to where it's a long year, and you have to stay with it. It's 100-plus games, you are going to have your ups and downs. It's just kind of staying with it, and it will turn around."
Rosario was a fifth-round draft pick of the parent Minnesota Twins in 2020 out of Waiakeia High School in Hilo, Hawaii. Because of the COVID-19 pandemic, the draft that year was just five rounds.
The 20-year-old had signed with Division I California Baptist, but he said there was no doubt he was turning pro when Minnesota drafted him. He hit .277 in 2021 for the Rookie-level Florida Complex League and had 12 home runs last season for Fort Myers.
Though he only has only home runs so far this Midwest League season, he's got some thunder in his bat, and that power was what he was known for as a prep. The fact that his overall hitting is progressing is a positive sign.
By the way, Kaha Wong, the father of Kolten and Kean, was Rosario's hitting coach growing up. He is close with the Wong brothers.
"(Kaha) has been my hitting coach my whole life. I would meet with him every week, almost every night," Rosario said. "In the offseason, I hang out with Kolten and Kean. I stayed with them in Arizona (in the offseason) and worked out."
The Kernels (19-16) had a five-game win streak snapped here, as Peoria (19-16) scored five early runs and made them stick. Kyler Fedko had a two-run home run for Cedar Rapids.
The teams continue their six-game series Thursday night at 6:35.
Comments: (319)-398-8258, jeff.johnson@thegazette.com