Home / Sports / Minor League Sports
Finally an overtime winner for Cedar Rapids RoughRiders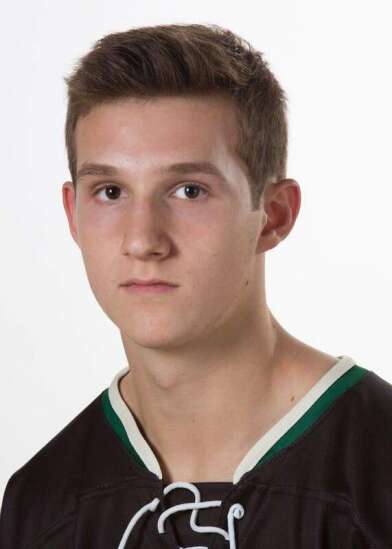 CEDAR RAPIDS — He wanted a burrito from Chipotle, but it was just too painful to chew one.
So Jason Polin had to compromise a bit when it came to his first real meal after having the wires removed that were keeping his mouth shut. It was McDonald's breakfast, not Chipotle lunch.
'You can't go wrong with their hotcakes,' Polin said with a smile.
The 18-year-old center had the tying goal with 4:23 left in regulation, then the winner 1:33 into overtime Saturday night as the Cedar Rapids RoughRiders outscored Central Illinois, 6-5, at the Cedar Rapids Ice Arena. Almost makes breaking his jaw in a September preseason game worth it.
Well, not really.
'It wasn't fun, that's for sure,' Polin said. 'The first week was the hardest, knowing I was going to be out for so long. After awhile, you get used to your mouth being wired shut, eating from a straw and everything. It was definitely a process, but I'm glad it's over.'
With his only sustenance being smoothies, milkshakes and blended-up soup, Polin lost 10 pounds during this ordeal, though he said he has gained them all back. He was cleared to play (wearing a full facemask) right before the United States Hockey League's holiday break and now has three goals and an assist in five games since returning.
His favorite of the three goals definitely was the winner here. Nathan Smith won a faceoff, drawing the puck straight back to him, his wrist shot from beyond the circle beating Central Illinois goaltender Kris Carlson.
Quite a pick me up for a team that lost two prior games this week in overtime. The RoughRiders (11-10-4, 26 standings points) are unbeaten in regulation in their last seven games, the other of the three losses coming in a shootout.
'It just felt good to win one for the boys,' said Polin, a Western Michigan commit in his second season with the Riders. 'We'd had a couple of OT losses in a row, so it felt good to help the team win one tonight.'
'Overtimes and shootouts, you're talking one shot,' said RoughRiders Coach Mark Carlson. 'Tonight we found a way to get it done. More importantly, we found a way to come back in the game. To me, that was the most important thing.'
Marc McLaughlin and Tyler Jubenvill had power-play goals 28 seconds apart to bring Cedar Rapids into a 4-4 tie just 1:15 into the third period. The teams combined for five man-advantage markers in the game, Cedar Rapids with three.
Central Illinois went back ahead, 5-4, on a Lucas Breault goal at the 4:35 mark of the third, but the RoughRiders didn't go away. Polin's tying goal came after exceptional work from Marek Valach, who circled with the puck in and out of the corner and fired a pass to the slot for a one-timer.
Valach and Liam Walsh also had goals for the Riders
'Collectively, as a group, we need to play harder more consistently through the game for 60 minutes,' Carlson said. 'Understand that this is hockey, and there is a price to pay to win games. We're learning.'
The Riders host Youngstown for games Friday and Saturday nights. Defenseman Kyle Looft was the only healthy scratch Saturday night, with forward Nick Granowicz, T.J. Walsh, Jordan Timmons and Dalton Messina all out with injuries.
The game marked the debut of winger Nicholas Cardelli, who was acquired earlier Saturday in a trade from the USHL's Fargo Force. Earlier in the week, forward Steven Agriogiannis was dealt to the USHL's Omaha Lancers.
l Comments: (319) 398-8259; jeff.johnson@thegazette.com