Home / Sports / Minor League Sports
Curti, RoughRiders off to strong start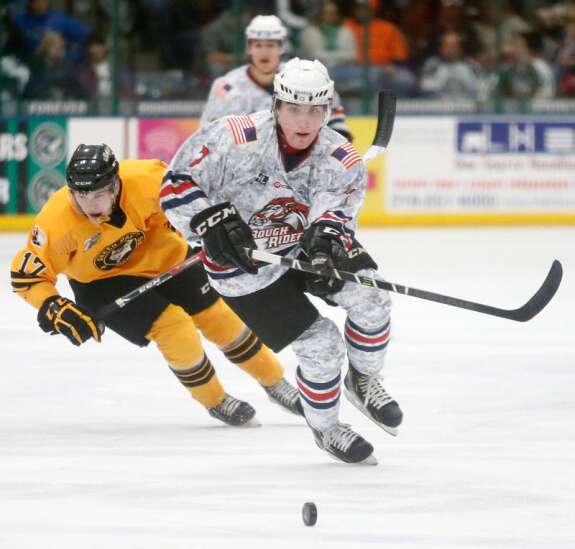 CEDAR RAPIDS – There's a reason Charlie Curti is among the official leadership group of the Cedar Rapids RoughRiders this season.
The second-year defenseman was named a couple weeks ago as an assistant captain of the team, with Andrew Gaus. Co-captains are Clark Kuster and Andrew Oglevie.
Curti was asked the other day if he looked at his individual statistics from time to time. He admitted he did, though there was a caveat.
'I mean, you do. You see your numbers," Curti said. 'But the numbers that matter are the two points you get each night as a team for winning games."
Now that's a response of which head coach Mark Carlson would be most proud. Carlson already is proud of the way the 19-year-old Minnesotan has developed as a player.
Curti was a member of the USHL's All-Rookie Team in 2013-14. He has a goal and six assists in his first 10 games this season, tied with Oglevie for the team lead in plus-minus rating (plus-10).
Cedar Rapids has a killer weekend, playing Friday night at Sioux Falls, hosting Fargo on Saturday night and playing Sunday afternoon at Bloomington. That's three games in three cities in less than 48 hours.
'Plus-minus is definitely not an individual stat," Curti said. 'It has a lot to do with the other guys on the ice. It's about being on a real good team like we have here, with a lot of good young guys, guys that are playing responsibly defensively and scoring goals like we have been. It's definitely not an individual accolade. It's a credit to a lot of teammates' work."
That's another good, selfless response.
'He worked really hard on his weight training and conditioning over the summer, is stronger, faster and more experienced," Carlson said. 'He's doing a good job. He's a very good player. So far, so good."
Carlson gives his players a strict offseason regimen. Those that don't follow it, don't progress.
Curti has progressed.
'Developmentally, I really improved," he said. 'Coming into this season, I thought leadership was one of the things I really wanted to focus on. You can do so much off the ice training wise, but there's also the aspect of being a leader and taking the team to the next level.
'I think the part of my game that I'm most proud about progressing is the defensive aspect. Becoming more of a two-way defenseman. I still classify myself as an offensive, puck-moving guy. But I just want to make sure that, first and foremost, it's my own end where I'm most responsible."
The RoughRiders have gotten off to a blazing 9-1 start, with that only loss by a goal. Despite a pair of young, first-year goaltenders, Cedar Rapids leads the United States Hockey League in fewest goals allowed.
A significant reason for that is a strong and deep defensive corps.
'We've got guys with size, but even the guys with size are all capable of moving the puck," Curti said. 'Guys are really responsible, buy into what we want to do. Whether it's blocking shots or taking away time and space. It's pretty easy to have success when guys are buying in, so that's nice."
l Comments: (319) 398-8259; jeff.johnson@thegazette.com