Home / Sports / Minor League Sports
Corridor Cross Checks: Hawkeyes hockey to national tournament
Iowa Heartlanders, Cedar Rapids RoughRiders have good weeks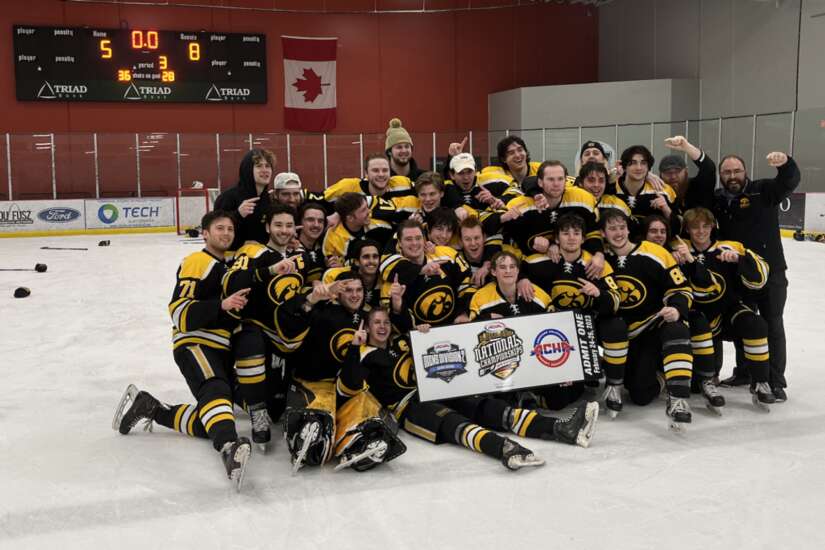 CEDAR RAPIDS — The thing about college club hockey is you've got to raise money to do everything.
To buy jerseys, sticks and equipment. To book ice time for practice. To get transportation and hotels for road games.
To be able to travel to the national tournament. The price tag for the University of Iowa men's hockey club to participate in the American Collegiate Hockey Association Division II tourney this coming weekend in Boston is roughly $30,000.
The Hawkeyes qualified for nationals for the first time through a recent regional tournament. They are one of 16 schools in the national tourney, put into a four-team pod with Liberty University, Northeastern University and Utah State University.
The four teams play each other, with the winner moving on to the final four. There are 181 teams overall at the ACHA Division II level.
"We went and looked it up, the club has been around since the 1970s, and this is our first time going," said Iowa head coach Kevin Brooks. "For us, the last few years, we've kind of put ourselves on the map. We've gotten so much more attention, our social media, jersey sales, having people know who we are now.
"The level of play is amazing. For a team like us, we never know where we're going to end up with funding. If the university is going to jump on board with us or not. We just want to produce the biggest product we can and gain as much traction as we can. We've got some pretty special kids who are coming through this program."
The club has an overall record of 18-3-1 this season. There are eight Iowans on the team, including Ryan Carlson of Cedar Rapids, Blake Brenczewski, Dean Dudzik, Ryan Brickhaus and Ryan Devalk of Iowa City.
The team has been able to raise $27,000 thus far through fundraising and private donations in order to get to Boston for the national tournament. They hope to raise around $3,000 more.
Cedar Rapids RoughRiders
It seems the Cedar Rapids RoughRiders are getting hot at the right time. The United States Hockey League club completed an impressive weekend road sweep of Chicago (3-1) and Waterloo (1-0).
Cedar Rapids has not lost in regulation in its last six games and has a 24-17-4-3 record for 55 standings points. It is in sixth place in the Eastern Conference, 10 points up on Muskegon for the final available playoff spot in the division.
The RoughRiders are one point in back of Green Bay and Dubuque for fourth place and six back of Team USA for third. The top six teams get into the playoffs, with the top two getting first-round byes and the next two hosting a best-of-3 first-round series.
Sam Scopa made 35 saves to get the shutout against Waterloo. Cedar Rapids limited Chicago, the USHL's highest-scoring team, to just 15 shots on goal.
The RoughRiders have a home-and-home series this weekend against Madison: Friday night at Wisconsin and Saturday night at ImOn Ice.
Iowa Heartlanders
Five was the lucky number for the Iowa Heartlanders, who scored that many goals each in a pair of home wins over the weekend. The club topped Indy, 5-2, Friday night, then came right back and beat Kalamazoo, 5-3, Saturday.
Tyler Busch had a pair of goals for Iowa in the win over Indy, which drew a nice crowd of 2,906. Zach White had two goals against Kalamazoo, with Tommy Parrotino adding a goal and two assists.
Iowa lost a mid-week home game last week against Cincinnati, 7-0.
The Heartlanders have a 15-30-12-1 record for 43 standings points, seventh and last in the ECHL's Central Division. Iowa is seven points back of Kalamazoo for sixth.
Comments: (319)-398-8258, jeff.johnson@thegazette.com