Home / Sports / Minor League Sports
Cedar Rapids Kernels kick off playoff series against Kane County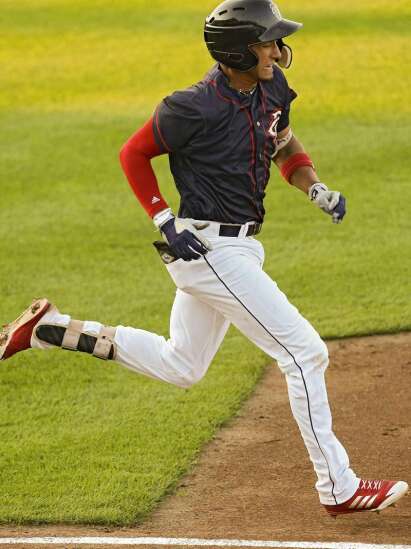 CEDAR RAPIDS — The dream didn't quite happen. Close, but not quite.
At one point last week, it appeared every single affiliate in the Minnesota Twins farm system was headed to the playoffs of their respective leagues. That would have been seven for seven.
Triple-A Rochester ultimately lost out on an International League wild card spot via tiebreaker. The Red Wings still finished with a very nice overall record of 80-62.
The other six Twins farm clubs did qualify: high-Class A Fort Myers, Double-A Chattanooga (which tied the franchise record for victories), Rookie-level Elizabethton, the Rookie-level Gulf Coast League Twins and Rookie-level Dominican Summer League Twins. Oh, and the Cedar Rapids Kernels.
Can't forget about them. They begin a best-of-3 Midwest League opening series Wednesday night at home against Kane County (6:35 first pitch).
Game 2 and, if needed, Game 3 would be in suburban Chicago. The other Western Division semifinal series pits Quad Cities against Peoria.
'Pretty awesome,' Kernels Manager Tommy Watkins said about Minnesota's 2017 minor league success. 'You go to spring training, then start your season, and what everybody wants to do is have a shot to play in the playoffs ... Been looking at the boxscores every night, and it's been exciting looking at those (other) teams winning every night and being at the top of the standings.'
Cedar Rapids sewed up its playoff spot early, finishing second to Kane County in the first half. The clubs finished 75-65 and 72-65, respectively, splitting 16 regular-season games against each other.
So this really is a toss-up series.
'Seems like almost every game we played against them came down to the end,' Watkins said. 'We've had some good ones.'
The starting pitching rotation for the Kernels changed last weekend when Clark Beeker was reassigned to the club from Fort Myers, where he made three starts. The right hander won the Midwest League ERA title (2.03) and went 11-3 here.
He is scheduled to take the ball for Game 2. Righty Tyler Wells (5-3, 3.11 in 14 starts) is the scheduled Game 1 starter for Cedar Rapids.
Lefty Tyler Watson, who went 1-3 with a 4.28 earned run average in five starts after the Twins acquired him in a trade from the Washington Nationals organization, is slated to be the starter in Game 3, or Game 1 of the Western Division finals.
Kane County is expected to go with righty Mack Lemieux (7-5, 4.69) in Game 1, righty Sam McWilliams (11-6, 2.84) in Game 2 and righty Emilio Vargas (5-7, 4.02) in Game 3. C.R.'s Royce Lewis, the first-overall draft pick in 2017, had to leave Sunday's penultimate regular-season game after his first at-bat with an injury, but Watkins said he expected him to be a go for the playoffs.
The skipper said his club got some postseason advice last week from 19-year major league veteran Torii Hunter, who was in town to observe and give advice to players as a Twins special assistant in the baseball operations department.
'We just want to continue to play solid baseball,' Watkins said. 'Pitching, of course, is important. But just play sound baseball, like we've been doing.
'Torii was talking to the guys about having playoff at-bats and approaches coming down the stretch. Trying to do small things. One thing he said is less is more. Don't try to do too much That's what he talked to them about, and that was pretty cool.'
l Comments: (319) 398-8259; jeff.johnson@thegazette.com