Home / Sports / Minor League Sports
A lucky 7 goals for Cedar Rapids RoughRiders, who sweep into USHL playoffs second round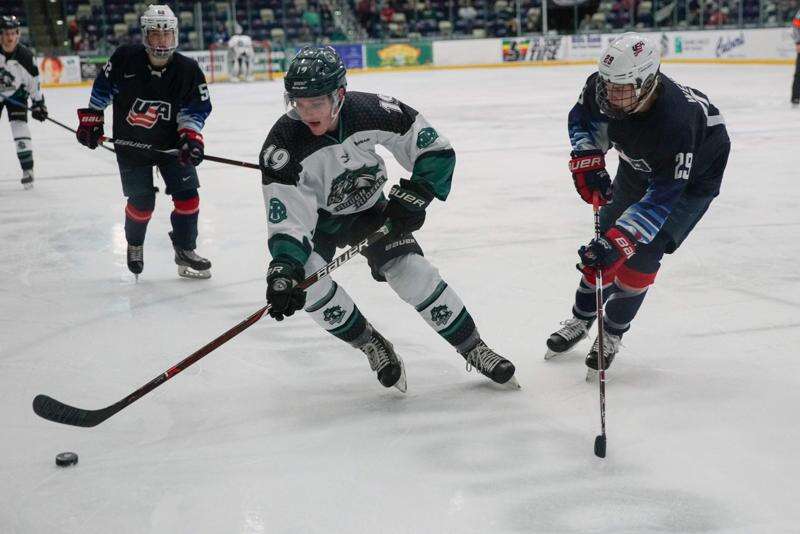 CEDAR RAPIDS — They wanted to get it done and over with Tuesday night, and the Cedar Rapids RoughRiders did exactly that.
Grant Silianoff scored a pair of goals, and Jordan Tonelli had a goal and two assists as the Riders rode into the second round of the United States Hockey League with a 7-2 win over Team USA in Game 2 of their best-of-3 first-round series.
The opponent now is Chicago. The best-of-5 Eastern Conference semifinals begin Saturday and Sunday in Bensenville, Ill., with things shifting to the Cedar Rapids Ice Arena for Game 3 a week from Tuesday.
Game 4 also would be here, if necessary, the following night. A deciding Game 5 would be at Chicago.
'I think (a sweep) was on all of our minds,' Tonelli said. 'Coach talked about it a lot, too. Getting that extra day is definitely huge. We talked about how after winning that first game, we kind of had them by the throat. To just finish them off feels great.'
'This was important,' Silianoff said. 'We're going to be playing a lot of hockey. We have been playing a lot of hockey, only getting one day off before the playoffs started. So that extra day is huge for us to regroup, rest and to just go over things.'
Cedar Rapids put up 13 goals against the United States National Team Development Program's U-17 team. It might not have played the full 60-minute game it wanted, but came a lot closer than Monday night, when it built a 5-0 lead after two periods and had to hang on for a 6-3 victory.
Silianoff and Jerry Harding had first-period goals for the Riders, Harding's coming with just 1.6 seconds left. Jack Millar and Tonelli scored to make it a 4-0 game midway through the second.
Jason Polin and Silianoff had goals later in the period. Joe Hankinson had an empty netter 12:17 into the third for the lucky seven.
'Like I've said all year long, you've got to learn,' said RoughRiders Coach Mark Carlson. 'Just because it's the playoffs, you're not going to stop learning and stop getting better. We had to focus on doing a way better job tonight. We were way more disciplined. I was really proud of the guys for their effort here tonight.'
Things got a bit chippy at the end of the game, thanks primarily to The Program. A multi-player skirmish broke out with 50 seconds left, with C.R.'s Will Francis trading punches with Team USA's Ryder Rolston.
The two were only given roughing penalties, which was key, because fighting with under five minutes left gives you an automatic one-game suspension. Cedar Rapids outshot The Program, 34-15, with Blake Pietila getting the win in net.
'You can always play better,' Tonelli said. 'After last night, we obviously had that on our minds tonight. We really wanted to try and play a full 60.'
l Comments: (319) 398-8259; jeff.johnson@thegazette.com