Home / News / Government & Politics / Local Government
What's in the local landfill?
Organic waste tops the list, following by building materials, paper, consumer products and plastic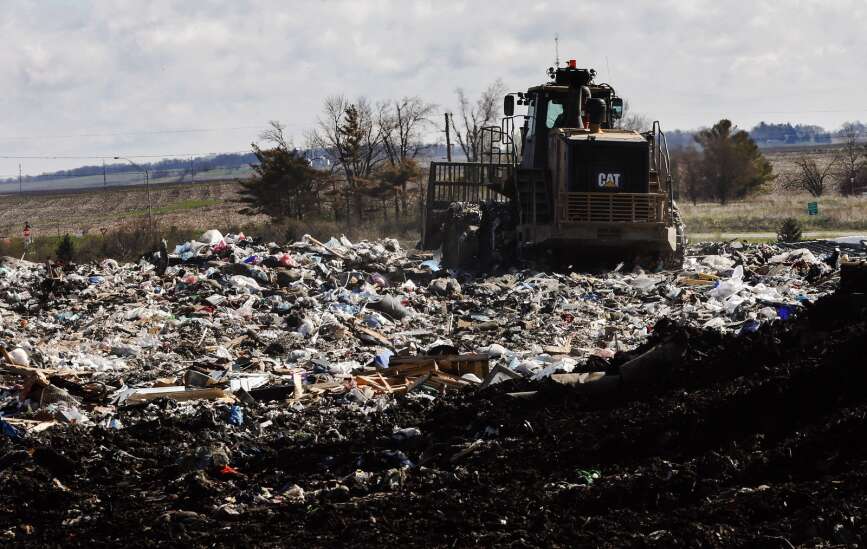 Iowans generate 2.8 million tons of waste per year, according to the Iowa Department of Natural Resources. Most of those materials end up in landfills, left to pile up and break down for decades.
What types of materials end up in Iowa landfills the most — and how can we reduce that waste?
A piece of the answer comes from landfill analyses the Iowa DNR performs about every five years. Data from this year's study, released in October, came from more than 500 trash samples that were collected and sorted from May to July, along with at least 480 samples of construction and demolition debris.
The Cedar Rapids Linn County Solid Waste Agency was one of the 10 participating facilities in the study. More than 600 tons of materials are carted to the agency's landfill in Marion every day. Only about a quarter of the county's trash comes from residential sources; the rest stems from industry, commercial and institutional sources.
Comprising 22 percent of the samples, organics represent the most prevalent type of waste in Linn County, primarily in the form of loose or packaged food. Construction and demolition debris — like wood, carpet and furniture — are the second-most prevalent category of waste at just under 21 percent. Paper, consumer products and plastics follow at 17 percent, 12 percent and 11 percent respectively.
Compared with statewide data, Linn County waste streams contain larger shares of construction and demolition materials, consumer products and organic waste.
In a presentation to the Solid Waste Agency board of directors this week, engineer Jeff Phillips of SCS Engineers compared this year's waste characterization data with previous Iowa DNR surveys.
The amount of paper waste in the Linn County landfill has decreased, along with plastics and household hazardous materials. Metals and construction and demolition debris, on the other hand, increased — perhaps due to destruction from the 2020 derecho, meeting attendees speculated.
Phillips also calculated the potential value of the recyclables that ended up in the Solid Waste Agency landfill. If half of the landfilled cardboard, mixed paper and plastics had instead been recycled, they could've contributed a value of $300,000.
"Why is this material coming to the landfill versus being diverted? There's always a story there," Phillips said. "The data in the report is just a library of knowledge to go to when you start to build programs."
Since the Marion landfill will close by June 30, 2044, the Solid Waste Agency is exploring new waste management options for Linn County. With the help of design firm HDR, the agency catalyzed its search in 2020 by evaluating eight waste management scenarios in its Forward 2044 study. Siting a new landfill in Linn County is no longer an option, so four scenarios remain.
⧉ Related article: From waste to resources: Where Linn County trash could end up by 2044
The ideal solution would be a combination of technologies that target different types of waste, divert them from landfills and re-purpose them, representatives told The Gazette. The agency is also leaning toward regional collaborations that take advantage of existing infrastructure to make waste reduction cheaper.
"We see a lot of the similar trends, especially with organics, across the whole state," said agency communications director Joe Horaney. "Regionalism really makes sense … We're just trying to find something that works for everyone because we're all facing the same issues."
Comments: (319) 398-8370; brittney.miller@thegazette.com