Home / News / Government & Politics / Local Government
Partnership teaches Cedar River Academy's second-graders to swim
Cedar Rapids, Kids on Course and the school team up to break down barriers
CEDAR RAPIDS — Jayla Clinton, 7, loves to do the "rocket ship" when she swims — a move she learned in swim lessons where you put your arms up, then out and push with your legs to glide away from the poolside.
Jayla and 53 other Cedar River Academy classmates get a break from their normal schedules this month to go to Bender Pool through a new partnership between the school and the city of Cedar Rapids to give second-graders free swim lessons.
The program is one step the city is taking to promote equity in access to the pools and break barriers that community members have to safely using the public facilities.
The best part, Jayla said, is learning to swim with her "besties."
Aquatics Program Supervisor Brian Ruffles said Cedar River Academy, a magnet school in the Cedar Rapids Community School District, reached out to the city. The school has a mission of sustainability of the community, environment and self.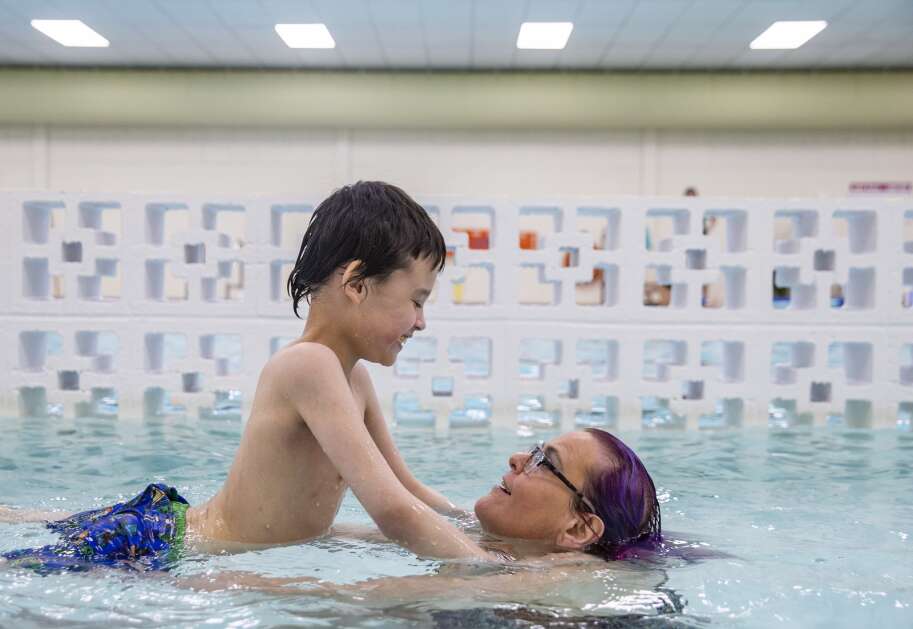 Lessons began April 4 and will end April 27. As part of the program, students get free swim attire and a free bus pass they can use to get to and from city pools this summer.
The school brings second-graders to the pool during the summertime, Ruffles said, and school officials wanted students to get some formal experience with the water before the summer programming.
With the city's six public pools, Parks and Recreation Director Hashim Taylor said, Cedar Rapids officials want everyone to know how to safely participate in city programs and use the facilities.
The Parks and Recreation Department has seen three barriers to using the pools — lack of transportation, swim attire and finances, Taylor said. Through this partnership and other efforts, he said the department is eliminating or reducing all of those barriers.
"I think this program will help us bridge that gap for all Cedar Rapidians," Taylor said.
Although there is no Johnson County partnership like the one in Cedar Rapids, parks and recreation departments in several cities in the county offer programs and scholarships to increase access to swim lessons for families.
Taylor said it was a team effort to make the Cedar Rapids lessons possible. The city Parks, Recreation and Waterways Commission funded 38 students and Kids on Course, a program of the Zach Johnson Foundation, supported another 16 students. The school district secured a grant to cover transportation.
Adam Zimmerman, executive director of middle school and magnet schools, said in a statement the district is thrilled to offer this opportunity for the second-graders.
"As part of our sustainability theme, we want to prepare our students to safely engage with the outdoors and swimming is an essential skill," Zimmerman said. "More broadly, our goal is to learn from our magnet schools and scale effective practices across our district in the future."
Taylor said the city's RecAssist program, additionally, also helps offset the costs for going to pools, taking swim lessons or participating in other recreational programming. RecAssist is an income-based financial assistance program that covers 50 percent of the fees associated with lessons or programs — an increase from 34 percent last year.
According to the Centers for Disease Control and Prevention, drowning is the second leading cause of unintentional deaths after motor vehicle crashes for children ages 5 to 14. African American children drown at a rate much higher than their white peers.
Taylor said staff see that individuals who are not used to being in a public pool environment may lack proper swim attire or familiarity with the rules. That creates challenges, he said, as not all children may understand how deep the water is under the diving board or are not aware of the risks associated with wearing improper swim attire. Recreation Services Superintendent Tony Ireland said improper clothes may get caught in the filtration system.
"When they do finish these lessons and want to go to the pool in the summer, they have the appropriate attire and the basic skills to be able to utilize the pool, no matter what pool they choose," Taylor said.
Ruffles said the kids were run through a brief assessment at the start of the class and grouped with others of similar ability. Cedar Rapids uses American Red Cross swim lessons, which teach a basic introduction to being in the water in Level I, aquatics fundamentals in Level II and different strokes for students in Level III.
There have been no formal conversations about scaling this across the Cedar Rapids school district yet, Ruffles said. But the city is committed to this program, Taylor said, and he anticipates it will grow.
Johnson County options
Iowa City Parks and Recreation has several similar initiatives, director Juli Seydell Johnson said, adding how one of the department's overall goals since 2016 is that "every child in Iowa City learn how to swim."
"This coming year we will be further advancing this to encompass the entire family," Seydell Johnson said. "We want all of our residents to be comfortable and safe around water whether at a swimming pool or relaxing near our river, creeks or other water bodies."
Iowa City also has a RecAssist program, an income-based scholarship program that can be used for swim lessons and most recreational programs. Swim lessons are completely covered by the program and other activities are 50 percent covered.
The city also partners with nonprofits. The Neighborhood Centers of Johnson County have been the main partner the last few years, aquatics supervisor Kate Connell said.
"We offer swim lessons to their after-school participants and then we also do summer swim lessons for a few of their sites as well," Connell said.
The city hosts a variety of events during the summer to help kids and families feel comfortable and safe in the water. One of these events is Sunrise to Sunset, where anyone can come to City Park pool for a day of free swim lessons, water safety and other activities, Connell said. Funds raised benefit the RecAssist program.
Before the pandemic, Coralville conducted a swim safety education program with Coralville elementary schools that are walking distance from the Recreation Center, said Sherri Proud, the city's parks and recreation director. The program had classroom education and a day of swim safety activities at the indoor pool.
The hope is to bring the program back for the next school year, Proud said.
Proud also highlighted a new initiative with the city's summer swim lessons where Coralville youth, regardless of income, can take Level I swimming for free. City officials hope to grow that program to include Levels II and III.
The city has its own scholarship program for low-income families that can be used for activities including swimming lessons, playing a sport, learning a new skill and becoming a lifeguard, Proud said.
North Liberty offers financial assistance for discounted swim lessons and is in the process of setting up a scholarship fund, said Ashley Bjork, the city's aquatic supervisor. The goal is for scholarship lessons to start this fall.
Bailey Cichon of The Gazette contributed to this article
Comments: (319) 398-8494; marissa.payne@thegazette.com