Home / News / Government & Politics / Local Government
Mixed-use development with Scooter's Coffee, housing coming to northeast Iowa City
One council member called the plan a creative use of infill space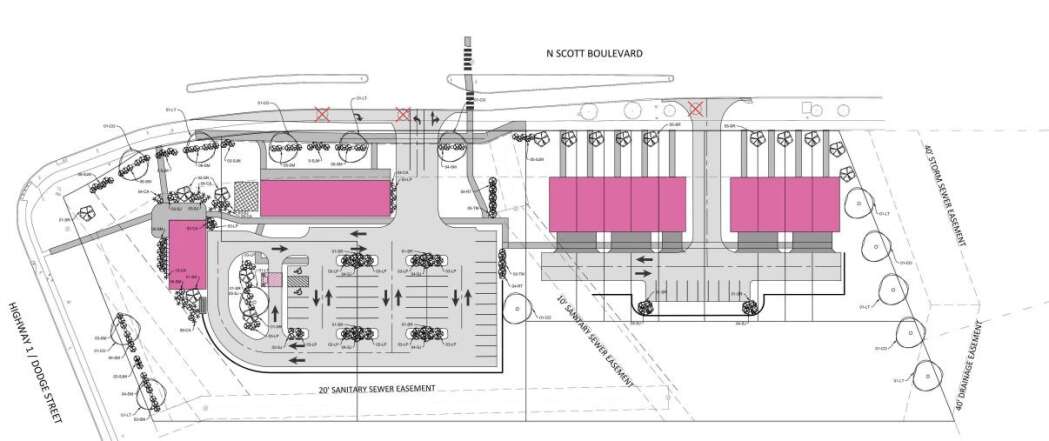 IOWA CITY — A mixed-use development with Scooter's Coffee, commercial space and residential units is coming to the northeast side of Iowa City.
The Iowa City Council on Tuesday unanimously approved the first consideration of rezoning 3.87 acres of vacant land on the corner of North Dodge Street and Scott Boulevard, across from Iowa City Fire Station 4. The rezoning still needs to be approved two more times.
The city's planning and zoning commission unanimously recommended approval of the rezoning last month.
Mark Holtkamp of Solon is working with Axiom Consultants on the project. The land is owned by GreenState Credit Union.
"We feel like this is just a really good infill development in a site that has sat for a long time," Brian Boelk with Axiom Consultants told the council this week.
The proposed Scooter's Coffee would be located on the corner of North Dodge Street and Scott Boulevard.
The mixed-use building will be separate from the coffee shop and is expected to have ground floor retail with upper story residential consisting of eight one-bedroom units. A restaurant is also proposed for this building.
The mixed-use building will not exceed three stories, as required by city code. Parking will be behind the buildings and be subject to landscaping requirements to promote an attractive streetscape, according to a city staff report.
The residential component will be at the other end of the site and have a separate access point. There are nine townhomes planned. Parking will be located behind the building with a shared private alley.
The plan also shows two drive-thrus — one for the coffee shop and the other for an ATM — which need approval of a special exception from the city's Board of Adjustment.
This land is an infill parcel surrounded by existing development. City staff said the proposed development is compatible with surrounding uses.
Surrounding the site are multifamily town homes, Fire Station 4, the Iowa City Community School District administration building and single-family residential.
Mayor Pro Tem Megan Alter said the people who live and work in this area will be able to take advantage of the coffee shop and other establishments. Council member Pauline Taylor added that the development is a creative use of infill space.
Council member John Thomas pointed out the architecture of the development will be important given how visible the area is.
A traffic study showed the proposed development would not overburden traffic along North Dodge Street and Scott Boulevard. The traffic study recommended installing a southeast-bound right turn lane, which city staff recommends as a condition of the rezoning, along with a pedestrian refuge island across Scott Boulevard at Dubuque Street.
City staff also recommend any trees removed from the right of way to be replaced under a landscaping plan approved by the city forester.
Comments: (319) 339-3155; izabela.zaluska@thegazette.com