Home / News / Government & Politics / Local Government
Mini Pines miniature golf course hosts grand opening
It's the city of Cedar Rapids' latest venue for 'positive entertainment"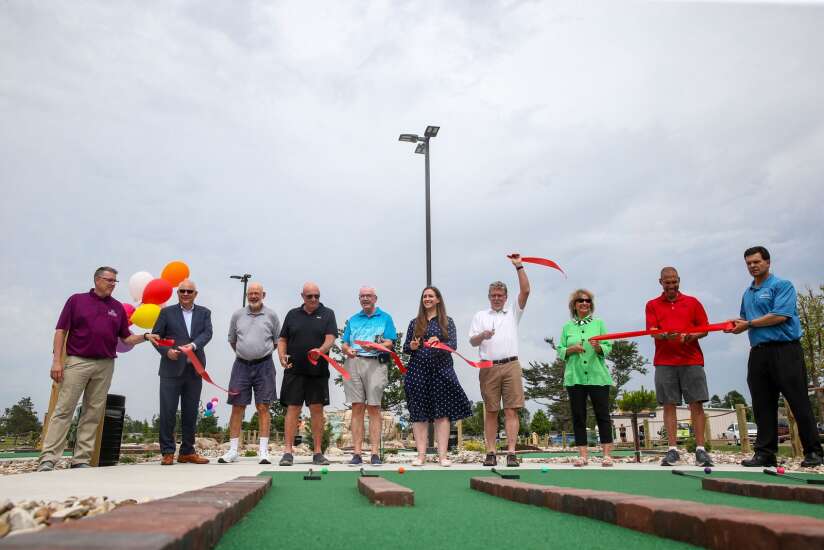 CEDAR RAPIDS — Beads of sweat raced down foreheads like drops of melting ice cream down a sugar cone Friday afternoon for the grand opening of the city's latest venue for family entertainment — the Mini Pines Miniature Golf Course at the municipal Twin Pines Golf Course.
The summer heat pushing above 90 appears to have had little impact on visitors coming out to experience the new attraction. Since the miniature course had a "soft" opening May 28, it has seen an average of about 100 players a day, according to the city.
The 18-hole mini course, at 3800 42nd St NE, includes a 9-foot waterfall and four holes involving water play. But it's anyone's game on the final hole designed like a relay race, with the winning golf ball determining the overall winner.
The name "Mini Pines" is reflected throughout, as a number of mini pine trees have been planted.
"One thing that we incorporated into our mini golf course as well is it's kind of a learning experience as you go," said Cedar Rapids Golf Manager David Roe. "So while you're playing you can look at the flowers and the trees and the pines and kind of identify with them."
Two butterfly and one hummingbird beds, as well as labeled perennials, add to the aesthetics of the course, teaching putt-putt players about nature. Mini Pines also is functional, with the entire course adhering to Americans with Disabilities Act regulations for accessibility.
"One of the big things out here is we have all 18 holes are ADA accessible, that was a huge thing when we designed the course — we wanted to make sure to have that," Roe said. "We are one of a handful of courses in the United States that's fully 18-holes accessible."
Roe noted that it was "neat" to see grandparents play mini golf with their grandchildren as they were able to move round with ease.
The idea of adding a miniature course originated several years ago as the city looked for ways to help address its deficit-plagued municipal golf operation. But the project was delayed due to the COVID-19 pandemic.
Twin Pines worked with COST, a specialty construction service out of Wisconsin, and Harris Miniature Golf, a design and construction company out of New Jersey, when planning and construction processes began last fall.
Intention paired with practicality were the blueprints for Harris, as it designed holes meant to keep traffic on the course flowing. "They have an idea of how holes can be placed to not affect play," said Roe. "If a certain hole is kind of unique, people like to replay it. So they have a hole after that that doesn't hold up people."
Twin Pines partnered with Metro High School students to create elements to be used throughout the course, including a miniature Tree of Five Seasons. The students collaborated with a team from Kirkwood Community College's Industrial Technology department to craft the sculpture with materials provided by New Leader Manufacturing of Cedar Rapids.
Metro High and Mini Pines have plans for projects in the near future, including signage that will provide photo opportunities for visitors.
Roe envisions the miniature golf course to be an addition that will benefit families, children and the community.
"Just having a mini golf course in Cedar Rapids, I mean the only other one is out near the airport," said player Stephanie Evers, of Cedar Rapids, when asked about what she's looking forward to most about Mini Pines. "This is a great opportunity, this is a great activity for (young kids)."
Evers learned of the grand opening event through Cedar Rapids Text Alerts and City Parks and Recreation pages.
Cedar Rapids Mayor Brad Hart, City Manager Jeff Pomeranz and Parks and Recreation Manager Scott Hock thanked individuals and praised the course before cutting the ribbon Friday to formally open it. Pomeranz said Mini Pines is a "great opportunity to provide positive entertainment."
The miniature course is open 10 a.m. to 10 p.m. Sunday through Thursday, and 10 a.m. to 11 p.m. Friday and Saturday. It costs $3 for toddlers to age 4; $6 for students ages 5 to 18; $8 for adults from age 19 to 64; and $7 for seniors 65 and older. Punch cards for 10 rounds also are available.
Comments: (319) 398-8386; sierra.hoeger@thegazette.com