Home / News / Government & Politics / Local Government
Marion Seventh Avenue road construction, streetscape work continues this year
First phase of streetscape project nearly done, with remainder to wrap up by year's end
Marion began work on its long-awaited Seventh Avenue streetscape last year, closing the busy street in the heart of Uptown Marion for most of the summer.
Work includes the reconstruction of the street and sidewalks and the replacement of underground utilities, sanitary sewer, storm sewer and water main on Seventh Avenue and side streets between Eighth and 12th streets and Sixth and Eighth avenues.
It also includes the addition of a new Uptown Plaza on 11th Street that will stretch from the city's Uptown Artway south across Seventh Avenue.
The $6.9 million project is being funded by local-option sales tax dollars and bonding through the city's capital improvement program.
What's happened since?
Most of the project's first phase was completed last year, as evidenced by the new Seventh Avenue diagonal parking.
Marion Assistant City Engineer Jacob Hahn said construction will begin again in March or April, weather permitting.
"We will finish up phase one and the north plaza improvements first, install planters and benches, and landscaping. That's first on the docket for early spring," Hahn said.
"Then phase two, the reconstruction of 10th Street from Seventh to Eighth avenues, will start," he said. "That includes complete underground utility reconstruction and that will probably be an April to June or July time frame."
The project has five phases, but phases two through five are expected to be completed this year and are smaller segments than last year's initial phase.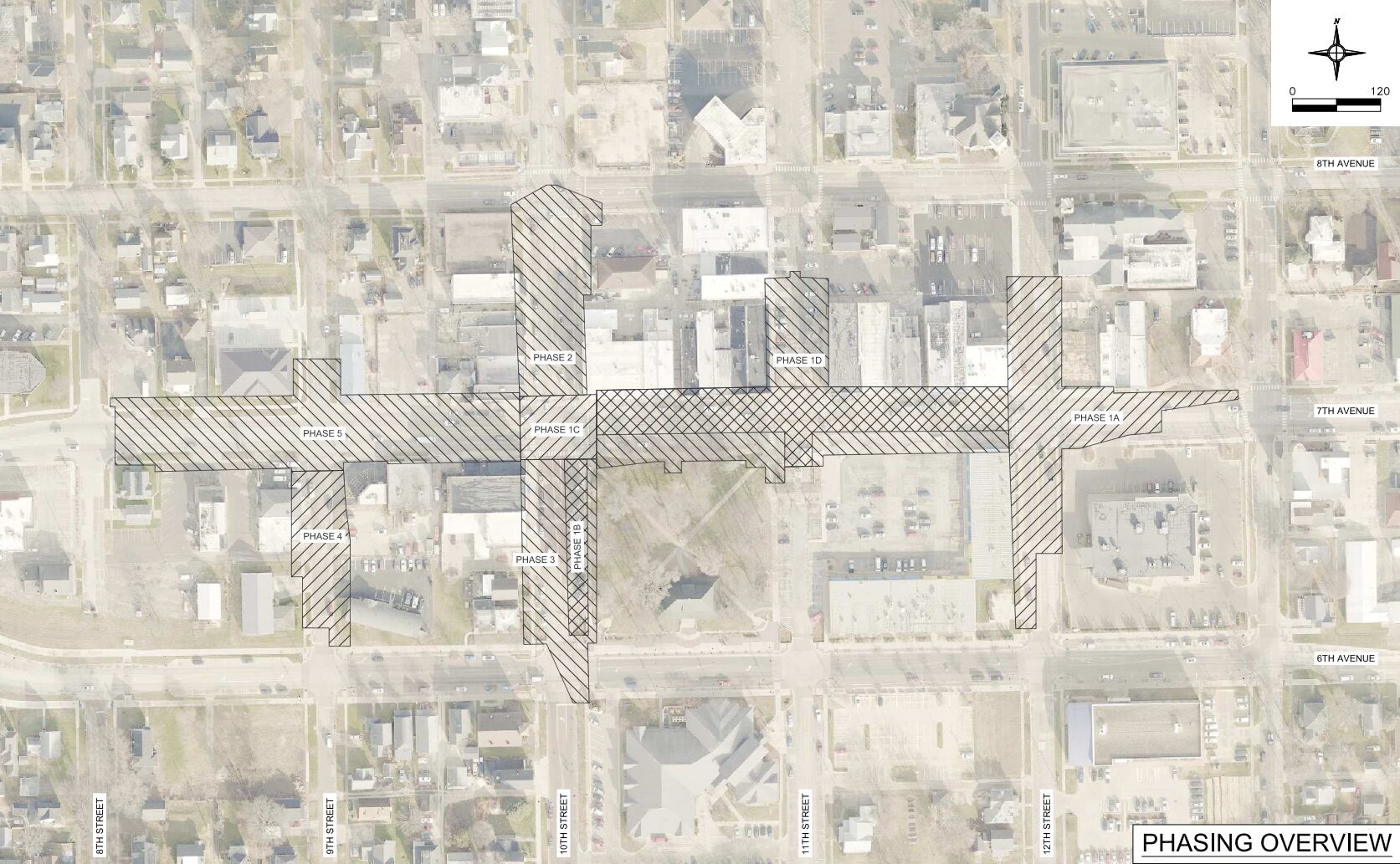 Phase three will include work on 10th Street from Sixth to Seventh avenues. Phase four involves work on Seventh Avenue from Eighth to 10th streets. And phase five will be on Ninth Street from Sixth to Seventh avenues.
"The intent is to split this up to minimize the effect on traffic and parking for businesses this summer that couldn't happen last summer with phase one," Hahn said.
Uptown Program Director Brooke Prouty said most of the businesses affected by construction last year had back entrances, due to the Uptown Artway, and used those when their front entrances were blocked by the construction.
"This year, we will have to get more creative and work individually with businesses," Prouty said. "We will work with them on the timing and marketing stuff, but we're trying to keep access to businesses as open as possible."
As for the completed section of Seventh Avenue, residents can expect the new "festival street" to be used this year for the farmers market and for the May 21 Marion Arts Festival.
"It's exciting because this year we are able to bring events back to the park, and we are planning to close Seventh Avenue for a lot of our events, which will give better access to those businesses during the events," Prouty said.
Comments: (319) 398-8255; gage.miskimen@thegazette.com