Home / News / Government & Politics / Local Government
Linn County supervisors vote 2-1 to approve Coggon Solar project
Setback from neighboring properties returns to 300 feet
A utility-scale solar project covering over 700 acres west of Coggon can start construction this spring after the Linn County Board of Supervisors voted 2-1 in favor of the project Monday night after hundreds of residents had packed meetings over the last few months to either praise or denounce the facility.
Supervisors Ben Rogers and Stacey Walker voted for the project, while Louie Zumbach voted against it. The approval means that about 750 acres will be rezoned from agricultural to agricultural with a renewable energy overlay that expires after 35 years. The project, a partnership between Idaho-based Clenera and the Central Iowa Power Cooperative, will be located almost 3 miles west of Coggon in rural Linn County.
Coggon Solar Project
The proposed facility, a 640-acre project three miles west of Coggon, is a partnership between Idaho-based Clenera and Central Iowa Power Cooperative named Coggon Solar LLC.
Source: Linn County
"We are a three-member board who oftentimes has to make complicated decisions that not all parties are happy with," Rogers said. "This is going to make some people very upset and likewise, it will make some people excited. … I do thank the citizens for being engaged."
Walker also said he appreciated the process over the many meetings that took place over the last few months.
"The process was a tedious one," he said. "I can assure folks my colleagues put in a lot of time and effort into every decision we make."
► What's next? Here's what we know about next steps for the Coggon Solar project
Zumbach said he's disappointed the project is moving forward. He had earlier sought larger setbacks from neighbors' property, which the other supervisors overruled with their votes Monday.
"Although I'm a staunch supporter of property rights and I'm obviously disappointed with the project moving forward … Clenera promised to work with residents after the vote, so I look forward to updates," Zumbach said.
The setback from other properties not part of the project will be 300 feet — not the 1,250 feet that was proposed at a first consideration by Zumbach. The solar panel height also will be scaled back to the original 18 inches that was initially proposed.
At past meetings, representatives from Clenera said a 1,250 setback — more than four times what was proposed — would essentially "kill" the project.
However, supervisors did increase the performance bond from Clenera from $1 million to almost $2.7 million, which is the estimated value of decommissioning the project at the end of its life span at the end of 35 years.
Site plan from Clenera's website coggonsolar.com: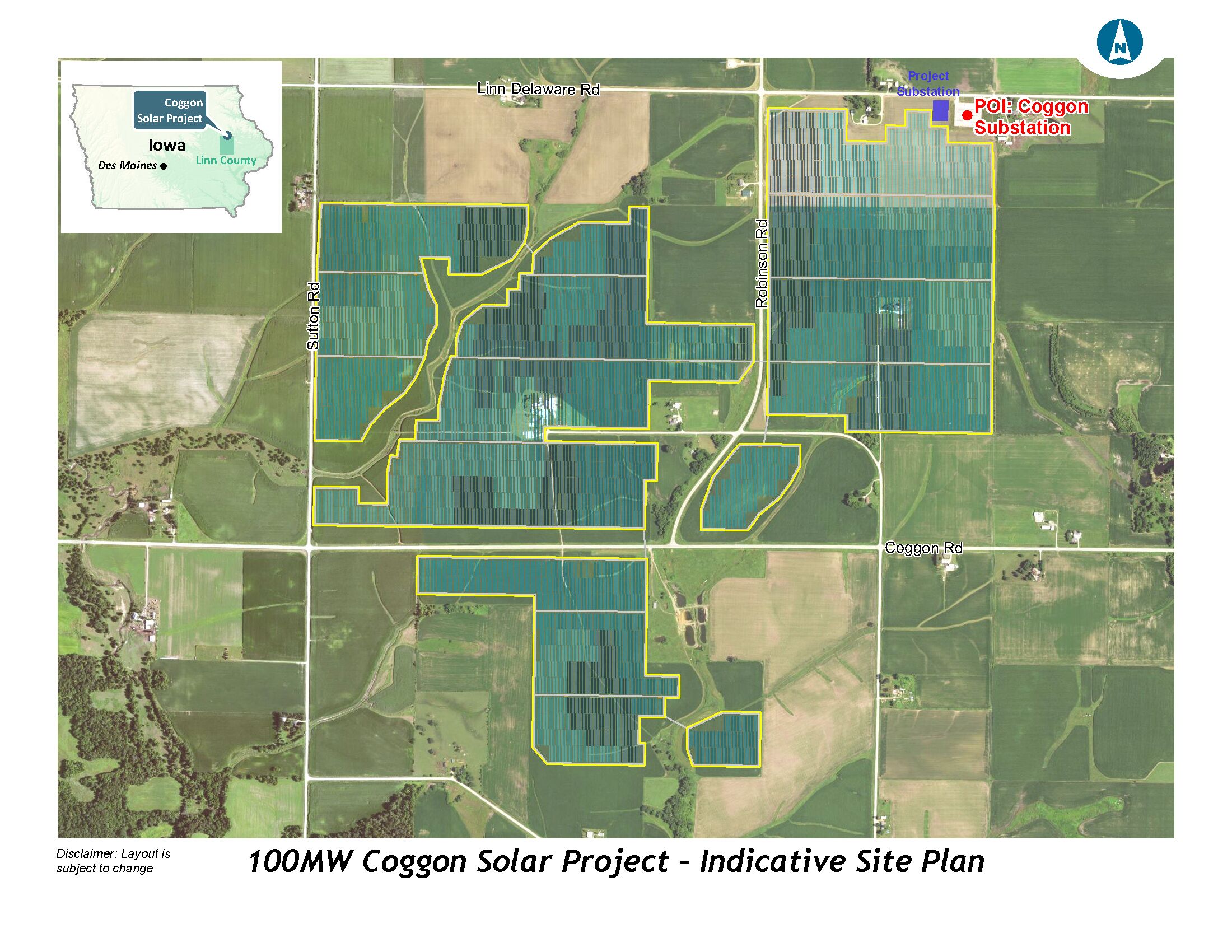 While the project has enlisted property owners to voluntarily take part in the array, it has drawn opposition because of its large scale, because it temporarily removes farmland from growing crops and because some neighboring property owners say it comes too close to encroaching on their land.
The project will aim to develop 100 megawatts of electricity — enough to power 18,000 homes — over the project's life span. Its developer estimates the project will offset approximately 300 million pounds of carbon dioxide during its life span.
Coggon Solar filed its application for the project last July for property located south of Linn-Delaware Road, north of Hutchinson Road, west of Quality Road and east of Sutton Road.
The application includes an agricultural impact mitigation plan, vegetation management plan and a decommissioning plan that includes how the solar panels would be recycled or sold on the secondary market. The application also has conditions saying developers are responsible for any storm-related cleanup.
At previous meetings, Clenera Director of Development Tom Fitzgerald said Coggon Solar will be a $150 million capital investment that will require around 300 construction jobs at its peak. Work would begin about in March and is expected to last less than a year. Earlier this month, Coggon Solar signed a letter of intent with the Cedar Rapids and Iowa City Trades Council for the project to be built with local labor.
Comments: (319) 398-8255; gage.miskimen@thegazette.com