Home / News / Government & Politics / Local Government
Iowa City fixes Park Road bridge to discourage skateboarding on arches
Long-planned planters installed this month, handrails coming in July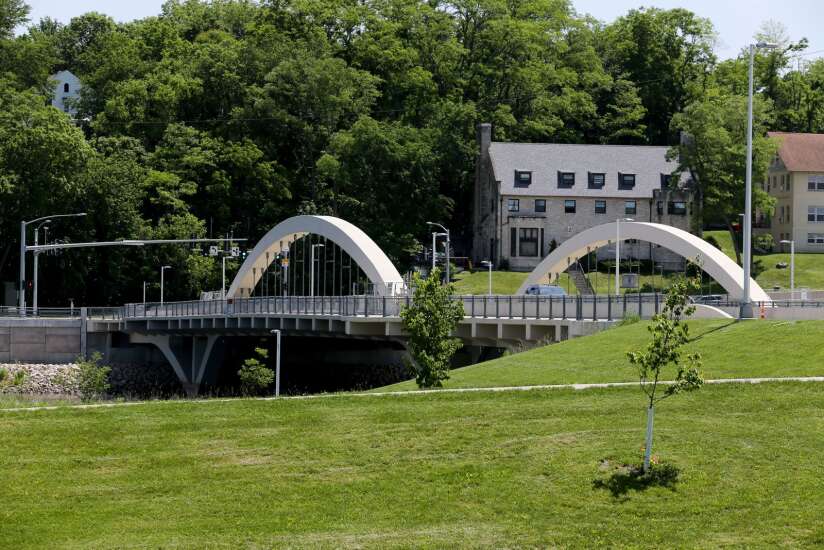 IOWA CITY — Not long after Iowa City reopened the Park Road bridge in 2018, a video appeared on YouTube of a skateboarder coming down the soaring arch on one side of the bridge that spans the Iowa River.
YouTube took down the video and Iowa City put up signs saying "Danger! No trespassing on arches." Officials warned stunts like the one in the video could end in someone's death.
In 2019, the city installed chain link fences on all four corners where the bridge arches meet the walkway. The fences marred the striking bridge design that was part of the $40 million Gateway Project to raise Dubuque Street for flood mitigation, so the city started looking for a more permanent — and attractive — solution.
What's happened since
HNTB, the city's design consultant for the Gateway project, came up with a design that would deter pedestrians on the arches. The design includes concrete planter boxes and ornamental handrails that match those already on the bridge, said Melissa Clow, special projects administrator for the city.
"Currently, the design of the bridge provides a smooth transition from the arch structure to the sidewalk," Clow said. "The planter option will limit direct access to the aches while also maintaining the clean lines of the bridge."
The additional cost for the upgrades is $100,330.
Earlier this month, All American Concrete, from West Liberty, poured the concrete for the planters, which caused temporary closures of the sidewalks on the bridge. Once the planter walls are poured, workers will take measurements for the fabrication of ornamental handrails, which will be installed in late July.
"At that time, the Parks and Rec Department will add (soil) backfill and plantings," Clow said.
City officials also have talked about the possibility of needing signs warning against climbing the arches or an additional camera mounted on the bridge, she said. There already is a camera at the intersection of Dubuque Street and Park Road.
"It is unfortunate that people made the irresponsible decision to walk/skateboard on the arch, and we are hoping that this will be enough to make them think twice," she said.
People caught climbing on the arches will face a simple misdemeanor charge for trespassing, police said in 2018.
Comments: (319) 339-3157; erin.jordan@thegazette.com