Home / News / Government & Politics / Local Government
Iowa City Council will offer hybrid meetings
Council members also discussed how to handle disruptions at meetings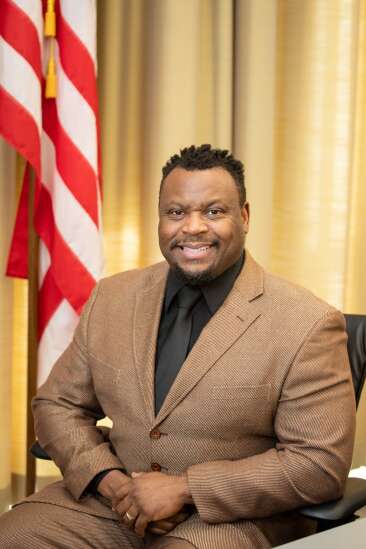 IOWA CITY — The Iowa City Council will begin holding hybrid meetings, giving residents an opportunity to participate in public comment virtually, as soon as the next council meeting on Jan. 18.
The council was unanimous in supporting hybrid meetings during a discussion at its Tuesday night work session. The council also talked about how to connect with residents as the pandemic continues as well as how to handle disruption at council meetings.
"The hope is that we prepare the best possible protocols that we can inform the public about ahead of time, give fair warning as to the consequences because these meetings are for the good of everybody in our city," Mayor Bruce Teague said.
He added that recent meetings have been "a little challenging" with disruptions and residents not following public comment rules.
During at least two council meetings this past year three individuals have expressed the need for the city to increase accessibility by again allowing virtual participation during public comment.
"We're fighting for increased accessibility," Dan Kauble said during the Dec. 14 council meeting. Kauble was joined by Noah Petersen and Tara McGovern.
The three community members spoke about accessibility concerns during every public comment period on the agenda, asking council members to commit to holding hybrid meetings. The comments added about an hour and a half to the meeting.
The council began holding its meetings online in March 2020 due to the COVID-19 pandemic. Individuals were able to watch the meetings virtually and participate using Zoom.
In July 2021, the city announced the return of in-person meetings. Meetings still were streamed for the public to watch at home, but residents no longer were able to use Zoom to participate during the public-comment period in real time.
Council has been meeting at the Iowa City/Johnson County Senior Center — instead of at City Hall — because the center has more space for social distancing. Council members discussed the possibility of returning to council chambers with hybrid meetings but decided to remain at the Senior Center for now due to a surge in COVID-19.
Council members also discussed how to handle disruptions at meetings when individuals do not follow public comment rules.
"In recent meetings, the City Council has tolerated interruptions of meetings and intentional disruptions of public comment opportunities," said a memo prepared by City Attorney Eric Goers and City Manager Geoff Fruin that was included in a council information packet.
The memo shared how the council must balance between tolerating disruptive behavior with the effect it might have on council deliberations and on other members of the public who want to comment.
Council member John Thomas said disruption during the meetings is a fairly recent development and something he hasn't seen previously during his time on council and city commissions.
Mayor Pro Tem Megan Alter said the "right balance" needs to be found between allowing maximum participating and maintaining orderly discussion. Alter expressed hesitation with having law enforcement forcibly remove or arrest individuals who are being disruptive.
"We want to draw more people into local government, we want more people to attend," Council member Janice Weiner said.
Weiner added that with hybrid meetings addressing some of the disruption might be easier as individuals can be muted if they speak longer than their allotted time or speak out of turn.
Council members will continue to discuss language on meeting rules and consequences for not following the rules. Alter, Teague and Weiner will work on specifying the language and bring it back to council at a future meeting.
The memo also recommended council to consider how to promote public comment outside of meetings, such as listening posts, door knocking and other events that were used before the pandemic.
"As challenging and impactful (as) COVID has been, it's also revealed the fact that there are opportunities for the council to hear from the community through that virtual connection," Thomas said.
The council will plan to have virtual listening posts quarterly, with the first event attended by council members Shawn Harmsen and Laura Bergus.
Comments: (319) 339-3155; izabela.zaluska@thegazette.com