Home / News / Government & Politics / Local Government
Grant Harper looks to continue 'serious governance' on Marion City Council
Returning member was reelected to the seat he was appointed to fill after the death of Paul Draper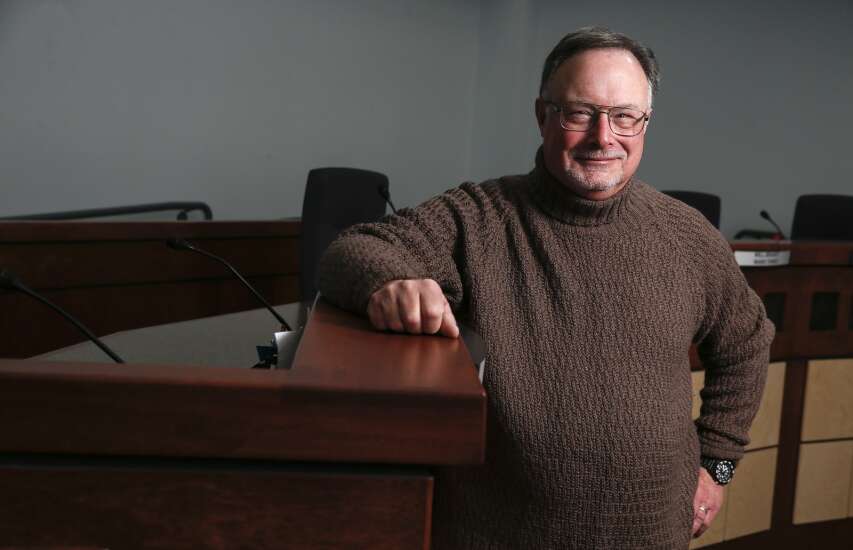 MARION — Grant Harper said he got into public service a few years ago because he wanted to see more "serious governance."
Harper, 68, was sworn in for his second term on the Marion City Council on Thursday night along with fellow returning members Steve Jensen and Randy Strnad and newcomer Sara Mentzer.
The now-retired Harper decided to run for office in 2019 after a career that included teaching science and coaching at Linn-Mar and various positions at Iowa Electric (now Alliant Energy) and Pearson Education.
Harper and his wife, Kari, moved to Marion from the Twin Cities in 1979, when the city's population was less than half what it is today and farmers still drove large equipment right through town. After four decades of being a Marion resident, Harper said he wanted a chance to serve the city.
"It occurred to me that serious minds need to be applied to serious governance," Harper said. "If we look across the spectrum of politicians in our country now, there are some that aren't there for serious reasons. With city council positions being non-partisan, I think it allows us to be serious about solving local problems."
So Harper launched a campaign for an at-large seat in the November 2019 municipal election. He thought he had a good shot because he had heard that the incumbent, council member Paul Draper, wasn't going to run for a third term.
"I submitted my papers in 2019 and lo and behold, he decided to run too," Harper laughed. "So I was going up against a community icon, and I knew it wasn't going to end well."
During their campaigns, the two men found they were like-minded, Harper said. Both cared about maintaining a sense of Marion's history while moving forward to ensure successful growth and development. Draper had been an integral player in saving the old Marion train depot roof and including it in the current City Square Park depot.
Draper went on to defeat Harper in the November 2019 election. But just three months later, he died at age 85. That meant the council would have to hold a special election or appoint someone else.
The council decided to appoint someone, and Harper was one of six who applied. He got the job and became a member of the council in May 2020.
Iowa code says that any appointment to public office lasts until the next election cycle, and the appointee must run for re-election at that point. Harper sought re-election and was unopposed in 2021 for the remaining two years of the four-year term Draper originally started. The at-large seat Harper holds will be up for grabs again in 2023.
"There are some things I feel responsible to carry forward from Paul's civic interest: maintaining a historical character to our community so people appreciate the past of Marion's history," Harper said. "But I also look at things from my project management, matter-of-fact way. What are the benefits and what does it mean for the community at large?"
Currently, Marion is a pretty large project to manage. The city surpassed 40,000 residents in the 2020 census and still is growing.
Multiple transformative projects have broken ground or are in the works, including the redevelopment of Uptown with the Seventh Avenue streetscape and its adjacent mixed-use buildings in Broad and Main. Just across the street, a new library is gearing up to open in the spring. Last year a new YMCA and third fire station opened on the north side of the city, with a fourth in the planning stages. Plus, the Marion pool's life may be coming to an end, and talks of a new aquatic center are in the works.
Harper said Marion has a lot of competing needs, and he keeps certain things in mind when making decisions on the council.
"I really have to be satisfied in my own mind that a given decision is in the best interest for Marion, near term and long term," Harper said. "Those are segmented between fiscal responsibility, community development responsibility and opportunity equity for all citizens. As the at-large representative, that's my role."
Fellow council member Steve Jensen said that Harper has an analytical mind and takes a lot of time to make sure he understands the subjects that come before the council.
"He also likes the technical aspect of subjects," Jensen said. "That is good since his technical ability and understanding is better than the rest of us on the City Council. There are times we say 'Let Grant do that' because of his background."
Mayor Nick AbouAssaly said he also appreciates Harper's background and experience on the seven-member council.
"He is committed to bettering our organization and is always willing to do the work that helps inform our decision making," AbouAssaly said.
Aside from his role on the council, Harper also is an avid drone photographer and self-proclaimed "technology geek."
"I got curious about drone equipment and if you want to do that seriously, you have to become a certified pilot, and that's a license I maintain," he said. "I dove headfirst into that hobby, and it was really useful post-derecho."
Harper has used his hobby to capture photos of city projects, including the new pedestrian bridge spanning Marion Boulevard and the new stretch of Sixth Avenue.
Though he was just reelected, Harper said he doesn't know if he will run for the council again in 2023.
"I will want to assess where we are at with the startup and engagement of our new city manager. I have every expectation Ryan (Waller) will do well," Harper said. "I will also want to assess where we're at with critical initiatives in the city."
Harper said as a longtime resident and now a member of the council, he has been proud to watch Marion develop into what it is today.
"It's gone from a bedroom community on the northeast edge of Cedar Rapids to growing into its own vibrant center, and that's been a pretty steep maturity curve," he said. "I want to continue along that curve to prepare ourselves 15-20 years out."
Comments: (319) 398-8255; gage.miskimen@thegazette.com