Home / News / Government & Politics / Local Government
Federal funding beginning to help Cedar Rapids clear watersheds of derecho debris
City estimates $8.4 million can clear 21 sites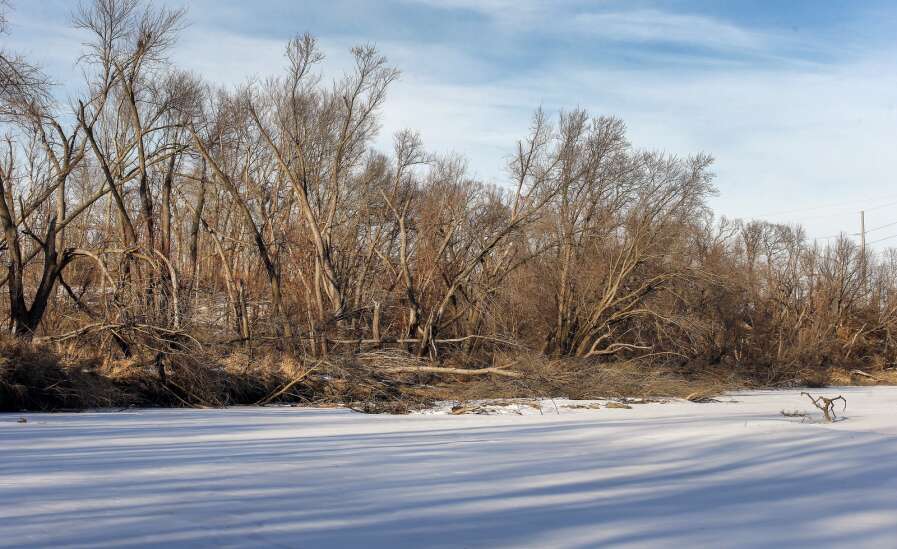 CEDAR RAPIDS — The city of Cedar Rapids has secured federal funding — an estimated $8.4 million — to clear debris from local waterways left behind after the August 2020 derecho.
The Cedar Rapids City Council on Tuesday approved spending the initial allocation of Emergency Watershed Program funds to clear debris from Willow Creek and Prairie Creek.
The funds will go toward debris removal at 21 sites of the 23 surveyed for damage.
Cedar Rapids must provide a 25 percent match — estimated at $1.95 million — toward the project costs.
For these first sites, Cedar Rapids will pay $412,500 to match the federal government's $1.65 million.
"We're very excited and grateful to be able to bring in federal dollars to help continue the cleanup work," said Ben Worrell, city project engineer in the Public Works Department.
The program — administered by the Natural Resources Conservation Service, an agency of the U.S. Department of Agriculture — provides financial assistance for debris removal from stream channels, road culverts and bridges, addressing erosion-related watershed impairments.
In March 2021, city officials were waiting for federal agencies — both NRCS and the Federal Emergency Management Agency — to identify which funding sources would could assist in the waterway debris removal.
Work could begin in March, and the city anticipates completion by June 24.
"This is just the beginning," Worrell said, noting the city's Sewer Maintenance Department is checking other sites around the city for problems.
The city aims to minimize disturbance to the stream when work is underway, he said. The work will need approval from the Iowa Department of Natural Resources and Army Corps of Engineers.
Annexation agreement
In other city council news, Hiawatha and Cedar Rapids have agreed on boundaries defining growth areas for both municipalities.
In those areas, neither locality would object to annexation into either city.
With Tower Terrace Road as the boundary line, Cedar Rapids and Hiawatha are looking to expand north and west.
The council approved the agreement Tuesday, and the Hiawatha City Council approved it Jan. 19.
The growth areas are near existing water, sewer and other services, and the boundaries are consistent with school districts and other special taxing entities.
The areas are sized to provide for orderly development based on the communities' existing growth rate.
Kingston Village road work
The council also approved $2.47 million for work on First Avenue West, from First Street to Sixth Street SW, around Kingston Village. Some of the funds will come from the Iowa Department of Transportation's 3R funding.
The work will be coordinated with the Sixth Street NW Extension, work on the Kingston Landing mixed-use development at First Street and First Avenue West (featuring a Big Grove Brewery), and the First Street West flood control project.
Work will involve pavement patching, milling and asphalt resurfacing of First Avenue West, rehabilitating medians on First Avenue West with brick pavers and landscaping and replacing the traffic signal at Third Street SW, City Engineer Brenna Fall said.
Additionally, the city will put in ADA-accessible sidewalks and ramps, install a pedestrian hybrid beacon and improved crosswalk at Second Street SW and replace the storm sewer between First Street and Third Street SW.
Work is slated from April to November.
"I think it's going to become one of the more active areas of our city," council member Scott Olson said.
"So … both for appearance but also safety, this is an important project, and it's great that we could put all these different sources together to fund a project that's going to be a statement for the city in the future."
Comments: (319) 398-8494; marissa.payne@thegazette.com