Home / News / Government & Politics / Local Government
Fact Checker: Are Black Linn County residents disproportionately infected with COVID-19?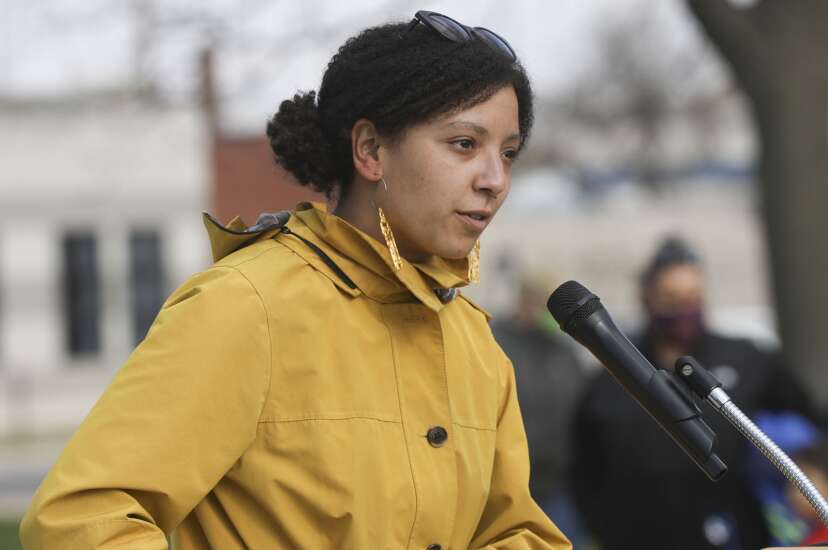 State and local governments across the nation are contemplating how to spend their shares of funding allocated through the federal American Rescue Plan, a $1.9 trillion COVID-19 aid bill intended to support the public health response and lay a foundation for an equitable economic recovery.
Linn County officials focused on equity during an Aug. 11 public forum at the downtown Cedar Rapids Public Library while receiving input on how to divvy up the county's $44 million allocation. In communicating why equity is central to how this funding is allocated, Linn County Sustainability Program Manager Tamara Marcus spoke about how the pandemic has exacerbated racial and ethnic disparities, shown in the impact on individuals' finances and health.
Marcus also is challenging Cedar Rapids City Council member Dale Todd for the District 3 seat in the Nov. 2 local election.
"We see that 30 percent of people within Linn County who have had COVID-19 are Black," Marcus said, whereas "Black people only made up 6 percent of Linn County's population."
Analysis
We'll take a look at the data on Linn County's COVID-19 infections broken down by race.
Marcus attributed the data used in her statement to an April 2020 article from Little Village highlighting the racial and ethnic disparities in COVID-19 infections within Linn County.
Based on Linn County Public Health data from April 23, 2020, Little Village reported that 153 of the 507 county residents who had tested positive for COVID-19 — or 30.2 percent — were Black. U.S. Census Bureau population estimates from 2019 show the county's total population is 6.1 percent Black.
At that time, Linn County had 507 confirmed cases of COVID-19 and 33 deaths. A total of 241 residents had recovered, according to Little Village. Race was unknown for 107 cases and ethnicity was unknown for 116 cases.
The county on April 23, 2020, had just unveiled its revamped COVID-19 website with a new data dashboard to track up-to-date information about infections by ZIP code, age group and race and ethnicity, among other metrics. Data on positive tests by race and ethnicity had previously been available online to the public only at the state level.
Measures put in place by businesses and government entities to curb the virus' spread were much more restrictive at this point in the pandemic, when schools and workplaces had switched to virtual operations, and mask-wearing and social distancing were just beginning to become the norm.
Now that businesses have returned to more normal operations and government entities have relaxed mitigation measures — and the highly contagious delta variant is driving a COVID-19 resurgence in areas with lower vaccination rates — Linn County's number of total reported cases climbed to 22,711 as of Wednesday. Of those cases, white people made up 42 percent and Black people made up 4 percent, according to county data.
It is worth noting that race and ethnicity is unknown in 52 percent and 53 percent of the positive cases, respectively, because this data was not tracked early on in the pandemic.
But a higher share of Black county residents have tested positive for COVID-19, even though white residents make up most infections.
When providing her sources to the Fact Checker, Marcus pointed to county data showing that over 8.2 percent of the county's Black residents have tested positive for COVID-19, compared with nearly 4.9 percent of white residents. The county calculates this data using 2018 U.S. Census population estimates.
The point stands that racial disparities exist in regards to which residents contract COVID-19, but Black residents now make up a smaller share of infections than last April, the point in time that Marcus referenced.
The Fact Checker reached out to Linn County to verify the numbers Little Village had reported. The magazine had included a screenshot with its April 2020 article reflecting that its data came from Linn County Public Health's online dashboard. The adjusted number of cases confirmed for April 23, 2020, is similar — now 538 overall, with 138 of them known to be Black residents for a total of 31.2 percent.
The trend has stayed consistent over time with a higher share of Black county residents testing positive for COVID-19 (2 percent) compared with white residents (0.2 percent).
Conclusion
While the figures Marcus used were correct and based in data from reliable sources, the information she shared this month regarding racial disparities in Linn County's total COVID-19 infections was over 15 months old. This outdated information overstates the proportion of Black county residents who have now tested positive for the virus relative to white residents by about 26 percentage points.
However, Marcus was correct in her overall point that Black people are disproportionately bearing the pandemic's negative impacts, as a greater proportion of Linn County's Black residents have tested positive compared with white residents.
We give Marcus a C.
Criteria
The Fact Checker team checks statements made by an Iowa political candidate/officeholder or a national candidate/officeholder about Iowa, or in ads that appear in our market.
Claims must be independently verifiable.
We give statements grades from A to F based on accuracy and context.
If you spot a claim you think needs checking, email us at factchecker@thegazette.com.
This Fact Checker was researched and written by Marissa Payne of The Gazette.