Home / News / Government & Politics / Local Government
Facilitator OK'd for Iowa City's Truth and Reconciliation Commission
D.C. firm will work with local partners on community stories, pain, conversations
IOWA CITY — Working with local and national partners, Iowa City's Truth and Reconciliation Commission will soon begin the work it signed up for nearly three years ago.
After a split Iowa City Council rejected the commission's proposal for a facilitator in September 2021, saying there needed to be more local involvement and community input, the commission has been updating its proposal.
That new proposal — costing $402,700 and spanning seven months — was approved Tuesday by a split council in a 4-3 vote. It includes the same out-of-state facilitator, Kearns & West, as the earlier proposal but has it working alongside local partners this time.
Mayor Pro Tem Megan Alter, along with council members Andrew Dunn, Laura Bergus and John Thomas, voted in favor of the proposal. Mayor Bruce Teague and council members Shawn Harmsen and Pauline Taylor were opposed.
"I want to give you the resources that you need to get our charge, which is admittedly ambiguous, done so that our community can heal," Dunn said. " … If we are to mend that pain the people in this room and around the community are feeling, I strongly believe that you need the resources to get that done."
The decision to again extend the commission's timeline to Dec. 31, 2024, was an easier vote for the council and approved, 6-1.
Hours of emotional and passionate comment from the community, commissioners and council members showed a desire and interest to getting the work done even if there is disagreement on the path forward. Concerns were raised again Tuesday that there still hasn't been enough community input.
Despite that, TRC chair Chastity Dillard said "the passion filling this room shows that we are all truly on the same side — we want a better Iowa City community."
'Long journey' for commission
With the proposal and budget, the TRC finally will be able to carry out its work, Dillard said.
"Our community is in dire need of this work," she said.
The Iowa City Council created the nine-member commission in 2020 in the wake of Black Lives Matter protests following the killing of George Floyd by Minneapolis police. The resolution called for the TRC to secure a facilitator to assist the commission in performing its work.
The commission's mission is to gather testimony about racial injustices, foster ways for people to share their stories and encourage direct conversations in the community. The commission also is charged with issuing a report to the council with recommendations for changes and also advise whether the commission should continue or be disbanded.
The council committed $1 million to social justice and racial equity efforts, including the work of the commission.
"It is no secret that it has been a long journey, a long struggle and time commitment for commissioners, our proposed facilitators, city staff, city council and our community to get to this moment," Dillard said.
The proposal
Under the proposal, the Washington, D.C.-based Kearns & West will be working with four local groups: Think Peace and the three groups on the Healing Partners team — Banjo Knits Empowerment, Astig Planning and Mediation Services of Eastern Iowa. Three Native Americans from Iowa also will be involved.
The partners are committed to starting as soon as possible, according to the proposal.
These four groups have been collaborating on the proposal for about a year and a half, said V Fixmer-Oraiz, founder and CEO of Astig Planning and a Johnson County supervisor.
"Our proposal really is a community-led framework, and we like to talk about it as moving at the speed of trust," Fixmer-Oraiz said.
The process will follow a two-phased approach with room to evaluate, reflect and share progress.
Phase one, which is anticipated to last three months and cost $190,411, will consist of education, training, strategic doing, data collection and recommendations for moving forward. A presentation to the city council and progress evaluation will follow.
Phase two, which is scheduled for four months and estimated at $202,310, will continue work from the first phase, including fact-finding, truth-telling and strategic doing. Another presentation to the city council and progress evaluation will follow.
Also, $10,000is set aside in the budget for additional local groups to be involved.
Which should come first: more community input or resources?
Various community members and council members expressed the need for more community input from the TRC regarding its proposal. Those in support of the proposal said more engagement is coming — but the commission needs the resources to do so.
Iowa City resident Tony Currin, who spoke on behalf of the Black Voices Project, raised concerns about the funds paying Kearns & West.
"What we're asking you to do is not approve this budget tonight," Currin said. "We are grateful to our Black community members who have attempted to navigate your ambiguous charge while serving on the commission."
Johnson County Supervisor Royceann Porter expressed hurt she feels from the controversy with former commissioner Amel Ali, who resigned last year. Porter recommended a town hall between the council, TRC and the Black community.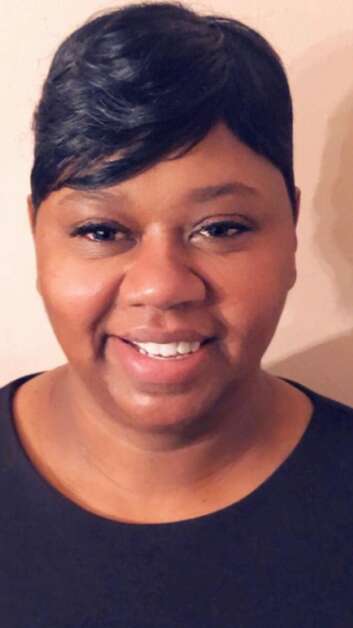 "Until there's some healing within the TRC and our Black community, I don't care how much and who you give the money to — we're going nowhere," Porter said.
Angie Jordan of Iowa City, founder of Banjo Knits Empowerment, said the facilitator proposal was an opportunity for the council to approve a plan that gives the TRC tools for its work.
"Look at all this energy in this room that was created and brought into this caldron because of the TRC without a budget, without a consultant," Jordan said. "They're able to garner this. … Imagine what they could do if unleashed with resources."
The split during public comment was mirrored when it came to council discussion.
Teague emphasized the importance of community involvement and ensuring the community feels heard during this process, especially with the hurt that has been felt. He recommended deferring the vote because "the trust (has) just started to happen between the community and TRC members."
Council member Alter acknowledged there is "a lot of pain still" but, "for that reason, I feel more compelled to say this is why we need to pass this."
Alter echoed Jordan's comments, saying the energy in the room needs to be channeled to move forward and have these conversations.
Thomas and Dunn agreed, saying Tuesday night's discussions need to be incorporated into the first steps of the TRC's work.
"I think that the commissioners are going to take our intense conversation today as a direction to try to mend that harm that has happened in the past, so that work could actually get done," Dunn said. "Because one thing that is true is that this will not work without total community buy in."
Two members resign
The council will need to fill two commission vacancies in the coming weeks. Mohamed Traore resigned Tuesday night, and Kevo Rivera's resignation is included in the TRC's agenda packet for its Thursday meeting.
Traore and Rivera had both been part of the commission since its inception. This leaves Eric Harris as the only original commissioner.
In early 2021, the commission saw several resignations from commission members and the group's facilitator. The resignations prompted the city council to temporarily suspend the group for four weeks in order to fill the vacancies.
Two vacancies were created and filled in 2022 following the resignations of commissioners Amel Ali and Daphney Daniel.
Comments: (319) 339-3155; izabela.zaluska@thegazette.com