Home / News / Government & Politics / Local Government
Eyeing options to boost housing stock, Cedar Rapids looks to expand accessory dwelling unit standards
Proposed changes would accommodate greater sizes, types and permissible locations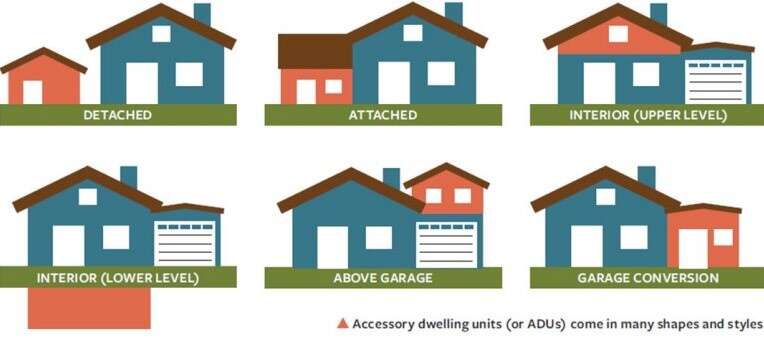 CEDAR RAPIDS — Residents soon may have more flexibility to build granny flats, backyard bungalows, garage apartments and in-law suites in Cedar Rapids.
In search of ways to expand housing stock as Cedar Rapids grapples with a shortage of units to shelter a growing population, the City Council on Tuesday approved the first consideration of changes to the zoning ordinance, paving the way for an expansion of accessory dwelling unit standards to accommodate greater sizes, types and permissible locations.
The move follows steps that cities, counties and states around the country — from Missoula, Mont., to Princeton, N.J. — have taken to relax regulations for these units created from converted space.
Currently, Cedar Rapids allows these units as a conditional use in suburban character areas. The amended ordinance would allow them by right in all residential districts.
The National Multifamily Housing Council, a Washington, D.C., not-for-profit, defines by-right development as prioritizing development of higher density multifamily housing through zoning policies. The organization says it works by establishing "a rule-based development approval process that improves the ability of the housing market to create new housing in response to increased demand."
The ordinance changes also would increase the current allowable size of accessory units to less than the primary structure, up to 1,000 square feet. Existing standards cap the size at 50 percent of the primary structure or 800 square feet, whichever is less.
City planner Jeff Wozencraft cited the most recent housing study from Minnesota-based Maxfield Research and Consulting and said the city — with these proposed changes — is "trying to support greater housing development to align with the shifting demographics that we see in our community."
The Maxfield analysis concluded that as Cedar Rapids' population of people ages 55 to 74 grows, the baby boomer generation will "continue to have the largest effect on the housing market in Cedar Rapids as their life cycle continues."
"Some baby boomers will prefer more expensive single-family homes, while others may prefer to downsize or desire maintenance-free alternatives," such as single-level townhomes, detached single-family homes, condos or traditional apartments, the study said.
The final change would boost the number of accessory dwelling units allowed per lot from one to two — one detached and one attached or internal.
The city borrowed from the AARP's model ordinance in making these proposed changes, Wozencraft said.
Since the city adopted a new zoning code in 2019, only four accessory units have been developed in the city, he said.
The units could be rented or used for additional members of an existing household — perhaps helping multigenerational families who want a space for an elderly relative, for instance. Seth Gunnerson, the city zoning administrator, said they would fall under the rental ordinance so anyone looking to rent out a unit would have to register.
"We know that we've been struggling and one of our biggest priorities is to address affordable housing," said council member Ashley Vanorny, who sits on the council's Development Committee. "We know that people have consolidated their housing during the derecho and during the pandemic as well, and so this just really helps us meet all of our goals."
Council member Dale Todd raised concerns that this might motivate speculators in distressed neighborhoods to add an additional unit to enhance their cash flow.
"I appreciate the concern for the Maxfield study, the need to create more affordable housing options and the analogy that you use where Aunt Gertrude moves into the garage above, next door," Todd said. "That's great, but I think about the worst-case scenario."
Todd said the goal of creating another housing spaces is "noble" and this is a way to achieve it. "But at the same time when it comes to a neighborhood that's distressed and relatively fragile as it is, you increase the density and you've added more potential for things to go amiss," he said.
He and the rest of the nine-member council ultimately voted unanimously to advance the ordinance for second and possible third considerations at a later date. The next council meeting is at noon Dec. 7.
Comments: (319) 398-8494; marissa.payne@thegazette.com