Home / News / Government & Politics / Local Government
Changes start Monday for Iowa City bus riders
New bus routes part of city's plan to improve transit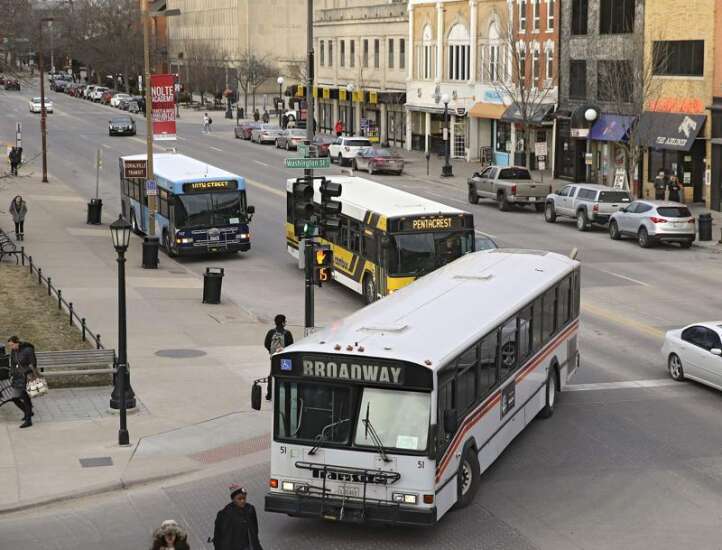 IOWA CITY — Big changes start Monday for Iowa City bus riders.
The city's 26 bus routes have been consolidated to 13 routes, with every route changing except the Eastside Loop and the downtown shuttle.
The changes are intended to help provide more frequent service and simplify navigating the system by combining routes that overlap with each other.
All of the routes will run on Saturdays — except the downtown shuttle and Eastside Loop — and most will run every 30 minutes during peak weekday times, but less often on Saturdays. The new system does not have any routes designated for only daytime or nighttime service — routes follow the same stops no matter the time of day.
Late this year or early next, the city will launch a two-year Sunday service pilot program.
The changes are a result of the Iowa City Area Transit Study, which examined how the public transit system in the area could be improved. The main changes residents wanted, based on survey data, were more frequent service, weekend service, later service, more reliable on-time information and faster service.
In July, the city implemented fare changes to make rates consistent with Coralville Transit. All Iowa City Transit passes can now be used on both cities' bus systems. The University of Iowa's Cambus service is free and open to the public.
Adult fares on Iowa City Transit are $1, though passes are available. Seniors, disabled passengers and Medicare and Johnson County SEATS cardholders can now ride Iowa City Transit for free, and youth fare has been reduced from 75 cents to 50 cents.
Some stops have been consolidated in the new routes, meaning that in some neighborhoods, riders will have to walk farther to access a bus route.
New routes
1 — South Iowa City: Serves riders of Lakeside, Cross Park and Broadway routes. Destinations include Waterfront Hy-Vee and Fareway.
2 — Court Street: Serves riders of Eastside express, Court Hill and Seventh Avenue routes. Destinations include Scott Park and City High School.
3 — Eastside Loop: Destinations include City High School, South East Junior High School and Grant Wood Elementary School.
4 — Downtown Shuttle: Destinations include University of Iowa east campus.
5 — Lower Muscatine/Kirkwood: Serves riders of Seventh Avenue and mall routes. Destinations include Kirkwood Community College and the Quarters apartment complex.
6 — Peninsula: Serves riders of Manville Heights and North Downtown routes. Destinations include Peninsula neighborhood and City Park.
7 — North Dodge: Serves riders of previous North Dodge route. Destinations include ACT campus and North Dodge Hy-Vee.
8 — Oakcrest: Serves riders of previous Oakcrest route. Destinations include UI Hospitals and Clinics and Oaknoll Retirement Residence.
9 — Towncrest: Serves riders of previous Towncrest route and Seventh Avenue. Destinations include First Street Hy-Vee and Towncrest commercial area.
10 — West Iowa City: Serves riders of Melrose Express, Plaen View, Westwinds and westside hospital routes. Destinations include UI Hospitals and Clinics.
11 — Rochester: Serves riders of previous Rochester route, extends service on to North Scott Boulevard, no longer serves Amherst Street. Destinations include Mercy Iowa City and Regina education center.
12 — Highway 1: Serves riders of Plean View, Westwinds, and Westport Plaza routes. Destinations include Walmart and Pheasant Ridge Apartment Complex.
13 — South Gilbert: Serves riders of Westport Plaza route. Destinations include Terry Trueblood Recreation Area and the Campus Recreation and Wellness Area.
Visit icgov.org/busschedules to view the full list of scheduled stops and times. For further information, consult the bus schedules and map also available at City Hall (410 E. Washington St.), the Iowa City Public Library, area hospitals, the Iowa Memorial Union Campus Information Center and all Iowa City Transit buses.
Comments: (319) 368-8827; rylee.wilson@thegazette.com