Home / News / Government & Politics / Local Government
Cedar Rapids reopening downtown streets after high winds knocked scaffolding loose
Some streets, sidewalks around First Avenue East had been closed due to potential risk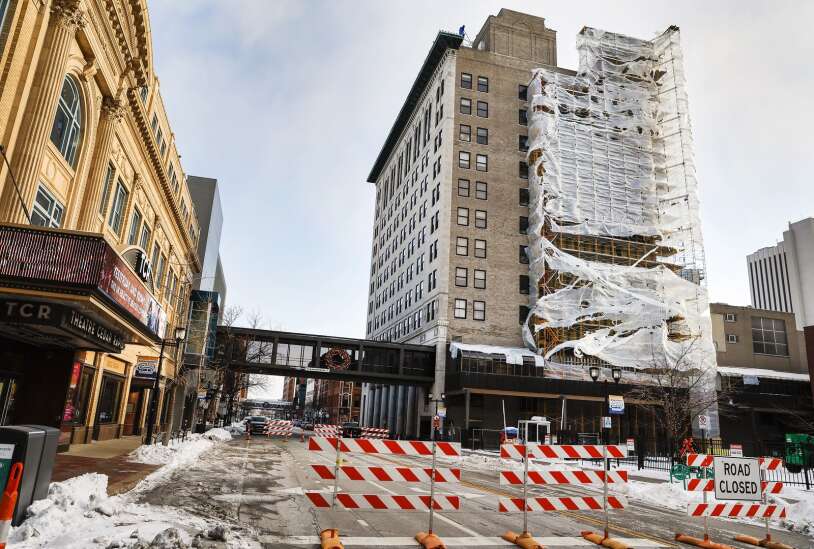 CEDAR RAPIDS — The city of Cedar Rapids is reopening downtown streets and sidewalks that were closed to protect motorists and passersby from scaffolding that Wednesday's high winds had caused to disengage from the U.S. Bank building.
Around 9:50 a.m. Wednesday, a general contractor and scaffolding contractor working at U.S. Bank, 222 Second Ave. SE, noticed movement on the scaffolding on the north side of the building as the result of high winds, according to a news release. Based on the contractors' initial investigation, the scaffolding anchoring had become disengaged from the structure, potentially posing a risk of failure.
Cedar Rapids police and firefighters responded to the scene after the contractors called 911 to notify authorities. The emergency responders found a piece of scaffolding on the 12th floor that had movement as the result of high winds. The top of the scaffolding is about 180 feet from the ground.
All streets and sidewalks surrounding the structure, including First Avenue East, were closed. Some portions of nearby buildings were vacated as a precaution.
Officials from the Cedar Rapids Building Services, Fire, Police and Public Works departments worked with the building owners to assess the situation, bar access to the potentially hazardous area and form a plan to secure the scaffolding.
There was no damage to the U.S. Bank building or surrounding buildings. No injuries were reported.
Winds gusted up to 50 mph, KCRG-TV9 reported.
"The general contractor recognized a potential safety concern with the scaffolding and cooperated with several city departments to efficiently mitigate the concern," Building Services Director Kevin Ciabatti said in a statement. "We appreciate the contractor's fast action, as well as the cooperation of the general public and businesses in the area impacted by sidewalk and road closures while proper assessments and efforts were employed to safely secure the scaffolding."
The general contractor, design team, scaffolding contractor and a third-party engineer representing the scaffolding contractor began assessments Wednesday, according to the city. They also made repairs to ensure all parts of the scaffolding were properly anchored and secured to the building. All repairs were completed by Thursday morning by certified scaffolding personnel under consultation with a third-party engineer.
Sidewalks and streets in the area should be fully open to vehicle and pedestrian traffic by 1:30 p.m. Thursday.
Comments: (319) 398-8494; marissa.payne@thegazette.com