Home / News / Government & Politics / Local Government
Cedar Rapids ReLeaf initiative raises over $1M in private funds to replant after derecho
Alliant Energy, Collins Aerospace, AEGON Transamerica provide lead gifts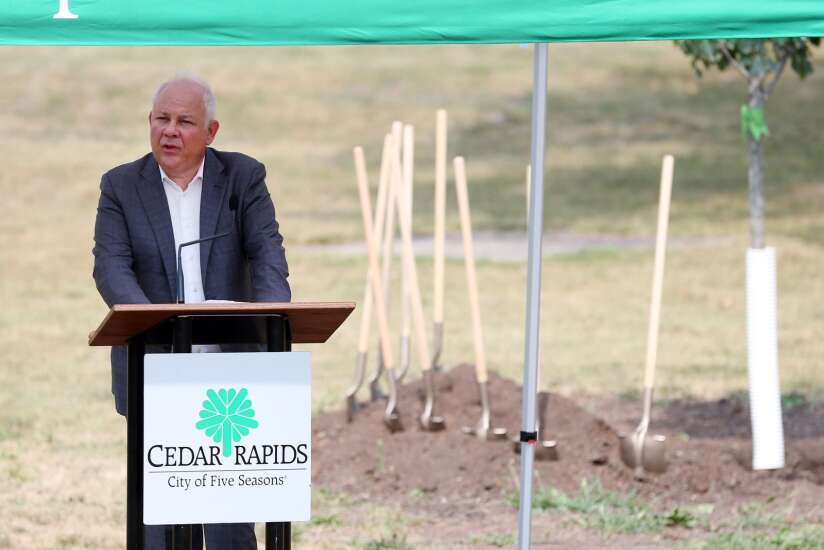 CEDAR RAPIDS — Private investors have contributed over $1 million to a Cedar Rapids campaign to replenish the tree canopy that the derecho's hurricane-force winds destroyed one year ago, officials announced Tuesday.
Corporate and individual donors have raised over $11 million since this spring for the city of Cedar Rapids' ReLeaf public-private partnership with Marion-based nonprofit Trees Forever to replant trees across the city. The city already has committed to providing $1 million a year for 10 years, and Trees Forever is looking to meet that contribution with $5 million in private funds.
Lead gifts come from the Alliant Energy Foundation ($550,000), Collins Aerospace ($250,000) and AEGON Transamerica Foundation ($100,000).
"We know how to come together in difficult times, we work together, we step up and everyone does their part," Mayor Brad Hart said during the city's event in Bever Park to commemorate the derecho anniversary. "It's really that spirit of resilience and perseverance and kindness that we're here today to celebrate. The storm was horrific and we need to understand the damage, but we need to celebrate this community and how many people stood up and continue to stand up to help others."
That's a lot of tree debris
You could fill 1,200 Olympic swimming pools with the amount of tree debris that city crews and contractors picked up after the derecho. (Source: City of Cedar Rapids)
The derecho's ferocious winds downed an estimated 70 percent of Cedar Rapids' tree canopy, leaving crews to spend over 10 months clearing approximately 4 million cubic yards of tree debris from along streets as officials began to pursue long-term replanting efforts.
City Manager Jeff Pomeranz said his first thought when the derecho struck Cedar Rapids was the safety of citizens in the city and state. But he said it also was immediately clear how much the storm's high-force winds had downed the trees, changing the city's landscape for generations to come.
As sunlight warmed Bever Park on Tuesday, Pomeranz said the park lost many trees in last year's storm but remained beautiful. Pomeranz as well as members of the City Council and community gathered to plant a tree in the park — a swamp white oak — as a symbol of the city's resilience and commitment to recovery.
"Regrowth of our trees will take decades, and as we all know, trees provide much more to humanity than just a beautiful tree," Pomeranz said. "Our trees are critical to the sustainability of our world."
The city will replant with an eye toward equity, Pomeranz said. Once complete this fall, the ReLeaf plan will include designs for 38 city parks and guide replanting around Cedar Rapids neighborhoods in public spaces.
"It's extremely important to our community that not just certain places receive the benefit of new trees, but our entire community receives that benefit, and we're going to make sure that equity is a key part of how and where we were plant," Pomeranz said.
Terry Kouba, president of Alliant Energy's Iowa energy company, said, the company's work to help derecho-affected communities in its service area rebuild started immediately after the storm and continues.
"One of the first things you notice when you're driving into a community that was impacted by the derecho is the spaces where the trees used to be," Kouba said. "It takes many great partners to help regrow that tree canopy."
Phil Jasper, president of mission systems at Collins Aerospace, said, the company lost 75 percent of the trees around its campus and 20 of its buildings were damaged by the storm, but the losses that Collins Aerospace had "pale in comparison to what our larger community and city had."
In addition to the company's contribution to ReLeaf, Jasper said, employees are being encouraged to replant trees around the community to help restore Cedar Rapids as a whole.
"When we're all working together, I think it demonstrates the power and the impact that all of us can have for all people within our communities," Jasper said.
Mary Quass, president and chief executive officer of NRG Media and chair of the ReLeaf campaign steering committee, said in a statement that the contributions demonstrate these companies are committed to the community and want to see it restored and thrive moving forward.
"This makes us all realize how important it is to replant our trees," Quass said. "It's urgent we take action now. We are planting today to benefit us, our children and grandchildren tomorrow."
Pomeranz said he is confident that more companies and individuals will step forward to assist the ReLeaf effort following the contributions.
"We're using this opportunity to make our tree canopy more diverse and better able to withstand disease and bad weather," Pomeranz said.
Comments: (319) 398-8494; marissa.payne@thegazette.com