Home / News / Government & Politics / Local Government
Cedar Rapids City Council member Pat Loeffler to compete on 'Family Feud'
Game show episode featuring Loeffler family airs Tuesday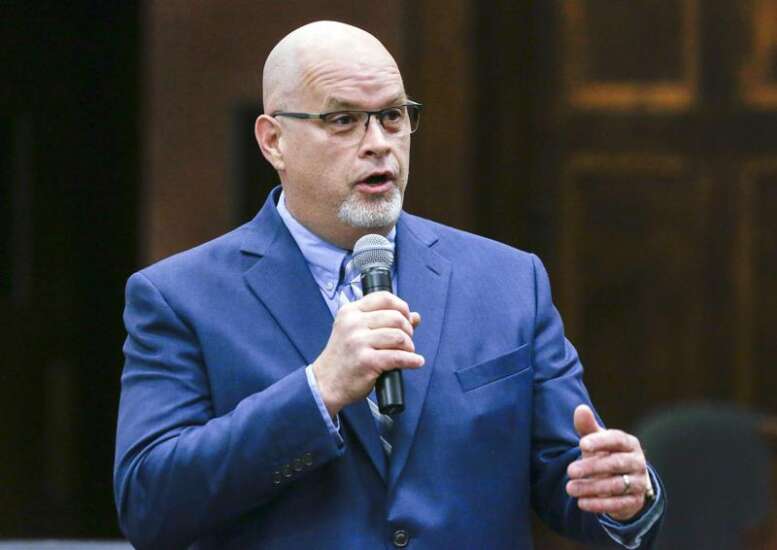 CEDAR RAPIDS — Cedar Rapids City Council member Pat Loeffler is trading the council dais for a table with a buzzer Tuesday when he appears on the long-running game show "Family Feud."
Loeffler and his family will appear on the daytime trivia show that pits five members of one family against five members of another family. Each team competes to guess the most popular answers of audience survey questions and win cash and prizes.
Loeffler participated in the show with his wife Kymm, daughters Bri and Alyssa and his son Jordan. The family is hosting a watch party from 5-7 p.m. Tuesday at Double Z Bar and Grill, 629 Ellis Blvd. NW, to view the episode airing at 5:30 p.m. on Fox.
"Family Feud" is hosted by Steve Harvey, who Loeffler said made the "surreal" experience feel like an hourslong comedy show.
"He's a comedian that plays off of real-life scenarios," Loeffler said. "That's what the hilarious thing about him is. So down to earth."
Loeffler said it took about two to three hours to film the show at the studio in the Atlanta metro area. The family spent four days and three nights there and had "really good bonding (time)," he said.
His wife applied in 2014 and the family went through auditions and interviews, and eventually in 2016 made it to live interviews in Chicago. The next step was to be on the show, Loeffler said, but then COVID-19 began its global spread and the family had to wait.
Eventually, his wife got an email asking if the family was still interested in participating in the show. The Loefflers interviewed again and ultimately were selected.
"They loved our charisma and family camaraderie," Loeffler said.
Loeffler said he'd been in the audience for four or five shows before making his own "Family Feud" debut. His family has "followed it forever," Loeffler said, and even joked after having his first daughter that he and his wife needed to have more children to get on "Family Feud" one day.
"I just can't wait to talk more about it," Loeffler said. "It was such a great experience. There was that family camaraderie and it really brought our family closer together."
The episode airing Tuesday was filmed on Loeffler's birthday, May 19. The Loefflers signed a nondisclosure agreement and can't tell anyone — even the children's significant others — whether they won or lost on the show.
"It's been hard to keep our secret," Loeffler said. " … We're excited about it, that it's finally here."
Comments: (319) 398-8494; marissa.payne@thegazette.com