Home / News / Government & Politics / Local Government
Cedar Rapids City Council boosts City Manager Jeff Pomeranz's pay
Raise comes after he leads through pandemic, derecho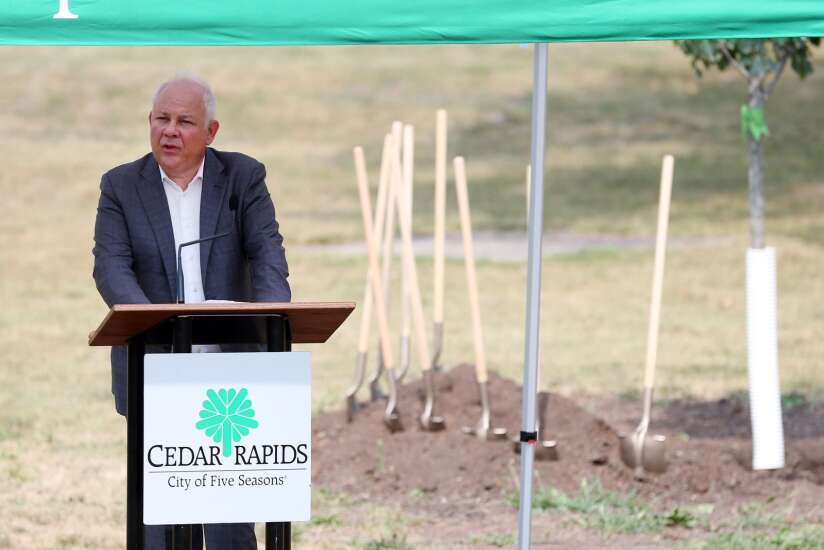 CEDAR RAPIDS — The City Council on Tuesday approved a boost to the city manager's salary — the first in two years after he has steered Cedar Rapids through responses to the COVID-19 pandemic and the 2020 derecho.
City Manager Jeff Pomeranz, the highest paid city administrator in Iowa, will get a 5.5 percent bump to his $332,540.29 annual salary, amounting to about $18,290, effective retroactively to Sept. 20. The increase follows a Nov. 23 closed-session annual performance review by the council.
Pomeranz's deferred compensation is 32 percent of his wages, and he gets another $300 per month as a vehicle allowance.
Mayor Brad Hart said Pomeranz "felt strongly" that council members not give him a raise in 2020 as the city faced revenue uncertainty amid the pandemic. So Hart said he and the council felt this pay increase was "reasonable and appropriate."
"I think not giving him a raise for two years in a row would send the wrong signal," Hart said. " … Everybody worked so hard to get through the derecho and the pandemic, but that may in many ways have been his finest hour."
Hart said he and his eight council colleagues believe Pomeranz, who has worked as a city manager for about 40 years in four cities around the country, is one of the best city managers in the nation and that Cedar Rapids is lucky to have him here.
"I really think that we hope and intended that this raise is a thank you to Jeff for all the great work he has done and continues to do for us and hopefully let him know that work and his service to the community is greatly appreciated," Hart said.
Council member Scott Overland, chair of the council's Finance and Administrative Services committee, said Pomeranz, now in his 11th year as Cedar Rapids' city manager, has "done a fabulous job for the citizens of Cedar Rapids."
"We believe that Jeff deserves the increase for his long service, but also in the last two years, the exceptional service in dealing with these extraordinary challenges," Overland said.
The council in 2017 approved a retention bonus plan for Pomeranz. If he remains an employee through March 18, 2023, referred to in the plan as "the retirement date," he receives a $131,027 bonus. He would get an additional $25,000-per-year bonus if he stays in his role in good standing beyond age 65 as long as he does not resign or get fired for any reason.
Pomeranz said he is committed to Cedar Rapids and looks forward to working with the council and incoming Mayor Tiffany O'Donnell. He said he does not have plans at this time to retire.
"My every intention is to remain as city manager of city of Cedar Rapids," Pomeranz said. "I enjoy the position and I absolutely appreciate the opportunity of serving the community and employees of the city."
Overland said Pomeranz has not indicated any intention to leave.
"Jeff loves Cedar Rapids," Overland said. "He loves his job. He loves working with the City Council, and he has not indicated any change in plans at this point."
O'Donnell, who will start her four-year term Jan. 1, said she supports Pomeranz's pay increase and considered it "appropriate for the challenges that he guided us through in 2021."
"The city manger's experience and results during his tenure reinforce his value," O'Donnell said.
Comments: (319) 398-8494; marissa.payne@thegazette.com