Home / News / Government & Politics / Local Government
Cedar Rapids activists urge Alliant Energy to reduce carbon emissions
Sunrise Movement, Advocates for Social Justice call for more renewable energy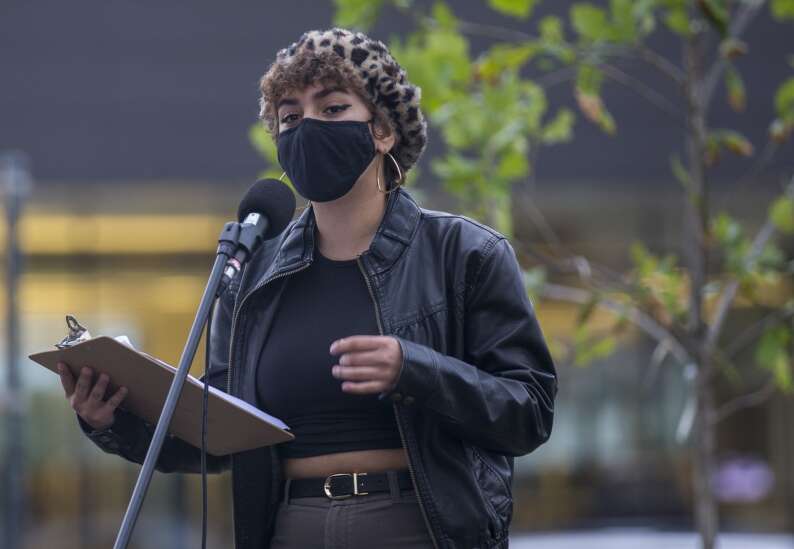 CEDAR RAPIDS — Local advocacy groups are urging Alliant Energy to take swift action to move toward carbon neutrality in its operations as scientists continue to sound the alarm on the rapidly worsening climate crisis.
With over 70 percent of the city's greenhouse gas emissions coming from the industrial sector, the Advocates for Social Justice and Sunrise Movement led a march Friday from Greene Square to Alliant's building at 200 First St. SE, calling for the utility to curb the carbon emissions fueling human-caused climate change.
The groups have issued demands for Alliant to:
Immediately begin decommissioning the Prairie Creek Generating System at 3300 C St. SW
Transition to a carbon net zero energy system by 2035
Expand the transmission grid to handle the shift to more sustainable energy sources
Invest 10 percent of Alliant's annual net profits into programs that help households improve energy efficiency, produce their own distributed energy and support their energy storage capacity
Chants of "Hey hey, ho ho, fossil fuels have got to go," and, "Be the solution, not the pollution" rang out as the group marched down Third Avenue SE.
Ten-year-old Alan Veve was among the marchers. Standing outside Alliant, he had marched with a sign that read, "If you poison the people and the planet, who's left to profit off of?"
"I think it means, 'Don't pollute if you want money,'" Veve said of his sign.
Democratic state Rep. Liz Bennett — who is seeking Rob Hogg's seat in the Iowa Senate after he announced he would not seek re-election — called upon Alliant to "take the opportunity to be a game changer."
"Be a leader by shutting down your coal plants, make good jobs, create good jobs for Iowans, expand the grid," Bennett said. "Play a part in a better future, because as this gentleman here so aptly said," referring to Veve, "without people there is no profit."
2018 energy efficiency law
Hogg hammered on an Iowa law passed in 2018 that he said put an "arbitrary" cap on energy efficiency spending by the utilities of 2 percent of a customer's bill for electric, and cost jobs with reductions in investments in wind energy efficiency.
Republicans at the time passed the bill over objections from Democrats and environmental advocates, saying it would provide reliable energy from renewable sources at a reduced cost for consumers.
Energy News Network, citing an analysis by the Iowa Environmental Council, reported that both Alliant and MidAmerican Energy slashed electricity conservation programs by over a third, and gas conservation programs by more than three-quarters, following the law's passage.
"One of the systems that has to be corrected is what utilities like Alliant can do controlling the Legislature to hurt bad public policy," Hogg said, referring to lobbying by Alliant and MidAmerican to get lawmakers to pass the 2018 bill.
Climate change and racial justice
Advocates for Social Justice board member Harold Walehwa spoke about how he sees climate and racial issues as interrelated.
"Being a young person makes me feel nervous about the direction of climate change," he said. "Being a young Black person makes me feel worried about the intersectionalities that climate change and racial justice presents."
Walehwa and his partner, Angelina Ramirez, have chosen to stay in Cedar Rapids after they graduate from Coe College in 2022. For more people to opt to stay here, though, he said companies need to commit to climate-friendly actions and elected leaders need to prioritize climate justice.
Ramirez, also an Advocates for Social Justice board member, said "communities of color have been screaming for people to listen to these issues for decades."
Immigrants and refugees in Cedar Rapids, for instance, faced added hurdles after the 2020 derecho devastated the city — struggling to access the help they needed because of cultural, language, financial and governmental aid barriers, she said.
"Our community has failed to see the systemic issues at play, and the climate disasters will inevitably come, and it will inevitably impact people of color, lower-income residents and our immigrant communities," Ramirez said. " … As we are killing our planet, we are also killing the people of color who carry this nation on our backs."
Linn County Sustainability Program Manager Tamara Marcus, who is challenging Dale Todd for the Cedar Rapids City Council District 3 seat in the Nov. 2 election, asked rally attendees who they would bring along to the movement.
"The time to act is now," Marcus said. "We know that. We all know that. That's why we're here, but it will take all of us."
The march comes on the cusp of Cedar Rapids' adoption of a Community Climate Action Plan, pending City Council consideration Tuesday. The plan focuses on building community resiliency to intensifying climate events and accelerated global warming.
Much of it also focuses on carbon neutrality, with the goal of eliminating coal, reducing carbon emissions in the industrial sector and sequestering remaining carbon. It envisions city-industry collaborations to drive carbon reduction.
Alliant says it is 'being proactive'
Alliant spokesperson Morgan Hawk wrote in an email that Alliant has been advancing renewable energy for over a decade, as shown in its Clean Energy Blueprint. Wind, solar and battery storage are among the renewable resources included in this plan.
Projects in the blueprint will result in over $300 million in savings for customers over the next 35 years, he said.
"By being proactive, nimble and forward-thinking, we have a clear vision for how our customers will receive their power today and into the future," Hawk said.
"Our accelerated sustainability goals include eliminating all coal from our generation fleet by 2040 and aspiring to achieve net-zero carbon dioxide emissions from the electricity we generate by 2050," part of which he said involves retiring its generating station in Lansing by the end of 2022 and transitioning the Burlington generating station to natural gas this year.
Comments: (319) 398-8494; marissa.payne@thegazette.com