Home / News / Government & Politics / Local Government
Bridge Under the Bridge temporarily relocates to The ROC Center in Cedar Rapids
Linn County had ordered nonprofit move from under Eighth Avenue bridge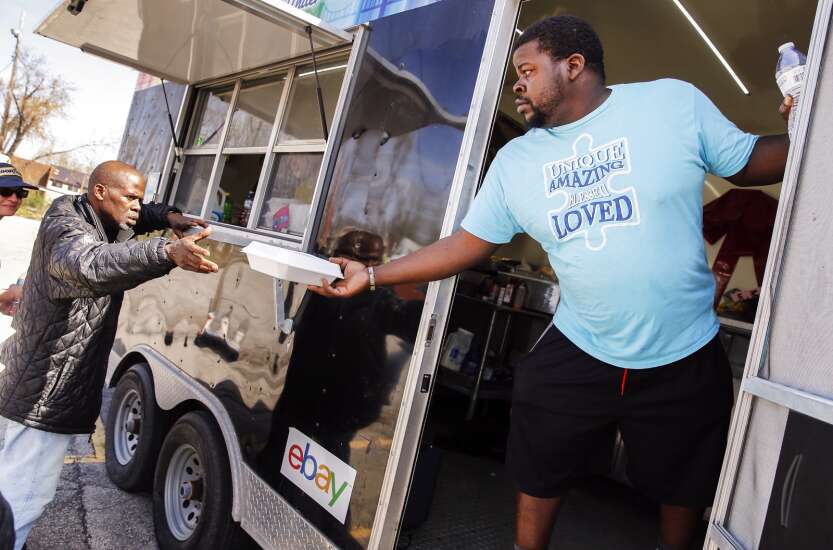 CEDAR RAPIDS — Bridge Under the Bridge, the nonprofit that has fed people free hot meals under the Eighth Avenue SW bridge since the derecho devastated Cedar Rapids in 2020, has found a new temporary home after being asked to leave its original spot.
Starting Wednesday, the nonprofit was temporarily located at The ROC Center, 1202 10th St. SE, according to a Facebook post. Linn County last week ordered Bridge Under the Bridge to move from its original location under Interstate 380 along Eighth Avenue SW after neighbors complained about trash and other equipment being left at the site starting last year.
"We have secured what will be our new home temporarily, we will see how things go!" the nonprofit's Facebook post reads. The nonprofit thanked the community center's executive director, Steve Wilson, for allowing the move.
Bridge Under the Bridge will serve hot meals here from 3 to 6 p.m. weekdays, weather permitting.
The county leases the original Eighth Avenue SW spot from the Iowa Department of Transportation for employee parking near the county's Juvenile Justice Center. Supervisor Ben Rogers said county officials had communicated with Bridge Under the Bridge asking the group's owners, Bridgette Williams-Robinson and Jovountae Robinson, to clean their site so the Iowa DOT could consider letting the food trailer stay. But ultimately the county ordered the nonprofit to leave by April 29 as the complaints continued over seemingly abandoned vehicles, equipment and trash.
The Iowa DOT had warned Linn County it was in violation of its lease agreement, so Rogers said "we as the tenant had to make good on our contractual agreement."
Cedar Rapids Mayor Tiffany O'Donnell said earlier this week the city stepped in to help find an alternative location because of the service Bridge Under the Bridge has provided to the community.
"We value what they have done in the community and wanted to help out," O'Donnell said.
Williams-Robinson and her husband started the nonprofit after the Aug. 10, 2020, derecho resulted in power outages for days after the storm. The couple pulled out a grill Williams-Robinson had for her business as a party planner and started cooking the food in their freezer for neighbors. The couple in December 2020 was gifted a brand-new food trailer, donated by eBay, on "Good Morning America."
Comments: (319) 398-8494; marissa.payne@thegazette.com