Home / News / Government & Politics / Local Government
As he leaves office, Brad Hart looking for new ways to serve Cedar Rapids
Through unprecedented four years, Hart has shown 'absolute commitment to serving Cedar Rapids'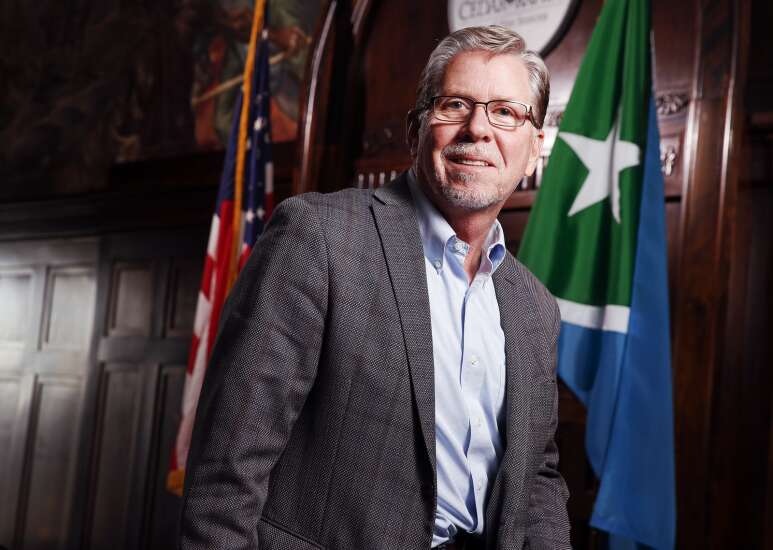 CEDAR RAPIDS — Brad Hart was a business lawyer at the local Bradley & Riley firm and a community volunteer motivated to make an impact in people's lives when someone suggested he run for Cedar Rapids mayor.
"This way you can serve the entire city," not solely the groups of people who are helped by United Way of Eastern Iowa, Horizons or the Chamber of Commerce, Hart recalled being told.
Until then, he had not thought about running for office, but the idea stuck with him. In 2017, he successfully rose to the top of a field of eight candidates to become mayor, succeeding Ron Corbett.
Hart's four-year term has been filled with unprecedented challenges for the city, as 2020 brought the COVID-19 pandemic and a shaky economy, the devastation of the derecho's hurricane-force winds and civil unrest following George Floyd's murder by Minneapolis police.
Now, Hart is preparing to return to life outside of the public eye after losing his re-election bid in November. Women Lead Change Chief Executive Officer Tiffany O'Donnell will take his spot in City Hall effective Jan. 1.
Few people get to be mayor of Iowa's second largest city, Hart said, and he considers his four years of service a "privilege."
Progress in unprecedented times
While Hart is disappointed he will not return to City Hall as mayor come 2022, he is taking this time to reflect on progress the city has made in the last four years.
Among the list of accomplishments Hart rattled off: More streets repaired through Paving for Progress, an uptick in funds for the city's $750 million permanent Flood Control System, the creation of the ReLeaf urban forestry plan, establishment of the Rollin' Recmobile to bring recreation to youth, implementation of the Gateways for Growth initiative to support immigrants, increased participation on city boards and commissions, work on major development projects and continued job creation.
But Hart also knows some dark spots loomed over his term, and were likely top of mind for voters as they cast their ballots this year and decided it was time for a change in leadership.
He personally took some heat for calls made amid such "unprecedented" times, including the decision to mandate masks in public spaces to curb the spread of COVID-19, giving local businesses some cover to require masks on their own properties. Some criticized Hart for the decision not being made sooner, while Hart said others reached out to condemn the order and felt it was an unnecessary government intrusion into their lives.
Hart also said he would have handled an interview with KCRG-TV differently after the Aug. 10, 2020, derecho, when his comments about not needing the National Guard to clear tree debris left some residents feeling as if the city did not recognize their needs or have a plan to sufficiently respond in the disaster's wake.
"I should have said we need (the Guard) for everything else they can provide," Hart said, but he noted that now the city is taking lessons from the derecho to enhance emergency preparedness, improving communication, planning and training for staff and residents alike.
As he played a role in steering the city through the obstacles of 2020, Hart said he felt even more pride in Cedar Rapids than he had as a private citizen. And he had a front-row seat to it all.
"There was so much going on throughout the city, public and private sector, and people stepping up, and I saw more details of that as mayor than I would as a private citizen," Hart said.
'Commitment to serving'
City Manager Jeff Pomeranz, who reports directly to the mayor and other eight Cedar Rapids City Council members, said Hart has been a hardworking mayor and the two have enjoyed a good relationship.
"Brad is always prepared and willing and able to represent the city when called upon," Pomeranz said. " … He has an absolute commitment to serving Cedar Rapids, and that's something that I very much have appreciated."
Pomeranz said Hart always made himself available to city staff, was communicative with his council colleagues and was interested in listening to and hearing citizens' concerns. And he did so amid four years of challenges that Pomeranz said required "significant leadership, and Brad stepped up to meet those challenges."
"His commitment to serving was also seen every day when Brad's car was parked at City Hall, from many times early in the morning to late at night," Pomeranz said. "He not only cared, but he has worked hard to represent our city."
Hart said he considers leadership to be the most important quality for a mayor to exhibit, and that encompasses "being able to listen but also being able to make a decision, for people to trust you (and) to know that you're doing it for the right reason."
Council member Dale Todd, the mayor pro tem, thanked Hart for his four years of service at the city's recent demolition ceremony to celebrate the commencement of work on the $49 million mixed-use project on what's known as the Banjo Block at 515 Fourth Ave. SE.
"Under your leadership, I've had the chance to say 'this is a big deal' a couple of times over the course of these last four years with some of the projects," Todd said. "The mark of a good mayor is in your legacy. A lot of us won't know it until four or five years down the road."
Todd told The Gazette that Hart served "during the four most challenging and yet productive years that this city has ever experienced."
"Nobody tried to do the right thing and worked harder than Mayor Hart," Todd said.
Return to private life
What's next for Hart? He's asking the same question of himself.
For starters, he has committed to helping fundraise for the ReLeaf partnership between nonprofit Trees Forever and the city to reforest Cedar Rapids after widespread tree loss in the derecho.
"I'll find another way to serve," Hart said.
Having served as mayor, Hart said he anticipates looking for more "hands-on" volunteer opportunities, and he has a particular interest in working on housing issues facing the community.
What Hart said he will miss most is working with the city team to figure out solutions to Cedar Rapids' challenges, but all this work has shaped how he will approach his own volunteer work going forward.
"I will probably want to connect more to the people being served by the cause in the future," Hart said.
Comments: (319) 398-8494; marissa.payne@thegazette.com