Home / News / Government & Politics / Local Government
Accessory dwelling units awarded Cedar Rapids city tax incentives for first time
'Rainbow Road' houses among projects to receive financial support
CEDAR RAPIDS — For the first time, single-family homes featuring accessory dwelling units were awarded financial incentives from the Cedar Rapids City Council on Tuesday — adding 24 market-rate residential units to the city.
The city is providing financial support to two proposed projects from Gutschmidt Properties. One, in Oak Hill Jackson, will build new single-family rental housing units in the neighborhood, while the other will transform a blighted block in Cedar Rapids' southwest quadrant into a stretch of rental houses painted the colors of the rainbow as a symbol of LGBTQ inclusion.
⧉ Related article: More Iowa cities exploring accessory dwelling units as affordable housing solution after Cedar Rapids policy expansion
"Rainbow Road" will re-imagine 10 properties on M Street SW between 10th and 12th avenues — a block where properties were destroyed by the 2008 flood. Visible from Interstate 380, this site will serve as a representation of love and acceptance to motorists passing by Iowa's second-largest city.
Developer Eric Gutschmidt announced plans for the block's transformation at last year's annual PrideFest.
Some units on this block are already complete or near-completion. The incentives awarded Tuesday will support 15 units on five lots — five single-family homes with two ADUs on each property, totaling a $4 million investment. The empty parcels are located at 920, 926, 930 and 940 M St. SW as well as 1213 N St. SW.
Each parcel will have three garage stalls for a total of 15.
The project qualifies under the city's local match program, as the developer is seeking workforce housing tax credits through the Iowa Economic Development Authority.
Cedar Rapids' match is a 10-year, 100 percent rebate on increased taxes — an estimated $480,000 in total taxes generated over that period, with $350,000 being rebated.
Construction is anticipated to start in April 2024 and wrap up by March 2026.
Council member Ashley Vanorny said this working-class neighborhood hasn't had much investment in it. She envisioned opportunities to re-imagine a triangular piece of green space owned by Alliant Energy nearby.
"A lot of the homes are quite aged or they're working on improving that, so this is going to be really noticeable, but also very beautiful," Vanorny said.
Council member Ann Poe, chair of the council's Development Committee, said this is a "fun" project and she appreciated the garage parking being in the rear of the development. She asked about the developer's plans to maintain an alley behind the units to ensure that stays in good condition.
"I love this," Poe said. "I absolutely think it's exciting. I love that we're getting ADUs and actually being able to use those and in a thoughtful way and provide some additional housing."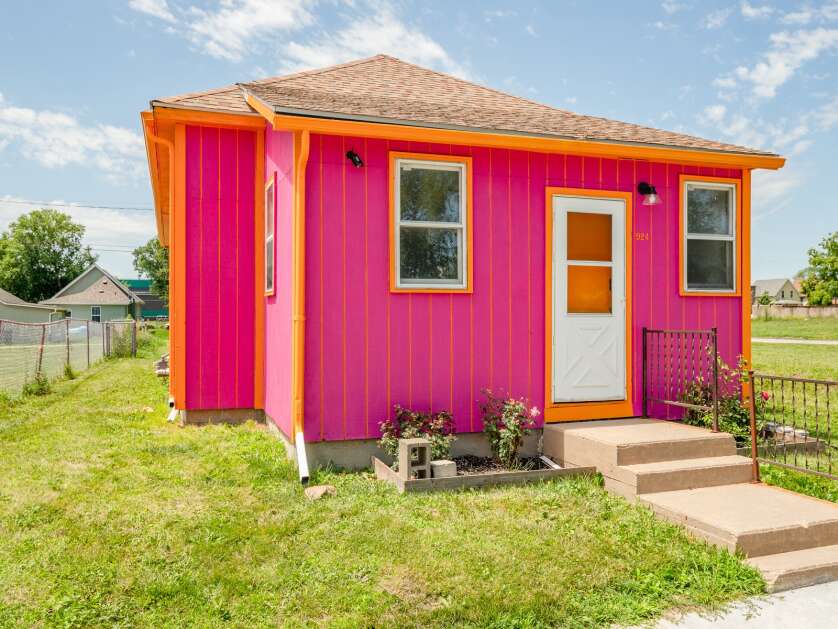 Sandy Locke, owner of Prairie Rose Rentals and operations director for Gutschmidt Properties, said she owns a rental property on the "Rainbow Road" block and is participating in the block's redevelopment with plans to begin exterior painting in near future and an already-rehabilitated interior.
She said the project adds desperately needed market-rate housing to the growing city. Rents are anticipated to be between $1,400 and $1,500 for the three-bedroom units, Economic Development Coordinator Scott Mather said.
The project is supported by organizations such as the Taylor Neighborhood Association, ImOn, SaveCR Heritage and Matthew 25, Locke said.
"This block of houses won't be missed from the interstate and hopefully become an iconic symbol of the city's commitment to diversity, inclusion and creativity," Locke said. "Our hope is that this project will be a catalyst for reinvestment in the neighborhood, resulting in a vibrant, proud mixed-income community that highlights both the city's past as well as its future."
Oak Hill Jackson project will address need for 'middle' housing
On the Oak Hill Jackson units, the developer is looking to build three residential units at 922 Ninth St. SE. The properties would be on a vacant lot where a previous home was demolished.
The $620,000 project involves building a single-family home and two accessory dwelling units, all market-rate. The structures are three-bedroom, two-bathroom units.
There is an attached ADU and a detached garage ADU on each lot, with no-mow landscaping and native plants.
Overall, the projects will add six off-street parking spaces including three garages.
Gutschmidt Properties already has a footprint in Oak Hill Jackson and has rehabilitated several homes in the area. Ben Kaplan, who does marketing work for the company, said the Oak Hill Jackson Neighborhood Association supports the project.
"We're proud to build missing middle housing in Cedar Rapids' core neighborhoods." Kaplan said, referring to the lack of a variety of housing between large apartment complexes and single-family homes. " … Missing middle housing is a necessary component of any city's housing stock, helping fill in missing teeth, providing a variety of housing sizes and configurations for a variety of families and adding vitality back into neighborhoods."
Construction is slated to start in July and wrap up in December.
The city will provide a reimbursement of 100 percent of the tax increments up to a net present value of $72,000 or 20 consecutive annual payments.
"I want to commend the developer for the collaboration with the neighborhood and creativity with ADUs and the like in addressing that missing middle," Mayor Tiffany O'Donnell said.
Vanorny said the quality of Gutschmidt Properties projects allow tenants to live in dignity.
"The use of space is always very well done," Vanorny said. "The materials are something that would give anybody pride to live within these spaces and really maximizing the amount of people who can live safely and live in a beautiful communal sense."
A development agreement finalizing terms will be brought back to council at a later date for both projects — in June for Oak Hill Jackson and in September for "Rainbow Road" houses, after the IEDA makes a decision on workforce housing tax credits.
Business expansion will retain 77 jobs, create 12 new jobs
The council approved tax incentives for a $5 million proposed project at 1345 76th Ave. SW for Conveyor Engineering and Manufacturing Co. to expand its headquarters facility.
The company is pursuing a 32,000 square-foot expansion to the existing building. The project would retain 77 jobs and create 12 new jobs — three of which would be at or above the high-quality wage threshold of $25.20 an hour.
The company would receive standard incentives — a 10-year, 50 percent reimbursement of increased taxes generated by the development.
Based on the investment and estimated post-development value, city staff estimate the project will generate $1 million in total taxes over a 10-year period, of which $380,000 would be rebated back to the company, Mather said.
A development agreement will be brought back to the council for consideration in June or July.
"This is another longtime local company choosing to invest in Cedar Rapids and continue to expand their facility as well as the number of jobs that they provide," council member Scott Overland said. "I think it's a testament to our community when we see our local companies choosing to expand here."
Comments: (319) 398-8494; marissa.payne@thegazette.com