Home / Life
Windows restored: Iowa City man works to save historic windows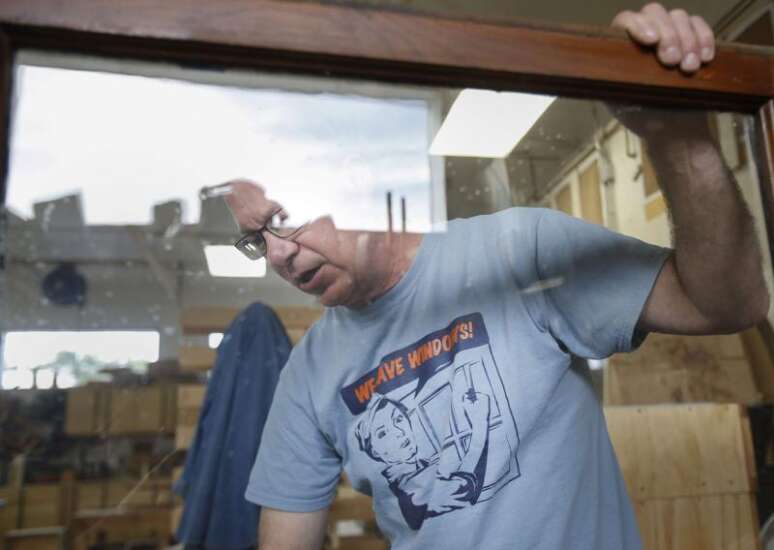 At Fresh Air Window Works in Iowa City, owner Larry Johnson works to save a little bit of history, one window at a time.
He makes his living restoring historic windows — decades or even centuries-old windows that many homeowners are eager to replace. People buy replacement windows hoping for energy savings, but Johnson said with just a little work, an old window with a storm window can do the job.
Also a board member for the Friends of Historic Preservation in Iowa City, Johnson retrofits historic windows with things like weather stripping to prevent air from escaping, fills in cracks in wooden frames with architectural epoxy and reglazes the windows. He also removes lead paint, using an infrared device to safely heat and lift the paint, and replaces broken parts and glass from an inventory of old windows he keeps in his workshop.
'We have a fascination in America with new stuff, but to me, the old stuff is better than the new stuff,' he said. 'With retrofits, an old window can be just as energy efficient as a new window.
His assertions are based on more than an appreciation for historic preservation. He is a member of the Window Preservation Standards Collaborative, a collection of contractors and others dedicated to historic preservation, which developed a book to formalize best practices for window restoration. In 2011, the Collaborative had blower door tests done to see if their methods worked- tests that find air leakage in homes. Their tests found a properly restored window with modern retrofits tested just as efficient as a new, replacement window.
Johnson, who started working on windows more than five years ago and has restored some of the windows at the historic Brucemore mansion in Cedar Rapids, said the old growth wood of historic windows is irreplaceable. It is dense and tough and is now mostly gone from North America.
'It's a crime whenever a house gets demolished and this stuff goes to the landfill, because it's perfectly useful,' he said. 'There are so many old things that are valuable in our environment that we should not lose. One of the biggest reasons for doing this is because of sustainability.'
A new window, he said, may need to be replaced every 20 to 30 years, while a historic window has already lasted for decades and can last for decades more with proper care. He laments 'demolition by neglect,' one of historic preservation's biggest enemies.
Signs a window needs repair or restoration work are things like failing putty, failing paint and cracks in the wood. Maintenance can prolong the life of the window — things like keeping the paint smooth and clean help a lot. Though window restoration advocates are passionate, there are not a lot of people doing the work. Johnson's calendar is booked through at least February, and he was only aware of a handful of others working on window restoration in Iowa, including Wadsworth Construction in Decorah, Knox Plat Windows in Des Moines and T.K. Enterprises in Riverside. When The Gazette visited Johnson at his workshop in October, he was working on windows for a woman from Kansas who couldn't find anyone to do the work closer to home.
He was also restoring a 150-year-old arched gothic-style window with 12 individual panes of glass from a home in Iowa City. He does the work by hand, using many of the same techniques that would have been used to build the original window.
'First, do no harm. Preserve as much as possible,' he said. 'It's artisanal work, and it's a creative process, because every window is different. These are unique windows and not something you could go to hardware store and replace.'
TO REPAIR OR REPLACE?
Learn more about window restoration:
Window Preservation Standards Collaborative: windowstandards.org
Fresh Air Window Works: (319) 936-5800
l Comments: (319) 398-8434; alison.gowans@thegazette.com