Home / Life
Thanks to Michael Phelps, cupping now in the spotlight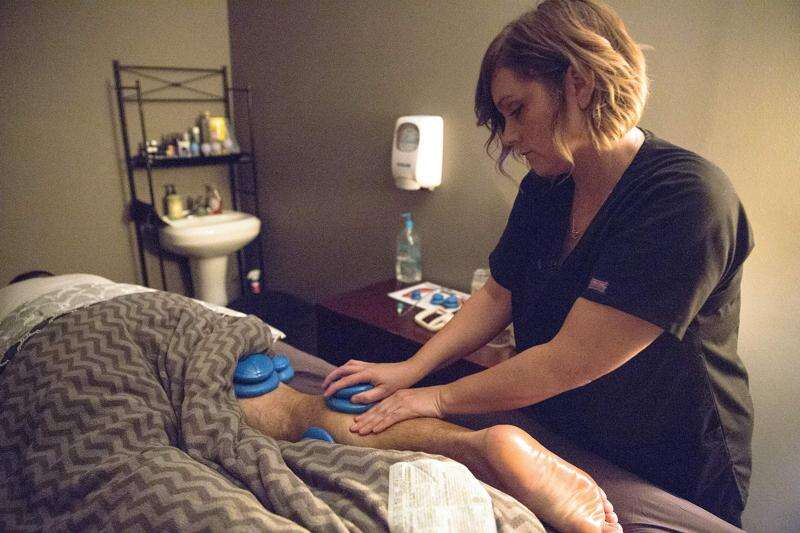 Ara Ispentchian estimates he runs 40 to 50 miles a week.
The Cedar Rapids ultramarathoner is currently training for the Twin Cities Ultra Looney Challenge, during which runners will run a 5K, a 10K and a full marathon in one weekend.
All that running puts a lot of strain on his legs, and Ispentchian takes his training seriously. Part of his preparations involve regular visits for cupping therapy at Iowa Massage & Spa, where certified massage therapist Alison Isenhart massages his calves with the help of blue suction cups.
Cupping, which has been used in Chinese medicine for thousands of years, was thrust into the spotlight this month when decorated Olympic swimmer Michael Phelps was spotted with red cupping marks before he hit the pool.
Licensed massage therapist and certified cupping therapist Ellen Meyer of Hands in Harmony said the Cedar Rapids massage and spa business has seen a lot of new interest in the ancient therapy since Phelps and other Olympians have raised its profile.
Far from a fad, however, many in the Corridor have used the therapy for years as part of their sports training regimens and to help alleviate pain.
'It can be used for stress relief, for injuries,' Meyer said. 'Anyone can benefit from cupping, either alone or in conjunction with other therapies.'
Cupping uses suction to pull muscles and connective tissues up instead of pushing down on them as massage does. It pulls toxins, lactic acid and stagnant blood to the surface of the skin where it can more easily disperse, which is what causes the distinctive red marks Phelps sported. The marks aren't bruises, Isenhart emphasized — bruises are caused when small blood vessels break and blood forms under the skin. With cupping, capillaries aren't broken — rather, fluid that is already built up is moved out of the muscles to increase blood flow.
Isenhart is certified in advanced cupping methods from the International Cupping Therapy Association and also learned about the technique when studying massage therapy at Capri College. She used flexible 'banguanfa' cups on Ispentchian's legs, while also massaging his muscles with her hands. She integrates cupping with the rest of her massage therapy and said it can help loosen muscles before she massages them.
'This therapy is helping my legs stay fresh and healthy and (helping me) compete,' Ispentchian said. 'The first time I had it, it kind of felt like my legs were taken off and I was given a fresh set of legs.'
Not everyone gets red marks — Ispentchian's calves were mark-free when Isenhart finished. Marks are most likely to occur over spots with toxin, lactic acid and stagnant blood buildup- often over the spots of old or new injuries, for example. The darker the spot, the more buildup there is — some people have dark purple spots after their first cupping session. The goal is for a patient to move to lighter and lighter marks as they continue treatment.
'When you get clear marks, you know you're doing good,' Isenhart said.
That's what happened with another of her clients, Shirley Parker, of Marion, who started coming to Isenhart after a car accident almost three years ago left her with back and neck injuries. She has had chronic pain since then that she said her doctors have been able to do little to help.
On Parker, Isenhart used clear 'kangzhu' cups. A small handheld device sucked air from the cups after she placed them on Parker's back, pulling the skin up into the cup. Some therapists use heat to create the suction, swirling alcohol in the cups and lighting it on fire before placing the cups on a client's back. Isenhart does not use that technique for liability and other reasons, but she said the suction effect is the same.
When Parker first started cupping, her marks were dark. After an hourlong session on Tuesday, however, she has light pink marks that faded quickly.
Her pain hasn't gone away, she said, but she gets relief after each massage and cupping session.
'It's definitely been better. I'm not OK, but I think it's helping,' she said.
Cupping isn't ever going to solve problems on its own, Isenhart and Meyer both said. Rather, it is one technique in an array of services therapists can offer. They both refer people to a chiropractor or tell them to see their doctor if they spot problems outside their purview, and other providers have referred people to them in turn.
'No two clients are the same, no two injuries are the same. It's important we use all the tools in our toolbox,' Meyer said.
IF YOU TRY IT
Iowa Massage & Spa
202 Blairs Ferry Rd., Cedar Rapids
massagebook.com/iowamassagetherapy
Contact: Email iowamassage@hotmail.com
Hands in Harmony
1615 32nd St. NE Suite 3, Cedar Rapids and 104 First St. SW, Mount Vernon
Contact: (319) 366-5454
Several other Corridor providers offer cupping as well.