Home / Life
Take a ride on the Boone & Scenic Valley Railroad for sweeping views of fall colors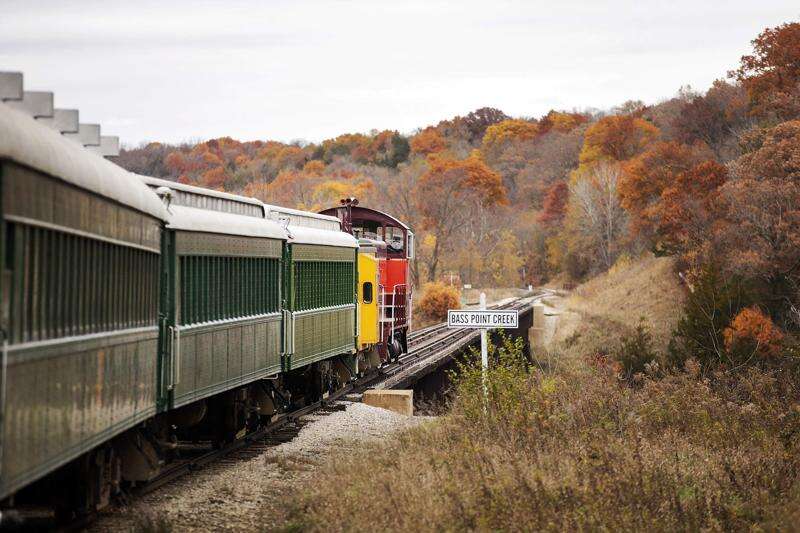 BOONE — When the Flyer Fraser train chugs out of the station in front of the museum at the Boone & Scenic Valley Railroad, it's in many ways taking a ride back in time. The stunning views off the 156-foot tall Bass Point Creek High Bridge the track runs over are an added bonus.
'We're here to see the fall leaves,' said Sue Jostes of Johnston on a visit last October. 'It's nice just being out in the air, and not having to drive.'
She was one of thousands to take the train ride in search of scenic vistas and history last year. The Boone & Scenic Valley Railroad has been operating these trips since Chicago Northwestern was going to abandon the train track through the Des Moines River Valley in the 1980s. A group of citizens in the central Iowa community of Boone saw an opportunity to preserve history and bring tourism to their town. They took over the stretch of railroad track, acquired some trains, and started offering rides to the public in 1983, selling tickets from a small shed.
The operation grew from there. In 2012, they opened the James H. Andrew Railroad Museum, which museum Director Mike Wendel said attracts about 30,000 visitors a year.
General Manager Travis Stevenson started as a volunteer with the organization in 1997.
'I've got a 6-year-old and a 9-year-old. Coming in here and explaining some of the exhibit — this is how things happened when your grandmother was your age — it's interesting, it's fun,' he said. 'It's something that's been a part of the country, of our history, for so long. Places like this are a way for people to get that experience.'
The trains leave Boone and then experiences a 200-foot drop in elevation to the town of Fraser, once a booming mining town and former headquarters for the Boone Valley Coal and Railroad Co. The route goes through the Des Moines River Valley and across the 156-foot tall Bass Point Creek High Bridge, which according to the museum is the tallest single-track interurban railroad bridge in the United States.
On a ride last October, the train puffed by fresh harvested cornfields, scaring pheasants who flew up from the brush next to the track.
Passenger Allison Houston, then age 9, of Nevada, approved of the experience
'I really like how the trains look. I just think they're really cool. You get to see stuff you usually don't see in cars,' she said.
Her grandfather Steve Williams said that, for him, the excursion was nostalgic.
'Our grandkids had never been on a train,' he said. 'But I traveled from California to Iowa on a train when I was their age, so we wanted them to have the experience.'
Stevenson said about 45 percent of ridership is on the seasonal family trains — the Pumpkin and Santa Express trains — and Thomas the Tank Engine-theme rides (happening Saturday and Sunday). The dinner and lunch rides also are popular, as are the classic excursions.
Train enthusiasts will find plenty to be excited about at the museum, which along with exhibits has a library with around 2,000 volumes.
Together, the museum and railroad have about 10 employees and they are supported by about 2,000 volunteers who help keep the nonprofit running.
Wendel has been involved with the operation since it opened.
'If we don't know where we've been, we won't know where we're going,' he said.
He tells visitors how train travel used to be the premier way to travel the country. It could be again, if people are excited by things like the Scenic Valley Railroad and help move that idea forward, he said.
'It shows that if we want to look to alternative forms of travel, we can, because they did it in the past ... It's still kind of a luxurious thing to take a train trip. Especially with new generations, it's really important they understand traveling by train is a great way to see this country,' he said.
Comments: (319) 398-8339; alison.gowans@thegazette.com
Explore the rails
• What:
Boone & Scenic Valley Railroad & James H. Andrew Railroad Museum
• Where:
225 10th St., Boone
• Fraser Trains (classic excursion):
Depart 1:30 p.m. Sunday to Friday; 1:30 p.m. and 4 p.m. Saturday, Memorial Day weekend through Oct. 31; $14 to $32
• Wolf Dinner and Lunch Trains:
Dinner departs Friday evenings June 7 to Oct. 25 and Saturday evenings May 4 to Nov. 9, plus Valentine Dinner Trains in February and Sunset BBQ Dinner Trains in March and April. Lunch departs Saturdays, Memorial Day weekend through Oct. 31; $40 lunch, $67.25 dinner
• Pumpkin Express:
10 a.m. Oct. 5, 12 and 19; $18
• Santa Express:
Departs Fridays, Saturdays and Sundays, Nov. 29 to Dec. 22; $18 to $45
• Museum:
Open 10 a.m. to 4 p.m. Monday to Friday, 10 a.m. to 5 p.m. Saturday and 10 a.m. to 4 p.m. Sunday. Closed Sundays November to May. Admission $3 to $8, included with most train tickets