'Survivor' winner: Cedar Rapids cop relied on instincts honed on the job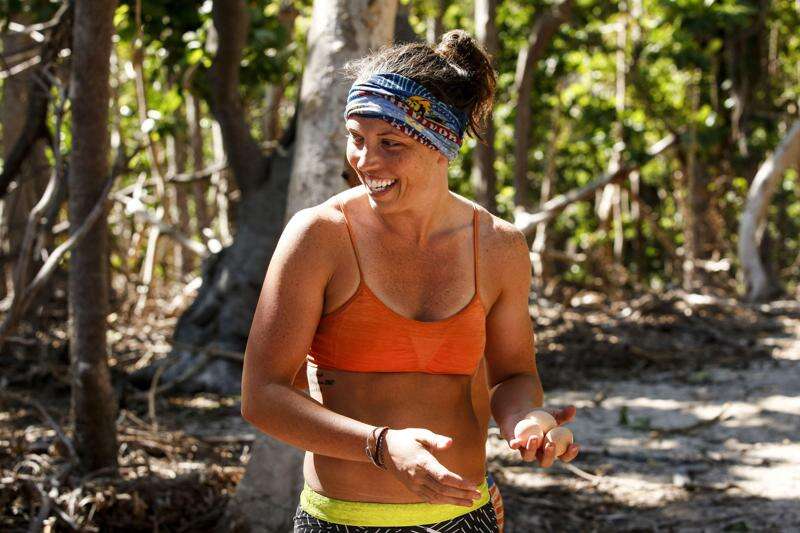 Sole Survivor Sarah Lacina 'hates" the million-dollar question, because she said her answer is 'boring."
'We're not going to do anything with it," she said the morning after being named the big winner on 'Survivor: Game Changers." Season 34 of the enduring CBS-TV test of physical and mental endurance played out last summer on a remote island in Fiji, but the winner wasn't announced until Wednesday night.
'I think we're gonna build a home and put money away for retirement. We're not splurging, we're not buying cars. People go, 'Isn't there one thing you want?' I go, 'No, there really isn't.' We're pretty simple people. Maybe I'll get a cleaning lady," she said with a laugh.
Using her instincts and wits honed as a Cedar Rapids police investigator, Lacina, 32, of Marion, managed to 'outwit, outlast and outplay" the field of 20 former contestants invited back for another stab at the $1 million prize. She had previously played the game in 2013 in the Philippines, placing 11th out of 18 contestants.
Week after week since March, viewers saw other contestants get voted off the island, in a season full of upsets.
Lacina prevailed through Day 39, where a jury of 10 ousted contestants cast their votes to determine the winner among three finalists. To thicken the plot, everyone then went home without knowing the outcome. The big reveal came in a live broadcast Wednesday night from CBS Studio Center in Los Angeles.
A look of shock swept across Lacina's face as host Jeff Probst tallied the ballots in front of a packed-house audience. Lacina had grabbed seven of the 10 votes.
And then relief set in, she said.
'I've wondered for almost a year, 'Did I win this game?' That's something that can be extremely consuming and not fun to think about day in and day out," she said. 'And the way Jeff read the votes, for a minute there, when he read two back-to-back votes for Brad (Culpepper), I thought, 'Uh oh, my worst nightmare's coming true.' So it was true relief and 'OK, you can relax now - you don't have to think about this and wonder anymore. That check has your name on it.' "
Cedar Rapids Police Chief Wayne Jerman said Lacina showed the same commitment on the show as she does as a member of the force.
'Sarah is an outstanding officer who showed a tremendous will to succeed and understanding of the game," he said. 'This commitment is something that we see consistently displayed through her work at the Cedar Rapids Police Department. It's great to see her hard work pay off in a million ways on the 'Survivor: Game Changers' series."
In Los Angeles since Monday, Lacina is slated to arrive back in Iowa on Friday morning, with her biggest supporter at her side. Fiance Wyatt Wardenburg helped her prep for her 'Survivor" game and was on hand for the big reveal. He also got to spend three or four hours on the island when loved ones were flown in for episode 10, shown May 10.
'I have a good feeling that she's gonna do it," he said in a CBS interview taped in Fiji. 'People come out here, they want to play this game, and it's hard, it's grueling, it's taxing, it's physical, it's mental - it's anything you can ever imagine all wrapped into one little thing. ...
It's the hardest 39 days of your life. She wouldn't have it any other way. This is right up her alley. I know she's gonna finish what she started. I just know it."
Lacina said she was lucky to have Wardenburg's help to run through possible scenarios and firm up her strategy in the two months before she left for life on a deserted island, where everyone would have to rely on their wits for food, shelter and survival.
'He loves the game, too, and he's a police officer also, so we think alike," she said. 'He knows the mistakes I made the first time. We would talk about it every single day. I don't know that a lot of people have that type of support."
In the spirit of the 'game changers" theme, she decided to drop the 'good cop" ploy that didn't work in her first 'Survivor" outing. She still relied on the strong social skills and powers of observation honed from a decade of being a cop. But at the urging of family, friends and colleagues, she made the tough decision to embrace the deception aspects everyone else on the show uses to advance their game - and trust that forming strong relationships would keep her in play.
'What I had done out there is build really close bonds (and) relationships with literally everyone out there. It's what you have to do to be successful," she said. 'I like to describe it as 'I'm building a home and laying the foundation to build this house on' ...
to set up the rest of my game."
Despite all the scheming and drama that goes on before and during the voting to oust contestants, including several tense moments and upsets Lacina initiated, jury member Michaela Bradshaw of Fort Worth, Texas, praised her for playing a 'brilliant" and 'flawless" game.
Contestant Zeke Smith of Brooklyn, New York, declared Lacina 'one of the great masters and great players of this game."
l Comments: (319) 368-8508; diana.nollen@thegazette.com