Home / Life
Retired botany professor finds passion in colorful cultivation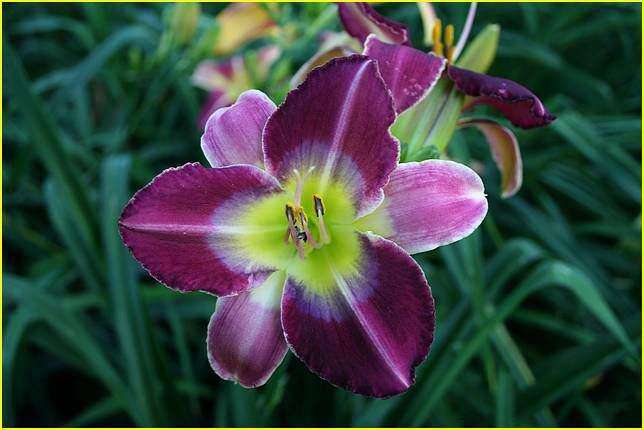 Jonathan Poulton of Iowa City has been carrying on a love affair for a decade now, and his wife's only caveat is that he stop digging up the yard to accommodate his ardor.
Poulton, 67, a retired University of Iowa botany professor, has a thing for daylilies, from the common everyday ditch lilies that proliferate in the wild, to the varieties he's created through hybridization, on his quest for the elusive 'holy grail' of a true blue flower. He hasn't created that one yet, but hope springs eternal in his home laundry room, where tiny shoots of green get their start, and help chase away the blahs of Iowa winters.
He'll be helping the public do a little of that, too, when he shares his love of daylilies at 2 p.m. today (2/14) in a Project GREEN Second Sunday Winter Garden Forum at the Iowa City Public Library.
The popular forums generally draw capacity crowds of people eager to think spring, said Cindy Parsons of Iowa City. She's the co-president of Project GREEN, which has raised and spent about $2 million to beautify the Iowa City area's landscape and roadways for nearly 50 years.
Poulton has been doing his share to add color and new creations to the world of daylilies, which grow beautifully in these parts.
History
'Humans have known about them for 2,500 years,' he said of the fleeting flowers that last just 24 hours. But his daylily journey didn't begin until 2006, during a family trip with his wife and two teenage sons to Door County, Wisconsin. They were staying on the Egg Harbor side of the peninsula, and decided one day to drive to the Lake Michigan side. His wife was behind the wheel, and he was in charge of the map. 'As always happen when I'm the navigator, we got lost,' he said.
So they stopped at a crossroad, and that's when Poulton spied a field of glorious daylilies.
'They weren't the ditch lilies I was used to,' he said.
The owner was more than happy to accommodate his curiosity with a little tour. He ended up selling the professor a few plants, telling him the hybridization process was so easy anybody can do it. 'You just cross pretty with pretty and see what you get,' he said.
Poulton was hooked.
'The diversity is what gets me. It still does,' he said. 'It gets more diverse every year, as professional and backyard hybridizers like myself create new ones.'
Their efforts have produced a registry of more than 80,000 types of daylilies in all shapes, sizes and colors, which can trace their roots back to just 20 or 25 species that made their way from the Far East to Europe via the trade routes in the 1570s. They were classified as hemerocallis in the 1700s, crossed the Atlantic in Colonial times, then moved across North America with the settlers. The castoffs or ditch lilies 'sent roots everywhere,' Poulton said, and proliferated.
Process
He turned to the Internet for hybridization tips. Along the way, he discovered the Cedar Valley Iris & Daylily Society was holding a sale the next Saturday in Monticello. The members took him under their wing, and he joined their ranks, reaping friendship as well as knowledge from the group formed in 1990. (http://cvids.org)
He's also learned over the years that crossing pretty with pretty can sometimes yield something pretty ugly, too, but he loves the process, even though the blooms can take two years to emerge.
'That's the downside,' Poulton said, adding that since individual stalks can have up to 50 buds, they will produce flowers for two or three weeks.
The hybrid seeds only take six to eight weeks to develop. Once the seedlings have sprouted, Poulton takes them to the UI greenhouses, where he still has privileges, and they grow there until about Memorial Day.
Because he's used up his allotted space in his yard, he now plants the bulk of his creations in a friend's former vegetable plot along Newport Road, between Iowa City and Solon. From a high point of 700 seedlings, he more typically grows 300 to 500 per year, and the plot is now home to between 2,000 and 2,500 of Poulton's creations. Since deer love munching on the edible flowers, he built a solar-powered deer fence that has kept the marauders at bay for seven or eight years.
Once the lilies get to the blooming stage, Poulton said it's 'exciting' to find the ones that will soon reveal their colors.
'You know what the parents look like, and in my mind, I have this idea of what combining them will be,' he said. 'You come the next morning, sometimes you go, 'Oh, that's the ugliest thing I've ever seen,' and then other times, you go, 'Wow, you and the Almighty have created this daylily.' It's the sense of achievement, the beauty and excitement — it makes all the hard work, the back aches and the trips to the physiotherapist worthwhile.'
Tips
The hardy, full-sun loving plants are easy to grow in the Midwest climate, but Poulton cautions home gardeners to look for species developed in Minnesota and points north, rather than in the Southern states, where winters are mild. Those plants might not survive Iowa's subzero temperatures.
'It's hard to kill a daylily,' he said. 'You dig a hole and put them in the ground.'
The hole should be about the same size as the root ball and allow the plant to be placed about an inch below where the root and shoot meet.
Add a handful of fertilizer like milorganite, which won't burn the plant, fill in the hole with dirt, then top with mulch, if you like. Poulton favors inexpensive cypress during the growing season, and straw for winter, since it's easier to remove than the tree leaves some people rake onto their flower beds.
Water the plants once or twice a week, and add more fertilizer once or twice a year to give them a boost. Poulton divides the plants every three or four years, giving them to friends or putting them curbside, where they disappear by dusk.
'They are astounding plants,' he said. 'If someone could just figure out how to get them to stay open longer ...'
If you go
• What: Second Sunday Winter Garden Forum: Jonathan Poulton on daylilies
• Where: Meeting Room A, Iowa City Public Library, 123 S. Linn St.
• When: 2 to 4 p.m. Sunday, Feb. 14
• Admission: Free; with refreshments and door prizes
• Details: Projectgreen.org/gardenforums.html