Home / Life
Lowe Park will be one of six stops on Linn County Garden Walk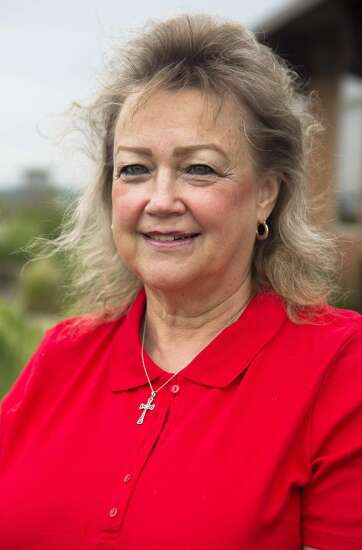 LINN COUNTY — Just a short drive from downtown Marion, a tranquil destination awaits.
Lowe Park's demonstration gardens are home to nearly every plant grown under the sun — or at least it seems like it.
The 12 gardens, which are in their ninth growing season, are filled with 'old favorites and new discoveries' — as phrased by Master Gardener Shelby Foley — including flowers, fruits, vegetables and more. The gardens will be featured this year at the Linn County Garden Walk on Saturday — the first time a public garden will be included in the annual tour, which usually showcases only private gardens.
'It's so fabulous here and some people don't even know about it,' says Garden Walk Co-chair Sam Krumbholz, also a Master Gardener.
Lowe Park garden-goers can expect to find a children's 'ABC garden' with a caterpillar tunnel for kids to crawl through to the butterfly gardens, where a real-life monarch caterpillar perches on a blooming milkweed, likely in the process of preparing its cocoon. Kaleidoscopes focused on the succulent garden will offer entertainment for adults and children alike.
A stone path guides you through the garden, which is dotted with fragrant flowers of all shapes, sizes and colors. Beans, tomatoes, cucumbers and more line the vegetable garden while trellises demonstrate how to save space.
Succulents cozy up to limestone in the Czech crevice garden and a newly planted edible orchard stands in the distance with budding fruit and nut trees.
The nearby water garden offers a serene place to sit and listen to the fountain while watching water bugs and baby frogs hop across lily pads. A recent addition of an evergreen conifer bed is not far away, either.
To the left of the main garden you'll find a 36 foot tall, five-year-old greenhouse where more than 20,000 plants have been grown over the years. A hoop house just outside the greenhouse doors shows how to extend the growing season well into the winter — even last year's harsh winter couldn't keep lettuce from thriving inside the small plastic shelter.
The garden tour gives the public an opportunity to see and learn about different plants and techniques to implement in their own gardens. Even for novices, the tour can be an exciting introduction to transforming simple landscapes into incredible outdoor oases.
Twenty-five master gardeners will be at the Lowe Park Demonstration Gardens during the Garden Walk to answer any questions. At each of the other five gardens, there will be 12.
'It's all about education,' says Foley, Lowe Park garden manager and Master Gardener.
She says her green thumb is genetic.
'It's something I've known as long as I've existed ... Something that's been carried on in my family for generations,' she says. 'You grow up knowing you're going to garden ... It's just something you do naturally, it's part of who you are,' agrees Phil Pfister, a Master Gardener for eight years who grew up on a farm.
'We gravitate toward being Master Gardeners because we want to share that knowledge with people,' he says. 'We can help them get into gardening the right way, so they don't make a bunch of mistakes and get discouraged.'
Gardening, after all, can bring excitement into people's lives, Foley says.
'It's so therapeutic to dig in the dirt, plant things and watch them grow,' Krumbholz adds.
If you go
What: Linn County Garden Walk
When: 10 a.m. to 4 p.m. Saturday, June 27
Where: Six gardens — 4500 N. 10th St., Marion; 215 W. 33rd Ave., Marion; 365 Woodbine Dr., Marion; 223 Teakwood Lane NE, Cedar Rapids; 3934 Falbrook Dr. NE, Cedar Rapids; and 271 Lamplite Lane SE, Cedar Rapids
Cost: $5 per person or $10 per family