Home / Life
'Live Like Line/Love like Ellyn': A powerful story, well-told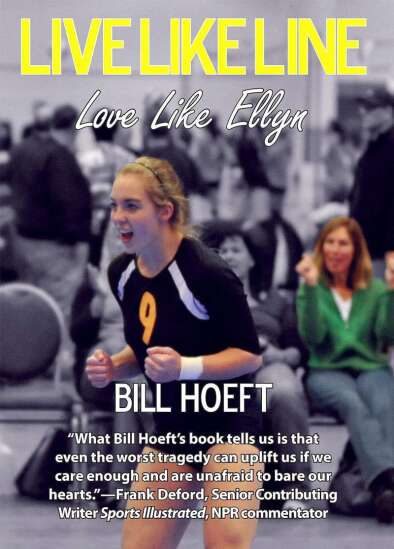 Bill Hoeft is right. 'Live Like Line/Love Like Ellyn" (Ice Cube Press, 310 pages, $21.95) is an amazing story.
And it's one that easily could have descended into sentimentality and melodrama. But Hoeft, an excellent storyteller, didn't let that happen. Instead, he paints pictures, makes you smile, lets the facts carry along a powerful story.
'Live Like Line" is not a sports book, though volleyball is an exciting part of the story. This is a book about family and relationships, about love and loss, on the court and off, warts and all. It's a story about living with loss - and the question 'why" - after everyone goes home.
You'll like the trusting, good people you meet in this book. You'll feel particularly close to the feisty Caroline, a confident, competitive teenager, up for just about anything, fun-loving and fun. She's not a saint, though she did have a few saintly qualities. Known for her hugs, she befriended the friendless, drew out the shy. She had adult friends - a rarity, it's safe to say, for 17 year olds.
Her loss, with her mother's death only days later, knocked Iowa City and Coralville on its heels.
Hoeft alternates between an up-close and 30,000-foot view of the months before and after that loss. He does a masterful job of pacing and organizing this story with its many layers and players. For example, he shares intimate moments of grief but also describes how West High School educators helped students work through their grief and then eventually had to limit what was becoming a grief competition.
You'll read how a wise coach helps her volleyball team through the loss of its sparkplug. You'll find helpful perspective from Xavier High School Principal Tom Keating, a former coach, and words of comfort from the Rev. Matt Paul and others.
I can't imagine anyone reading the last two chapters of this book with a dry eye. In them, Hoeft travels with the Found family and their closest friends to inter Caroline and Ellyn's ashes near the New Hampshire mountain that is so special to the family. It is in those chapters that the book moves beyond two deaths into the realm of universal loss. It's where Hoeft shows what a fine writer can do with a story we thought we already knew, but didn't.