Home / Life
John Deere Tractor & Engine Museum opens in Waterloo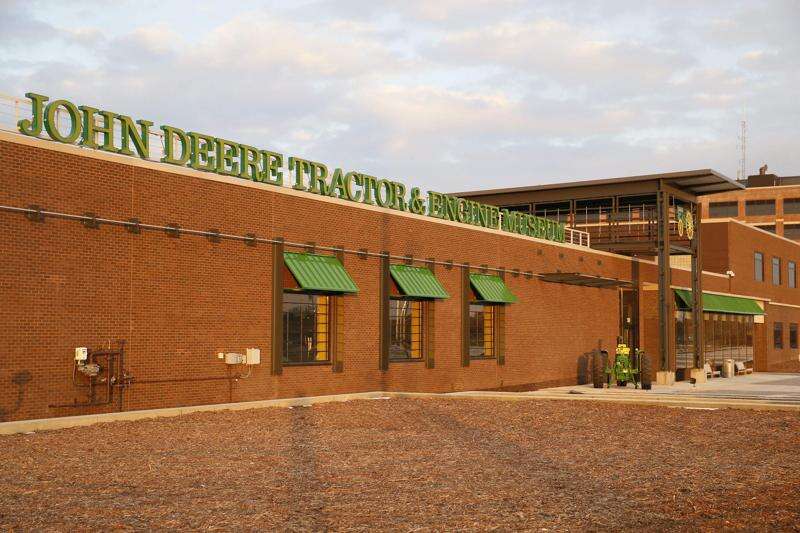 WATERLOO - Iowans who bleed gold and green will want to plan a trip to Waterloo's newest museum dedicated to the history of the John Deere tractor. It opened Tuesday next to the company's Waterloo Works facility.
A steady stream of visitors, some local, some from other states, went through the John Deere Tractor & Engine Museum, 500 Westfield Ave., on opening day.
Among them were John Mohr, 57, of Gold River, Calif., and his father, Paul, 86, of Traer. The pair, originally from Gladbrook, came to the museum after seeing coverage of the opening on television.
'We bought a gift certificate for my uncle, who always drove 'green' and farmed outside Gladbrook," John Mohr said.
He and his father were impressed with the museum.
'I love it," Paul Mohr said. 'It's too big to believe."
John Mohr said he thought it was great to see the past employees come back and volunteer their time at the museum.
'It says a lot about Iowa pride," Mohr said.
The museum is split into several galleries. The first gallery, 'Working the Land," features exhibits that detail what agriculture was like before the Industrial Revolution. One interactive exhibit simulates how difficult it is to hold a walking plow steady. Another allows visitors to compare their own strength to that of a horse.
'We wanted to show how we have used technology to make work easier," said Josh Waddle, museum curator.
The other galleries deal specifically with the history of John Deere's tractor lines, how a tractor is made, the dealers who have sold John Deere tractors over the years and the employees who have worked at the Waterloo Works plant. Several of the museum's docents, who wear black shirts, are retired employees who can share their expertise and experiences with visitors.
'A lot of the materials (in the museum) came from people who worked here," Waddle said.
The museum also features a theater with a seven-minute film that starts every 15 minutes, and a gift shop stocked with John Deere items, including many for children.
John Deere has been in Waterloo since 1918, when it purchased the Waterloo Gas Engine Co. for $2.25 million (or $35 million in today's dollars.) The original check involved in that purchase is on display at the museum. Other exhibits detail how the company survived the Depression and World War II, as well as how its Waterloo employees reinvented the tractor in the late 1950s.
Several tractors are on display, from a 1914 'Waterloo Boy" to a giant John Deere 7290R that is made for export to Europe. Waddle said most of the tractors are on loan to the museum from collectors.
'We picked tractors not just that were collectible, but tractors that had stories," Waddle said. For example, he said, many collectors search for tractors that are associated with childhood memories, or that they or relatives once owned.
Although the tractor is at the center of the story of John Deere in Waterloo, Waddle said the staff worked hard to make the museum more diverse.
'It's more than just words on a wall or a room full of tractors," Waddle said. 'We wanted to tell a more historic story and appeal to a greater audience, not just fans of tractors but also the people who worked here."
The first conversations about the museum started seven years ago, Waddle said, and four years ago, Dawn Hendershot was put in charge of planning. Waddle and fellow curator Rosa Grant came aboard in 2011.
Waddle said the goal is to keep the museum 'fluid" and rotate exhibits in and out.
'My goal is that if someone comes today and they show up again in May, I want them to see something new," Waddle said.