Home / Life
Iowa Women Lead Change is all about talent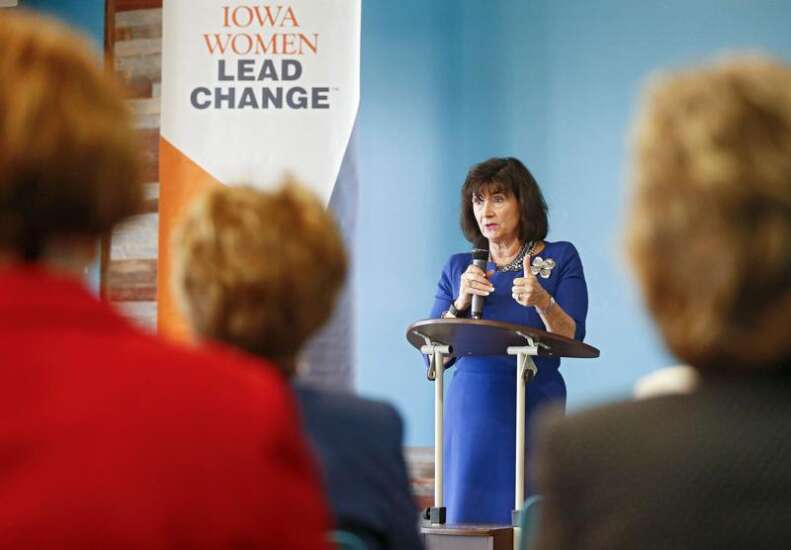 Iowa Women Lead Change - a Cedar Rapids-based not-for-profit focused on improving the lives of women in the workplace and at home - has come a long way in a short period of time.
The leadership organization for women today offers comprehensive resources, including events across the state that feature prominent speakers - such as Martha Stewart and Gloria Steinem - networking opportunities and comprehensive research studies.
But it was only nine years ago that the organization was little more than a group of passionate volunteers working to stage its first conference.
The ensuing conferences, which steadily grew in attendance each year, were such a success that the group realized there was a need for a more formal organization to focus on women's leadership issues, and Diane Ramsey was appointed chief executive officer in 2010.
By 2012, Ramsey and the board had obtained not-for-profit, 501(c) 3 status, and by 2015, the organization had seven full-time employees.
'This is all about talent," Ramsey said. 'The development of talent and utilizing that talent for the benefit of organizations to achieve their goals."
Today, IWLC now puts on multiple leadership development conferences across the state, including in Eastern, Western and Central Iowa. The conferences cover everything from getting involved on boards and how to run for elected office to providing mentorship opportunities to young women.
'IWLC is really the thought leader in women's leadership," said Tiffany O'Donnell, the organization's chief operating officer. 'We're trying to shine a light and offer ways to improve statistics."
IWLC has worked to expand programming and opportunities, O'Donnel said, including the addition of a men's track to the conferences to provide men with a comfortable space to talk about ways to improve diversity and have more inclusive company cultures.
'Men have very different discussions and mindsets," Ramsey said. 'We can have an impact on that approach if we start the discussion they might otherwise not have."
In addition, IWLC added the Invest in She events, which give women business owners and entrepreneurs an opportunity to pitch their business ventures as a way to encourage and boost statistics relating to women-owned businesses. According to an IWLC report, 'She Matters" - released in 2015 and based on 2007 U.S. Census Survey of Business Owners figures, the most recent year available - women own 25.5 percent of businesses in Iowa compared with men at 46 percent.
In the past three years, Invest in She investors and IWLC have awarded more than $110,000 to 18 female entrepreneurs.
'We started out by focusing on the individual and were more tactical - what I mean by that (is) if we focused on refining and developing skills and talents women can deploy on their own behalf," Ramsey said.
'Over time, we realized we need to serve individuals as well as the landscape of the larger environment. We need to be more strategic and really need to help support organizations across the state with the attraction, retention and development of talent."
EPIC Corporate Challenge
That's certainly the case for the organization's newest initiative, a public-private partnership lead by IWLC aimed at providing women more leadership and development opportunities.
Women make up nearly 50 percent of the state's workforce but are sorely underrepresented on company boards, as executives or in senior leadership positions in their companies. The EPIC - Economic Potential for Iowa Companies and Communities - Corporate Challenge aims to improve the attraction, retention and promotion of women in Iowa companies.
In Iowa, women hold only about 16 percent of corporate board positions and 22 percent of company executive positions, according to a 2014 IWLC report. The organization is asking companies to commit to set voluntary, measurable goals in at least one of the following areas:
l Actively recruit women to fill open positions at all levels of the organization and to increase the percentage of women in the company's workforce, including women in non-traditional roles
l Increase the retention rate of women at all levels of the organization
l Increase the percentage of women among the top 10 percent of the company's senior positions
l Increase the number of women on the board of directors
l Monitor pay by gender and address such gaps.
'This is a great opportunity from a state perspective to build on a big piece of the puzzle, which is to have a strong human capital pipeline," said Lt. Gov. Kim Reynolds, who was in Cedar Rapids to announced the launch.
Gov. Terry Branstad and Reynolds's offices, the Iowa Economic Development Authority and Iowa Department of Workforce Development have all endorsed the challenge, Ramsey said, and now the private sector must execute it to make it happen.
Some 20 companies and organizations have agreed to take the challenge, including the city of Cedar Rapids, Alliant Energy, Pearson, Van Meter, Delta Dental, Hy-Vee and Rockwell Collins. IWLC would like to recruit 100 companies from across the state to participate.
Iowa is only the second state in the country to launch a public-private initiative aimed at increasing women in leadership positions, Ramsey said. Massachusetts started the Corporate Challenge in 2014, which encourages employers to commit to making progress in the workplace on women's issues.
Since then, about 168 Massachusets companies have taken part in the initiative, Ramsey said.
IWLC worked with Bentley University - a private university in Waltham, Mass. that also worked with Massachusets - to develop the EPIC initiative here.
'We're using the same framework," Ramsey said. 'But Massachusets companies haven't committed to releasing the information."
Participating Iowa companies will submit data to Iowa Workforce Development, which will then put together an annual aggregate report highlighting best practices and case studies, Ramsey said.
IWLC will put on educational events for participating companies and provide resources, such as a leadership assessment tool, Ramsey said.
'Research shows that when women ascend to leadership positions in business, companies report increased profits, return on investment and equity, more equitable environments and greater company retention," she said. 'The EPIC Corporate Challenge and the pioneering companies that have signed on to 'take the challenge' are taking the first step to ensuring that Iowa companies are growing and retaining women in leadership positions."
State presenting sponsors are Delta Dental of Iowa, Hy-Vee and Rockwell Collins.
Companies participating include:
l Alliant Energy
l Aureon
l Bankers Trust
l City of Cedar Rapids
l Conference Event Management
l Delta Dental
l Drake University
l Fareway Stores
l Greater Des Moines Partnership
l Hy-Vee
l IWLC
l LMC Insurance and Risk Management
l Merchants Bonding Co.
l MidAmerican Energy
l Pearson
l Pella
l Principal Financial Group
l Rockwell Collins
l Saxton Inc.
l Storey Kenworthy
l Van Meter Inc.
Fact box:
l 76 percent of Iowa women aged 16 to 64 are working
l Iowa women earn 77 percent of what men earn
l In Iowa, on average, a woman who holds a full-time job is paid $35,106 per year while a man who holds a full-time job is paid $45,305 per year
l Iowa women lose $4.6 billion annually because of the wage gap
l 47,696 Iowa households headed by women are living in poverty
l Iowa women and children make up 87 percent of the state's poor
l In Iowa, poverty rates are particularly high for minority women: Black, 38.7 percent (nationally 25.1 percent), Hispanic, 25 percent (nationally 24.8 percent), Asian, 20.1 percent (nationally
11.5 percent)
Source: IWLC 2015 report, She Matters
IWLC upcoming events:
l What: Invest in She - Corridor:
An opportunity for female entrepreneurs and business owners to pitch their business venters to a group of investors. Since its creation, IWLC and investors have awarded more than $110,000 to 18 female entrepreneurs across the state.
l When: June 14
l Where: Hotel at Kirkwood Center
l Cost: $35 for the pitch competition; $55 for for the half-day conference
Dubuque Conference:
l What: Conference speakers include Carla Harris, vice chairman of global wealth management, managing director and senior client adviser at Morgan Stanley; Dr. Tererai Trent, an advocate for quality education for girls and women's empowerment; and Sylvia Ann Hewlett, founder and CEO of the Center for Talent Innovation.
l When:L Oct. 11
l Where: Dubuque
Central Iowa Conference:
l What: Conference speakers include Anne-Marie Slaughter, former top official at the U.S. State Department and current president and CEO of New America, a public policy institute.
l When: Oct. 27
l Where: Des Moines