Home / Life
Iowa City vintage shop Ulysses Modern specializes in mid-century modern
Dorothy de Souza Guedes - for The Gazette
May. 5, 2021 6:05 pm, Updated: May. 5, 2021 6:27 pm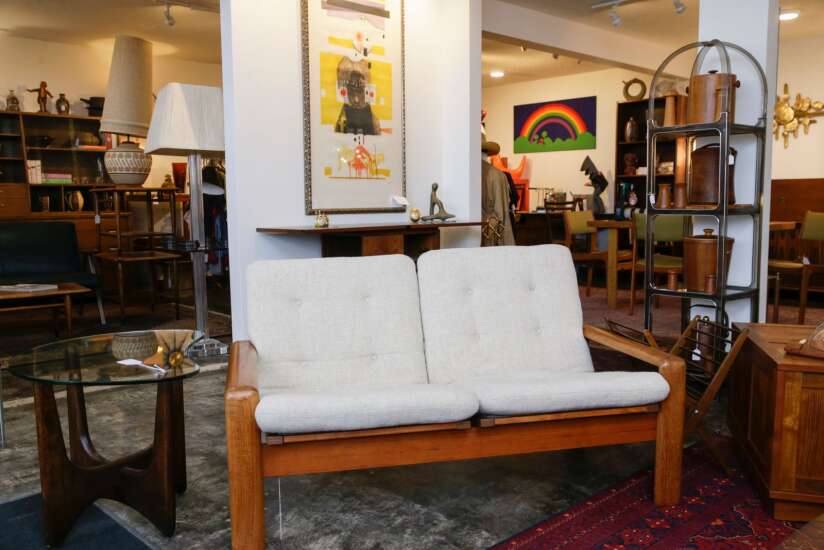 You might be a fan of mid-century modern if you tuned into "Mad Men" as much to admire the décor in Don Draper's high-rise apartment as for the storyline.
Perhaps you scoured the meticulous interior sets of "The Marvelous Mrs. Maisel" for perfection, such as a massive, curved sectional or period lamps.
Or, more recently, you swooned over Beth Harmon's groovy, colorful re-design of her childhood home in "The Queen's Gambit."
Sure, you could buy a mass-produced, mid-century modern knock-off in a store or online, but why? You can find an authentic piece with a history at Ulysses Modern in Iowa City.
Since October, the shop has become a draw for fans of mid-century modern design furniture, housewares and art. The husband-and-wife team of Ryan and Clara Quinn stock the store's 1,200 square feet with an ever-changing inventory that also includes vintage T-shirts and clothing.
"Frankly, everything we put in here is something we love," Clara Quinn said. "Whether it's a cutting board or vase or sofa, it doesn't matter. We want it to be perfect."
Some pieces were left over from Ryan Quinn's rented space in Mad Modern in the NewBo neighborhood of Cedar Rapids. When that building's owner decided to sell last year, the Quinns chose to open their own shop. They looked in Cedar Rapids but chose Iowa City, her hometown.
Ryan Quinn, 42, and Clara Quinn, 36, live in northeast Cedar Rapids with son Jacob Sparkman, 17, and three dogs. Clara worked as a nurse, most recently in women's public health. But she left health care during the pandemic, partly for medical reasons, and now runs the shop with her husband.
The couple named the shop after their son, Ulysses, who passed away seven years ago shortly after his birth. Naming their business after their son means he'll always be a part of their lives and that can be a happy thing, Clara Quinn said.
Getting the store up and running was chaotic, she said. They had signed a lease on Aug. 1, then found contractors in short supply after the Aug. 10 derecho. They ended up doing much of the renovation themselves.
From the time Ulysses Modern opened until the weather warmed in March, "it's been gangbusters," she said.
"We've been really, really surprised and grateful for the community support."
TREASURE HUNT
Ryan Quinn scours a five-state area, traveling thousands of miles each month, making dozens of stops most days, to find items for the store. He searches for mid-century modern furniture and home décor and one-of-a-kind art pieces, antique watches and "vintage" streetwear from the 1980s and 1990s.
"We like to call it treasure hunting," she said.
His is a well-trained eye honed by decades of thrifting and uncounted hours with his nose in design books learning from experts. He can walk into a room, scan the furniture and know if he's looking at a piece by a particular designer or maker.
The Quinns would love to find "holy grail pieces," such as an original Vladimir Kagan curvaceous chair or sofa or something by furniture designer George Nakashima, who primarily worked with walnut. Serious collectors pay top dollar for just the right mid-century modern piece.
"Why do we fall in love with any kind of art?" Clara Quinn said. "People who love mid-century modern design really just love design and quality above all else."
THE DESIGN
Mid-century modern, at its most basic definition, refers to a style of furniture, home furnishings and architecture popular from the 1930s through the mid-1960s. It's known for its simplicity, sleek lines and organic shapes.
Furniture pieces were designed on a smaller scale to fit easily into homes built during the post-World War II housing boom. The idea was to make the biggest impact with the fewest pieces, she said.
Think sleek teak or walnut dining room tables, long and low sofas trimmed in wood, or the ubiquitous Eames molded side chair in fiberglass or plastic with metal legs.
There are many mid-century modern designers and makers to look for, with names such as Herman Miller or Knoll, Drexel (a little less so), plus Italian and Danish designers, she said. Her husband looks for high-end Lane and Bassett, staple mid-century modern brands that were known for quality but were not on the design cusp.
Mostly, they find well-made, in-between pieces with no name attached. It's a trade-off, she said. If you get the quality, you pay the price. If you get something for a better price, you're likely sacrificing quality.
Ulysses Modern's inventory is ever-changing. Often, within minutes of posting the day's featured piece on Facebook and Instagram, Clara Quinn logs in to add the word SOLD to the description. Recent posts have included a variety of mid-century pieces:
• Schweiger four-cushion, 90-inch sofa in an aqua green heather fabric with walnut accents
• Kent Coffey Perspecta record player cabinet with Victrola record player and stereo system
• Classic Bassett dresser with brass pulls and handles
• Kent Coffey lowboy dresser/sideboard/credenza with matching mirror
• Danish designer Kofod-Larsen penguin teak chair
• Herman Miller vintage shell chairs
• Dillingham tambour door walnut credenza
• Selig lounge chair
• Harry Lunstead dry bar in walnut
• Kroehler lowboy dresser in walnut
• Poldberg brass wall sculpture
IN YOUR HOME
Good design is good design. When things are based on nature with clean lines, they blend well with other style types, she said. Some customers enter the shop on a whim and, inspired by a find, decide to design a room around it.
Mid-century modern furniture is about quality woods that are warm and complex. The wood extends an invitation to match it or play off it, she said. Natural things tend to go together. Wood with wood, for example.
Part of the Quinns' desire is to bring great design at affordable prices, keeping those pieces useful. Perfect for those who lament our throwaway society.
Some want brand-spanking new. But their customers tend to want something that's lived a life, Clara Quinn said.
"People want to see the personality, and part of that is the wear," she said.
Wall units, credenzas, sideboards, and buffets are popular mid-century modern pieces. Each can be used in many ways, from their intended function or as an entertainment center or dresser.
Wall units are rare because mid-century modern furniture makers tended not to build big pieces. Dressers are popular because they integrate well into most bedroom décor.
Good design is about breaking some rules and following others. Clara Quinn doesn't like to give specific design advice because she's not a professional interior designer or decorator. But she feels people tend to play inside the lines too much when it comes to decorating their homes.
Her general advice? Trust your instincts and listen to what speaks to you.
"There's always something in the shop that people haven't seen before," she said. "We absolutely want people to be inspired and find something they love, then design a room around it. That happens a lot."
IF YOU GO
What: Ulysses Modern
Where: 1224 S. Gilbert St., Iowa City
Phone: (319) 777-6451
Hours: 11 a.m. to 6 p.m. Wednesday to Friday, 11 a.m. to 4 p.m. Saturday; noon to 3 p.m. Sunday.
Online: @ulyssesmodern on Facebook and Instagram