Home / Life
Iowa City doctor wins State Fair award for food contest success, leadership
Rod Zeitler won 93 blue ribbons and 53 red at the 2021 State Fair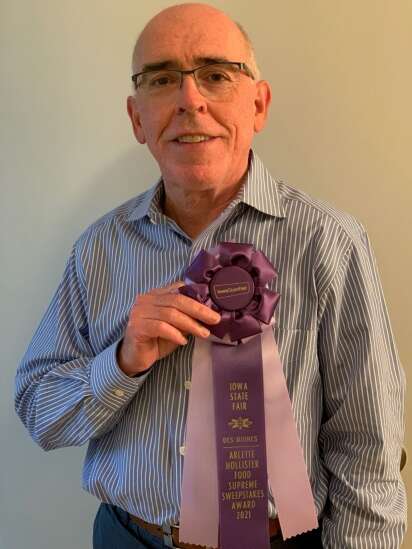 IOWA CITY — Arlette Hollister, the Iowa State Fair's longtime food superintendent, was an icon of icing, a captain of canned goods, a mentor on muffins.
After Hollister's death in 2019 at age 88, state fair leaders wanted to honor her with an award. Hollister's family thought it should go to an exhibitor who demonstrated the same can-do attitude, pursuit of excellence and mentorship that Hollister showed in her 30 years leading the food department, said Pat Berry, the fair's new food superintendent.
This year, Berry chose Dr. Rod Zeitler, a general internist for the University of Iowa Hospitals and Clinics, who has been exhibiting canned goods at the fair for about 20 years.
"He strives to be excellent," Berry said. "When he sees he needs to improve, he takes in all those comments with open arms. And the next year he will have fixed it. He's willing to answer anything for anyone. He pushes us judges to become more expert in our field."
Zeitler won 93 first-place ribbons and 53 red ribbons at the fair last month — far more than any other exhibitor, Berry said.
But the ribbon he got for the Arlette Hollister award is special. The two-toned purple ribbon says "Arlette Hollister Food Supreme Sweepstakes Award 2021." Berry said it's kind of a lifetime achievement award — something she would have striven for back when she was an exhibitor like Zeitler.
The only other person to have received it so far is Louise Piper, an 80-something canner from Garner who is beloved by State Fair exhibitors, Berry said. Piper got the award in 2019. The fair was canceled in 2020 — the first time since the 1940s — because of the COVID-19 pandemic.
"It is a wonderful honor," Zeitler said in an email about the award. "Arlette and Louise are special people."
Zeitler, 69, grew up on a farm near Keosauqua, where he attended a one-room schoolhouse and showed cattle, sheep and chickens. His mother canned produce, but Zeitler didn't try canning until he was an adult.
Zeitler's wife, Deborah, had been entering weaving and textiles in the Iowa State Fair for years when Rod Zeitler first entered a jam contest in the early 2000s.
'I didn't do a very good job reading the directions because I didn't have a recipe," he told The Gazette in 2017. 'The head space was all wrong. I didn't have any entries accepted that first year."
But the chemistry of canning and the artistry of putting colorful fruits and veggies into glass jars appealed to Zeitler's scientific mind, he said. Zeitler has had state fairs in which he's entered more than 200 food contests, including canning, pickling, making jellies, jams and salsas.
"He's a great presenter and exhibitor in the world of presentation," Berry said.
Nearly 1.1 million people came to the 2021 Iowa State Fair, down from 1.17 million record set in 2019. The new surge in COVID-19 cases in Iowa kept some people away from an event that is mostly outside, but still uses several enclosed exhibit halls.
"We were down entries, just like every other department, and exhibitors also," Berry said of the food department. "Some of our long-term exhibitors didn't bring as much as they usually do. We had over 500 entries, which is wonderful, but it's not the norm."
Berry is certain the food contests will bounce back in 2022.
Comments: (319) 339-3157; erin.jordan@thegazette.com