Home / Life
Iowa Ceramics Center and Glass Studio in Cedar Rapids finds its way through coronavirus pandemic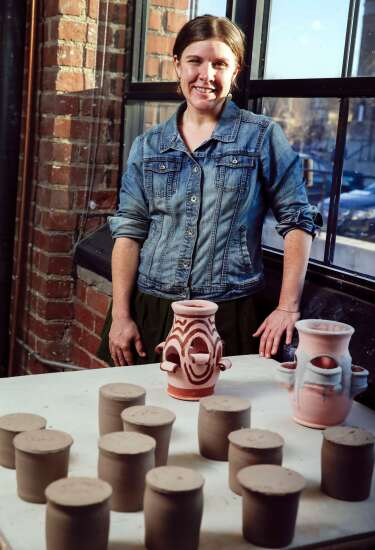 With a nearly 50-year history, the Iowa Ceramics Center and Glass Studio is known to many as a place where "creativity and community meet."
"Trying to figure out what that looked like in 2020 was one of our biggest challenges," said Executive Director Ellen Kleckner. "We wanted a way to keep the connectivity of our community going without putting anyone at risk."
Kleckner, 38, became the center's executive director in 2016, after earning a master's degree in ceramics at Ohio University.
Becoming director of the Cedar Rapids center, she said, was a "perfect fit," given her interest in ceramics, her background in nonprofit management and her family connections in Iowa. She grew up on the West Coast, but her family visited her dad's family in northeast Iowa every summer.
Kleckner also is a practicing artist at the center.
"It's this really great intersection for me between making art with the community and how that relates back to my personal practice," Kleckner said, citing the collaborative atmosphere the center cultivates between the community and resident artists.
"I started my education in ceramics at a community center," she said. "So I was really interested in being back in that setting and having the opportunity to lead a community like that."
Since 2009, the ceramics center has operated out of a 10,000-square-foot space in the Cherry Building, 329 10th Ave. SE, in the NewBo neighborhood. The center's 4,000-square-foot open space operates as a community center first and an art studio second, Kleckner said.
The center offers a professional development program for resident artists, who create and teach at the center for one to two years. That program is what makes the Iowa Ceramics Center distinctive, said Kleckner, who's worked in studios around the world, including ones in Hungary and the Czech Republic.
"The resident artists are the creative driving force of our programming and classes," she said.
The center's long tables with open seating are designed to inspire spontaneous conversations between artists and community members — a dynamic difficult to navigate in a pandemic.
It was the "community center aspects" — holiday potlucks, social gatherings and celebrations — that have been the most difficult to manage during the pandemic, Kleckner said.
The center was closed to the public from March through June last year but offered online classes and take-home projects during that time, efforts that have continued despite the center reopening and the return of in-person classes.
"2020 has pushed us to think of all access points for people," Kleckner said. "Everyone's ability to be out in public is different. And that's OK."
She said the center also diversified its project and class options for different skill levels in ceramics and glass working during the pandemic.
The center has been offering "Take & Create" projects. Community members buy a project kit — from a choice of vendors — and then pick up the kit at the center to work on at home. They return their creation to the center for firing in one of the center's 13 kilns. Tutorial videos are posted on the center's website.
"Sunday Funday" workshops are another low-contact offering that is being continued. Community members register for a 45-minute workshop and come to the center to glaze or paint a ceramic item made by one of the resident artists. When the item is done, the projects are fired and ready for pickup in one week.
The center's popular Saturday "Wheel Try It" workshops — on one of the center's 26 pottery wheels — often sell out, just as they did pre-pandemic.
Weekly classes in wheel pottery and glass working are now being offered, but at half capacity, with social distancing and masks required.
Even with those precautions, participation in center programs in the past year is comparable to previous years, Kleckner said. Although classes operated at half capacity, they were offered more frequently, she said.
"The amazing thing is that our classes are seeing a lot of new faces and younger people," Kleckner said, attributing that interest to viral videos of pottery online and more screen time during the pandemic.
"That's kind of worked as a prompt for them to start taking a class or become interested, and I think that's come from people spending a lot more time at home," she said.
Kleckner also said she's heard several young professionals mention the classes are their one "non-essential" outing — to help them cope with isolation.
The ceramics center also took on a larger social media presence during the pandemic, offering tutorials and live gallery talks and exhibitions on Facebook. Those offerings will continue after the pandemic subsides, Kleckner said.
"It's allowed us to archive the galleries we see at the center," she said. "There's also an interactive aspect that we really enjoy."
Like many community organizations, the Iowa Ceramics Center responded to the pandemic with new concepts — ideas that will continue post-pandemic.
"We've been trying to find the light at the end of this," Kleckner said. "I think we've used this time to develop even more ways to make art accessible to our community."
IF YOU GO
What: Iowa Ceramics Center and Glass Studio
Where: 329 10th Ave. SE, Cedar Rapids
Phone: (319) 365-9644
Website: iowaceramicscenter.org