Home / Life
History and the holidays come together in Amana's Christmas houses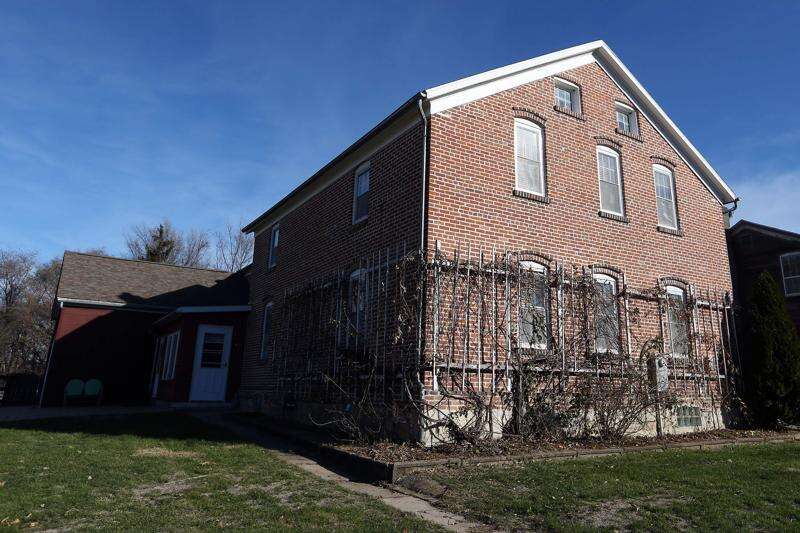 Conni Doser started accompanying her mother to antique auctions when she was in sixth grade. It was there, in the midst of used furniture and Old World trinkets, that she discovered her passion for design and appreciation for vintage.
'My mom would give me a dollar and I could bid on whatever I wanted," Doser, who grew up in Mechanicsville, said. 'That was fun for me."
Now, Doser finds herself at antique auctions 'once or twice a month" as she shops to fill her own store, Grapevine Antiques, and home in Amana.
Conni and her husband Jim Doser bought what was once Grapevine Winery, 4515 F St., Amana, nearly eight years ago and transformed it into Conni's lifelong dream: Her very own antique store in the heart of the Amana Colonies.
Conni, 62, had spent 30 years as a furniture buyer and designer after attending Kirkwood Community College for design and business in the 1970s. She worked at the Amana Furniture Shop from 1975 until 1994, which is when she said she fell in love with the community and culture in Amana.
After the Amana Furniture Shop, she spent some time working in other surrounding towns like Kalona, Mount Vernon and Marion. But she could not forget the community that she loved most.
'Once you're part of Amana it's in your blood," Conni said. 'I always wanted to go back to Amana, I loved Amana, and I loved the community."
She and Jim, who works from home for Transamerica as an insurance auditor, had been looking for an opportunity to return. When Grapevine Winery went up for sale, Conni said she saw it as 'a sign."
Once the couple bought the store, they moved into the loft upstairs, which they promptly renovated, and participated in their first Village Christmas Haus Tour, an annual event that allows visitors to tour Amana's historic private homes decorated for the holidays. It also serves as a fundraiser for the Amana Arts Guild.
'People drive through Amana all the time, but they don't always get to see inside the historical homes," Conni said. '(The Christmas Haus Tour is) just another way to share Amana's story and architecture."
The Dosers will participate in the Amana Christmas Haus Tour again this year. This time it won't be with their second-story loft but with the home next door, which they bought five years ago.
'We wanted a little bit more privacy," Conni said about the decision to move out of the loft. 'And I knew I had enough furniture to fill it."
The home, 4521 F St., was built in 1857 - only two years after Amana was founded - and was originally a communal home that housed at least two families at a time. The Dosers participated in the Christmas Haus Tour four years ago in the house.
They currently are working on renovating the kitchen, which was last renovated in the 1950s, and restoring some of the home's other features.
So far, Conni said they have used 102 gallons of paint on the home's 18-inch-thick walls in the process.
'We are trying to respect the history of the home," Conni said. 'We can't really follow history for the kitchen because kitchens weren't in communal homes, but we are trying to make it look older. When we first came in here it looked like the 1950s."
Still, Conni has opted for some updated designs and appliances in her kitchen, such as a stove, dishwasher and refrigerator. She also said they've removed the soffits from the kitchen cabinets and have gone from 16 doors to nearly double.
'I gained a lot of storage that way," she said.
The home has four bedrooms, three bathrooms, five attics and ghost cellars that were used for storage when the building also housed Amana's first brewery, which turned into a winery in 1884 because of Iowa's prohibition of beer.
Although these cellars no longer are fully accessible, Christmas Haus Tour patrons will be able to peek inside them through a 'little hole" as they tour the Dosers' festively decorated halls.
'I love history and I love the holidays," Conni said. 'I keep doing it because of I like sharing my collection and helping the arts guild."
l Comments: (319) 398-8287; alexandra.olsen@thegazette.com
This year is the Chrismas Haus Tour's 12th and features seven participating homes:
Jim and Conni Doser Haus, 4521 F St., Amana
Jeff and Deb Cecak Haus, 4411 I St., Amana
William and Kristie Yoder Haus, 2612 J St., Middle Amana
Gerald and Cherie Rieskamp 'Garden Cottage," 206-220th Trail, South Amana
Mike and Susan Shoup Haus, 47-220th Trail, South Amana
Amana Community Church Homestead, 4210 V St., Homestead
Amana Arts Guild Center 'Khristmasmarkt," 1210 G St., High Amana
If you go:
WHAT: Amana Christmas Haus Tour
WHERE: The Amana Colonies
WHEN: Saturday, December 2, from 10 a.m. to 4 p.m. and Sunday, December 3, from 1 p.m. to 5 p.m.
TICKETS: $10 per person, free for children under 12. On sale starting November 15 at the Amana Colonies Visitor's Center and at the Amana Arts Guild and also will be available at each home on the days of the event.