Home / Life
Fungus foe: Waverly woman battles Fibrosing Mediastinitis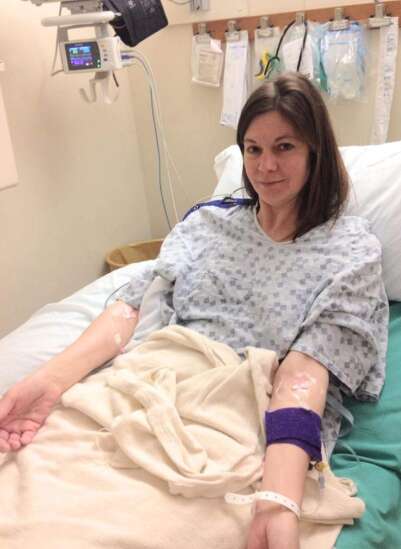 WAVERLY - When she was 27, Rebecca Lalk was told she had just 10 years to live.
The Cedar Falls-native went to the doctor in 2002 for a persistent cough and thought nothing of it until she was asked to return for additional testing.
Doctors noticed a mass on her lung and assumed cancer, she said, but the cloud on the X-ray turned out to be something much more rare: Fibrosing Mediastinitis (FM), a deadly disease that affects just five in Iowa and 600 nationwide.
The extremely rare condition results from an abnormal response to a soil-based fungus called histoplasma, which is primarily found in central and eastern states, particularly in the Ohio and Mississippi River Valleys.
Almost everyone encounters histoplasma at some point in their life, said Dr. Douglas Hornick, a University of Iowa Hospitals and Clinics (UIHC) pulmonary specialist. Some may develop a minor infection called histoplasmosis or possibly even pneumonia, but most will recover without medication or complication.
For the unfortunate few with a certain genetic predisposition, however, the infection may develop into FM.
In those individuals, the presence of histoplasma triggers the lymph nodes in the chest to expand and harden. Scar tissue continues to build for months or years until it compresses major blood vessels and airways, eventually restricting blood flow to vital organs such as the lung and heart, and inevitably leading to death.
'In a way it's like a cancer, but unlike cancer it doesn't spread to other parts of the body," Hornick said.
Also unlike cancer, he added, the progression of FM occurs very slowly over time. By the time symptoms show, it's usually too late. There is no cure or treatment, except treating symptoms as they arise.
When Lalk was diagnosed in 2002, it was too late.
Doctors warned her that over the next 10 years, she would feel like she was slowly 'suffocating to death," she said.
She was devastated, but decided that 'if they didn't know what would fix it, they weren't going to tell (her) when to die," she said.
Fourteen years later, the 41-year-old's FM has progressed to the point of crushing part of her lung and heart. A former runner, Lalk can now barely make it from one room to the other without stopping to catch her breath.
In 2007, the pressure became so bad that when she would bend over she would 'turn purple" and sometimes pass out, she said. The fibrous tissue was pushing on her superior vena cava, an artery that supplies blood to the heart.
As her FM progresses, her three specialists at UIHC, including Dr. Hornick, continue to treat her symptoms with 'creative application of interventions used in more common diseases, such as coronary heart disease," Hornick said.
These techniques, like stents - tubes placed in the artery to increase blood flow - weren't an option 15 years ago. he explained.
In the past, surgeons might have opened the chest and attempted to peel away scarred lymph nodes, but the 'sticky, cement-like" tissue was extremely difficult to remove and in many cases this technique would result in a torn vessel, killing the patient, he said. Another option involved removing the affected lung and 'hoping the patient could limp along with what's left on the other side," he said. But with new techniques, 'it seems the mortality rate is not quite as bad as it was previously."
Unfortunately, though, there's still nothing they can do to treat the source.
'We've tried a number of things to slow the build up of tissue, but we still don't have an answer," Hornick said.
And because it's such a rare condition with so few patients, each who are affected differently, it's difficult to research.
In some patients, Hornick has seen the disease 'burn out" and stop progressing. Lalk isn't so lucky, he said, but he has 'some hope" that if they 'keep one step ahead" and keep the vessels and airways open - she now has eight stents and a nebulizer to help her breathe - they'll see some of the inflammatory process 'peter out."
But, he added, he 'can't say that with confidence."
Still, despite the 10-year prognosis, Lalk is alive and optimistic.
She said it's 'easy to let it consume you," but she focuses on 'being in the moment" and living life as if she's not sick. And with her remaining time, she's focused on spreading awareness of the disease.
In 2015, she self-published her book 'I'll Take My Disease Rare, Please," which along with her blog - www.rebecca1010.com - exposes her 'most vulnerable thoughts" while battling the disease, she said.
When she's not writing, she's working part-time for Bremer County, where she lives on a cattle farm in Waverly with her husband, Tim, and four children, Skyler, 15, Nathan, 12, Leah, 5 and Asher 3.
Though there is little hope for a cure for Lalk, and even with temptation to 'give up," she continues to 'put her trust in God and keep fighting," she said. She's hopeful someday others with Fibrosing Mediastinitis will have a chance at a better prognosis.
'We're totally incapable of predicting how it's going to play out over time," Hornick said. 'That uncertainty is frustrating as well as scary... . But we have some reason to be optimistic that we can do much more than we could in the past in terms of preventing complications."