Home / Life
Explore the Hocking Hills, the foothills to the Appalachia Mountains in Ohio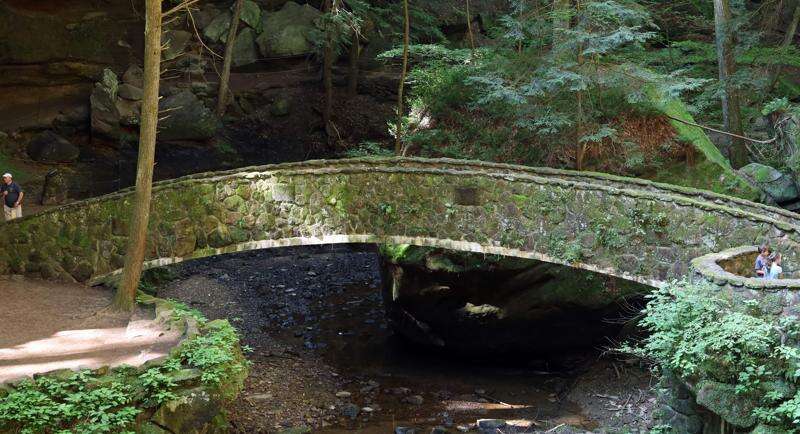 You don't have to travel to the East Coast to experience Appalachia - instead, head to the Hocking Hills in southeastern Ohio.
'A lot of people are amazed at the beauty of what we have here," said Pat Quackenbush, naturalist supervisor at Hocking Hills State Park. 'They'll be driving through the state of Ohio, thinking it's all just flat fields of corn and soybeans, and then their jaws drop when they come to the Hocking Hills."
With its roller coaster hills, dense woods, steep cliffs, rugged gorges and beautiful waterfalls, the Hocking Hills are part of the foothills of the Appalachian Mountains. Laced with meandering roads, challenging hiking trails, and scenic waterways for kayaking and canoeing, it's a great place for a socially distanced getaway in the COVID era.
The Hocking Hills, which have been a resort area since the 1870s, have unique ecological features. The landscape's deep folds create a cool, moist environment that shelters species not normally found in the Midwest.
'During the last Ice Age, the glaciers stopped just at the edge of the Hocking Hills region," said Quackenbush. 'As the ice receded, it left behind a Canadian microclimate in the deepest levels of the gorges. To this day these low-lying areas have northern tree species such as eastern hemlock, yellow and black birch, and Canada yew, plus animals that include the northern red-backed vole."
The region's geology also is unusual, with caves, sculpted cliffs and natural rock bridges created by the weathering of Blackhand sandstone.
Look closely and you can see features in the rocks such as honeycomb weathering, which is named after its resemblance to a beehive comb. In combination with forests of poplar, beech and oak on the ridge tops, as well as the Canadian species that flourish in the gorges, these dramatic outcroppings and formations make this one of the most scenic corners of the Midwest.
Thankfully, much of this remarkable landscape is protected in public land. Hocking Hills has nine state parks and nature preserves, three state forests, and a national forest, plus a section of the Buckeye Trail, the 1,444-mile hiking route that circles the state.
The crown jewel of these public lands is Hocking Hills State Park, which has 2,356 acres scattered over six sections of land. Begin your tour by hiking to Old Man's Cave, which takes its name from Richard Rowe, a hermit who in the early 1800s made his home here. A well-designed trail leads ever deeper into gorges overhung by moss and ferns, leading at last to a rock shelter overlooking the valley floor. Shafts of sunlight pierce through the thick canopy of trees, creating magical vistas that shift with every turn of the path.
Another must-see spot is Cedar Falls, one of the largest waterfalls in the region. The name is misleading because it's actually hemlocks, not cedars, that dominate the landscape here. You can either hike or drive to Cedar Falls, which is one of the most photographed sites in Ohio.
Even more beautiful is Ash Cave, a huge opening in a multicolored rock face that measures nearly 100 feet in height and 700 feet from end to end. Its name comes from the ash that covered its floor when European settlers first saw the cave in the early 1800s, an indication that this had been a well-used gathering place for the native peoples of the region.
Ash Cave continued to be a site for public gatherings during the next century because of its fine acoustics.
Venturing farther afield, Hocking Hills State Park has more than 30 miles of trails that range from challenging hiking treks to stroller- and wheelchair-friendly sidewalks. Its most popular paths have recently been converted to one-way routes to comply with COVID safety precautions.
'We've actually been wanting to make these trails one-way for years, because it's better for the ecology of high-use areas not to have two-way foot traffic," said Quackenbush. 'So we welcomed the chance to help people comply with social distancing requirements while better protecting the park. We've had great compliance, too, with nearly everyone following the guidelines."
The Hocking Hills region offers a wide variety of other outdoor activities. Adventure lovers will enjoy climbing and repelling on the area's rugged rock formations. Two zip line companies offer guests the chance to soar through the tree canopy, while several stables make it easy to enjoy the beauty of the landscape from the back of a horse.
Water sports are another popular option here. Lake Hope and Lake Logan State Parks have boat launches and rentals, and the Hocking River has outfitters that run canoe, kayak, rafting and tubing trips of varying lengths.
After dark, you can visit the John Glenn Astronomy Park, which is named after the famous astronaut and senator who was born in Ohio in 1921. To continue his legacy, astronomy enthusiasts built a public stargazing area in a sparsely populated part of the Hocking Hills with little light pollution. While the park's public programs are temporarily suspended because of COVID, visitors are welcome to come to this remote spot to search the night skies with their own equipment.
Wherever you wander in the Hocking Hills, you're likely to have a rejuvenating retreat from your everyday routines.
If you go
The Hocking Hills are located 50 miles southeast of Columbus, Ohio. Hocking Hills State Park has rental cottages and campgrounds. Other lodging options include Cabins by the Caves, which has nearly 50 properties set in secluded individual locations.
Dining options include the Inn and Spa at Cedar Falls and Rhapsody. For a special treat, hire the services of J.M. Matos, a native of France who runs Table1 (Table1Lancaster@gmail.com), a gourmet catering company. Matos can set up a socially distanced feast for you and your travel companions at your lodging.
For more information on the Hocking Hills region, contact ExploreHockingHills.com or 1-(800) 462-5464.