Home / Life
Ernie Buresh: Longtime banker reflects on a lucky life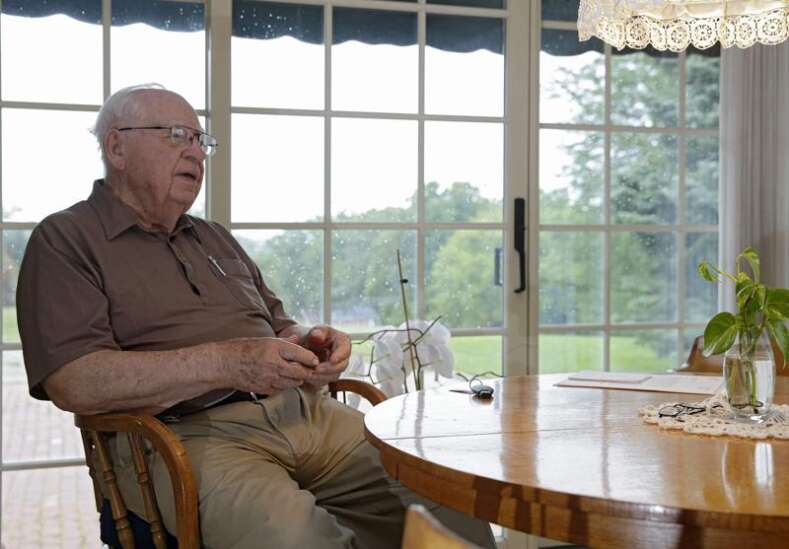 With Ernie Buresh, what you see is what you get.
'I'm just Ernie," says the longtime banker and author of a new memoir, 'The Advantage of Being Born Poor."
'I think I've had a really good life, a simple life," Buresh says.
It's also been a successful life, one filled with friends and generosity. Buresh and his wife, Joanne, have given millions to the organizations close to their hearts - the Jones County Regional Medical Center, the University of Iowa, the National Czech & Slovak Museum & Library, the public libraries in Anamosa and Springville, and more.
'My mother always said that anything you give away comes back to you twice or more," he says. 'She was always doing something for somebody."
Buresh, 88, grew up on a farm near the hamlet of Western, south of Cedar Rapids, during the Great Depression. His homemade overalls were odd, lacking the brass buttons on the other kids' clothes. His shoes were secondhand, and his mother stuffed cardboard inside them to make the soles last a bit longer. He still remembers his first new pair of brown corduroy pants - he felt taller, thought he could run faster - and he also recalls the day he ripped them on a fence.
After high school and a couple of years in the Army, Buresh earned a degree in agricultural engineering at Iowa State University. He'd wanted to be an architect, but that was a five-year program; he barely had the savings for a four-year degree.
He met Joanne and, when her father, a banker, offered them $1,000 cash if they skipped a big wedding, they both quickly accepted - the first of many practical, penny-wise decisions they would make during their lives.
They found a book about building a house for less than $3,500. They built it, in stages as they could afford it, on land in Swisher. They started Swisher Farm Supply, a feed business, in their basement, which it quickly outgrew, and they moved the business to town.
Buresh was 28 when he decided to go to law school at the University of Iowa. This was at the same time he was building a house, growing a business and starting a family. He was on the Swisher school board and then served one term as Swisher mayor. He earned his law degree … but never practiced law.
'I had a craving to own a bank," he says. 'I had observed how that, when you go to bed at night, the clock keeps ticking away, and the bank earns interest. If you own the bank, it's your interest that's growing.
'I was ambitious," he adds. 'And I had common sense, which to me meant being practical, to stop and think about what you're doing. It's training yourself to know the difference between needs and wants. It is having the right attitude."
Eventually, Buresh would own, during his 52-year banking career, banks in Cedar Rapids, Martelle, Anamosa, Springville, Onslow, Tipton and Shueyville.
Luck played a role in his success, he allows.
He laughs as he recalls the time he bought a 118-acre farm west of Shueyville. He borrowed $11,000 to buy it, despite his father-in-law's misgivings. Three years later, the state paid him $12,000 for 11 acres it needed for Interstate 380. The Bureshes paid off their loan and made a $1,000 profit. They still own the farm.
When Buresh decided to go into banking, he and Joanne sold the home they'd built in Shueyville for more money than they paid for a 'bigger, better home" in Anamosa. Though Buresh would borrow - and pay back - millions over the years to finance his bank purchases, he and Joanne never had a home mortgage.
'Like I said, lucky," he says.
To be truthful, I always felt inferior growing up," he adds. 'I thought everyone was much smarter than I was, that everyone had more talent than I ever dreamed of having. As a poor farm kid, I was isolated and didn't have friends. Now, I have so many good friends. It's not what I've done, it's what people have helped me do."
And, if you're lucky, you also keep your sense of humor, he says. 'There's nothing worse than dealing with someone who's grumpy," he notes.
An example: When Buresh had hip replacement surgery earlier this year, he met the surgeon, who'd once had a loan at one of Buresh's banks. 'I told him, now don't look at this as an opportunity to get even for the interest rate I had to charge you. The doctor laughed and told me I was always fair.
'That was the best compliment," he says. 'That was always my goal - to be fair."