Home / Life
Cottage-in-the-Meadow Gardens highlights old and new plants alike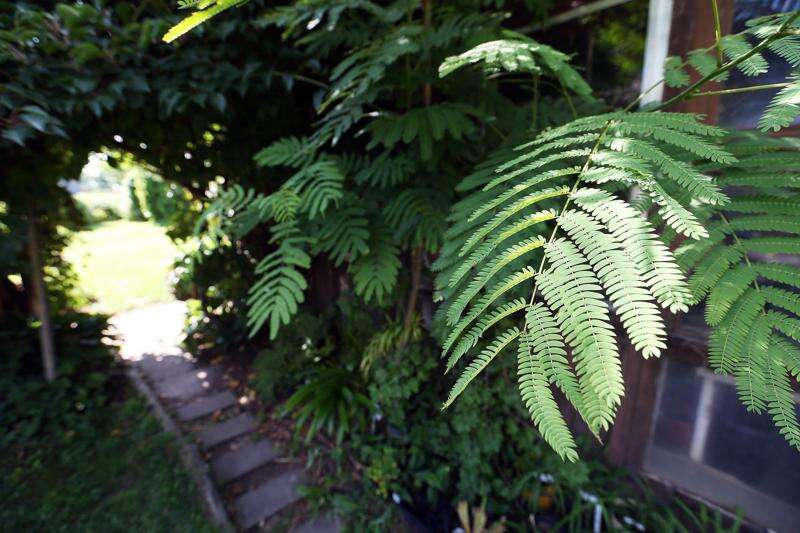 Larry and Wilma Rettig don't agree on how to spell all the features in their garden - she is from South Amana and he is from Middle Amana, and the 'Amana German" spellings from different villages don't always match up.
But one thing they do agree on is the importance of preserving the heritage seeds first brought to Iowa by their German ancestors. That's why after Wilma's mother, Carrie Shoup, died, the couple kept her garden growing, tending rows of vegetables like Amana radish (with which they share a name - Rettig), Ebenezer onions named for the New York town Amana's religious settlers first moved to before coming to Iowa, and salsify, a black-rooted vegetable still popular in German gardens today.
The Rettigs care for these plants and maintain a heritage seed bank, with seeds available to order. In 2005, they were listed in the Smithsonian Institution's Archives of American Gardens, and in 2013 they published a book, 'Gardening the Amana Way."
Their garden, which they call Cottage-in-the-Meadow Gardens, is open for tours by appointment and will be featured on the July 29 'Colonies in Bloom" garden tour in Amana. In addition to the official tour date, gardeners on the tour put German and American flags by their front gates to let visitors know when they are welcome to take a stroll in the gardens throughout the summer.
Many of the Amana plant varieties they cultivate are dying out, Wilma said, but she hopes their seed bank helps keep the plants - and the culinary traditions that go with them - alive.
'It's something special that we can do, and we're able to do it. In fact, it's a privilege to be able to do it," she said.
She was born and raised in the South Amana brick house she and Larry live in now. They moved around the country and the world before returning to Amana in 1977 and moving into her childhood home, where her mother also grew up.
Even though maintaining the garden is a lot of work, Wilma said she doesn't mind.
'It's good therapy, and it's healthy. There's nothing like eating a fresh tomato and putting a pot of water on to boil while you walk outside to pick a fresh ear of corn," she said. 'I feel sorry for the city people who can't have their own gardens."
Amana heirloom plants aren't the only thing they grow on the small plot of land around their house. After retiring from a career in academia, Larry turned his attention to horticulture. Walking through his extensive flower beds and around gnarled trees, he spouts off a constant flow of lore and stories for each plant, from bright red poppies grown from seeds brought back by Amana's World War I veterans to an apple tree allegedly descended from a tree planted by Johnny Appleseed to rare pink star-shaped wild petunias from Brazil. Some of his plants he imported from South America or Asia, others he carefully cultivated from seeds, and others were gifts from friends. A bed of ivy growing around the back of the house was cultivated from a sprig from Wilma's wedding bouquet.
He got into gardening at a young age - when he was 14, a neighbor showed him how to graft a peach tree.
'I thought it was an absolute miracle," he said.
Then when he was 15 he ordered a lemon tree by mail from a coupon in a comic book. He still has that tree today, and in the intervening decades has greatly expanded his gardening repertoire. These days, much of his focus is on daylilies and creating hybrid strains of lilies. He grows over 375 varieties and ships them around the country.
'I like to create," he said. 'A garden is really like doing a painting - you're working with color, with composition."
l Comments: (319) 398-8434; alison.gowans@thegazette.com
If you go
l What: Colonies in Bloom
l When: 9 a.m. to 5 p.m. July 29
l Where: Pick up a map of gardens on the tour at the Amana Colonies Visitors Center, 622 46th Ave., Amana
l More information: (319) 622-7624, amanacolonies.com
l What: Cottage-in-the-Meadow-Gardens
l When: By appointment
l Where: 306 Highway 220 Trail, South Amana
l More information: (319) 622-3800, cottageinthemeadow.plantfans.com