Home / Life
Assembling an artful home in Cedar Rapids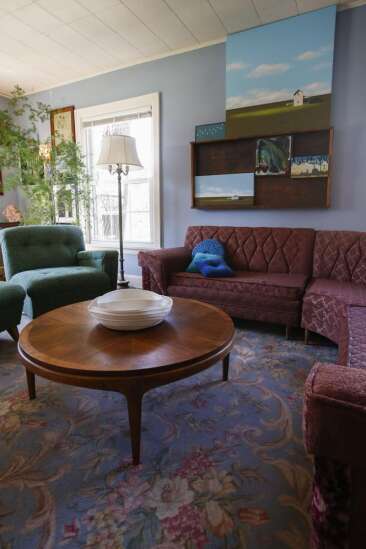 Deb Bailey would not call herself an artist.
But her home on Cedar Rapids' southeast side, near Washington High School, reveals her to be a true art aficionado.
'I'm not an artist, but I can assemble things," she said of the art displayed in her home. 'I love having what artists create as my own raw material."
Bailey's home - which she shares with her husband, Al Lewis, and their two cats: Mrs. Funk, 'the good one" and Scout, 'the bad one" - features wall after wall of art (small and large) displayed in, well, artful arrangements.
Bailey, who has worked as the director of the Marion Arts Festival for the past 14 years, said the house was destined to be a gallery of sorts.
'This place started filling with art almost from the get go," she said. 'And Al and I are near equal participants in the selection of the art."
They are a couple who see a lot of art, between the Marion Arts Festival, their travels to other Midwest art shows and their adventures around the world, thanks to Lewis' travel for work.
'We started amassing enough art that we found in order for it to live here, it needed to have a relationship with the other pieces in our home," said Bailey. She said that after realizing much of the art they'd purchased had the same colors or intensity, the arrangements started coming together.
'I played around with the art until the pieces had a physical relationship," she said. 'They don't necessarily mean anything to each other, but they have to live next to each other. And, sometimes, if you are lucky, it matches the couch."
Not surprisingly, many local artists have pieces adorning the walls of the Bailey-Lewis home, everyone from Priscilla Steele, Julie Kottal, Nancy Lindsay and Mel Andringa to Mary Zeran, Richard Pinney, Jane Gilmor and even Grant Wood.
'It's a privilege and so unexpected to have these relationships (with these artists) and gain this appreciation; to be living with these artists' works," Bailey said.
And the pieces they've purchased while abroad - from China, the Czech Republic, Switzerland, Italy and more - are great reminders of their travels, Bailey said. 'If I didn't look at the art every day, I'd be taking for granted that I'd been there."
One might have suspected an artful interior of this particular home upon reaching the front yard, bespeckled by outdoor sculptures. Plus, the purple front door boasts a large, distinctive clock.
'Sometimes I forget to spring forward or fall back and then people in the neighborhood are late to church," Bailey said. 'It's a grave responsibility to keep the time correct on your front door."
The couple - not the DIY type, Bailey said - moved into the home almost 15 years ago and quite literally settled right in.
'We walked in and said, 'We love these colors,' " she said, motioning to the walls. 'We took it on faith that we'd like the rest of the house. And we still haven't repainted any of the rooms."
They have, however, endowed each room with its own personality beyond the ever intriguing art that adorns their walls.
The living room - with its modern sofa that begs guests to come in and have a drink - is arguably Bailey's favorite room in the house.
'I waited years for that couch to come into my life," she said, lovingly referring to it as her 'grandmother's couch." Bailey said she and Lewis got it and a number of other pieces in their house, including their stereo radio and small Formica kitchen table, at Mad Modern in the NewBo neighborhood. An old bench from CSPS lines the front wall, adding more 'historic" seating to the room.
'We are very lucky to have a room that is for sharing companionship," said Bailey of the living room. 'There is no TV in here and that frees up space to read and enjoy each other's company. That seems like the life this house wanted to live. These 1930s-style homes facilitate just being."
The kitchen, which Bailey said 'is the size of two postage stamps," has an eclectic flair all its own and couldn't be more perfect for the house. Bailey also points out her collection of spices (some acquired on their many travels) that live on a rack above the stove.
The home is one of several other collections, too - from clocks and barkcloth rugs (stacked in an artful arrangement to cover the hardwood floors of each room) to art deco vases. 'These collections start happening, with just a couple. Then you start looking for them and before you know it, you have too many."
Other pieces in the home, like the couch in the family room that has '1894" branded into the bottom of it, seem to have stories all their own.
'Everything here was previously loved. And therefore nothing matches," said Bailey, noting that she's not sure they are pulling off the eclectic look.
The fun, quirky finds sprinkled through the home definitely help. There's a 'gift dept." lighted sign hanging in the kitchen and an 'elevators" sign posted at the foot of the stairs, for example. Bailey said she found them at a sale when Armstrong's Department Store closed in downtown Cedar Rapids.
At the back of the house is a little room used as a library (as evidenced by books lining the walls), dining room and day-to-day office space for Bailey.
'These are the walls I want to look at while I work," she said.
That work is pulling together the Marion Arts Festival each year. With this year's event May 21, Bailey can't help but reflect on the similarities between the festival and her home.
'One of the things I love about the festival is how accessible it is ... that you can walk into a park and walk out with a piece of art," she said. 'This house is about the art. But it's a very regular house with no sweeping architectural details. Any house can do this, whether you live with a lot of art or a little. We chose this house and this art and found a way to live with it. I couldn't have known all those years ago that it was going to work out this way, but I'm glad it did."