Home
Brad Banks' perfect day
No. 6 Iowa 62, Northwestern 10 | Nov. 9, 2002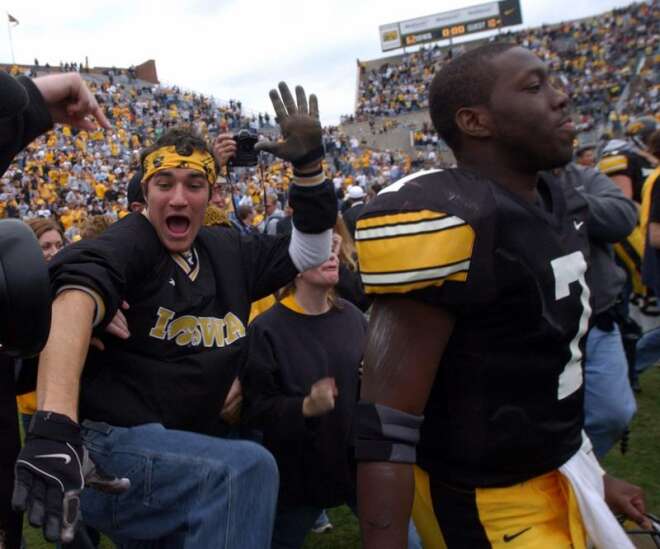 Three cool things
:
1. In this game, Brad Banks completed 10 of 10 for 197 yards, three touchdowns and no picks. That's a pass efficiency of 364.48.
And before you can tweet it, yes, that is good.
Let's give this the oral history treatment.
Here was then Northwestern coach Randy Walker: 'I've said all along that I've not seen a player come into his senior year and have such a great season. He throws the ball well and makes very good decisions.'
Kirk Ferentz? From my point of view, I don't think he's ever been happier or more proud of a player. Banks was the perfect QB in his season as Iowa's starter. He did what Walker said, exactly that.
'One of the greatest quotes I've ever heard is 'Your actions speak so loudly I can't hear what you're saying,'' Ferentz said. 'All you have to do is look out there and see what Brad's done for us on the football field, week in and week out.
'I don't think it's coincidental. We've kind of gone right along with him.'
Iowa WR C.J. Jones is Banks' cousin. Following their genuine reactions to the wild numbers and the great things the Hawkeyes did that season was a lot of fun. Every time they talked, it was opening Christmas presents for everyone.
'What'd he have today? Five touchdowns?' Jones said. 'What was he, something like 10-for-10? You can't do any better than that. He's the Heisman winner in my mind, for sure. And in a lot of people's minds. They wouldn't be chanting 'Heisman' out there for nothing.'
You guys did chant 'Heisman.' I heard it. Some of you dressed like the Heisman Trophy. I saw that, too.
2. Banks always rolled his eyes at Heisman talk. I'd say that was the Iowa programming at work, but no, Banks is really that good of a guy.
I hate telling the part of the story where the parents can only make it to the one game. In a perfect world, you know, every parent would be able to see their kids play. I know that's not realistic.
Banks' folks, Charles and Vida, did see their son go 10-for-10 in I think it was just more than three quarters. It was their first game.
Charles Banks wasn't too keen on flying.
'He said for him to get on a plane, I must be doing something,' Banks joked. 'I asked him how the plane ride was and he almost punched me in the face.'
3. Banks became Iowa's first player to win the Big Ten weekly offensive honor three times in one season. WR Tim Dwight earned special teams player of the week honors three times and offensive player once during the 1997 season.
Quote: Yes, Iowa did some scoreboard watching. This was as close as Ohio State came to losing in 2002 (10-6 vs. Purdue). I think Iowa would've beaten OSU in a title game, but the Big Ten didn't have that yet. Other than that, I think things turned out about how they should've.
The BCS actually showed Iowa more respect by matching it with USC in the Orange Bowl. But yeah, Iowa would've destroyed Washington State in the Rose Bowl. That would've been a nice thing to have (but on the other hand, it's probably time for Big Ten people to examine their blind allegiance to the Rose Bowl, as far as defining megasuccessful seasons).
Note: Banks and Nathan Chandler set an Iowa record and tied a Big Ten Conference record for completion percentage in a single game. Banks and Chandler combined for a 100-percent completion rate (12-12, 230 yards) to break the previous Hawkeye record of .929 (13-14, 206 yards) set vs. Minnesota on Nov. 17, 2001.
The duo tied the Big Ten record set by Ohio State (8-8, 117 yards), however Iowa did have more attempts.
Why No. 76? — It was 62-10 and it wasn't that close.
IOWA CITY — At 1:39 p.m. Saturday afternoon, the score flashed across the Kinnick Stadium scoreboard.
The players will tell you they're totally into the game. That's just basic player programming. But the field was nearly empty when the crowd let out a loud cheer when the scoreboard showed: Purdue 6, Ohio State 3.
'There was absolutely nothing going on on the field at that particular moment, and then everyone starts cheering,' center Bruce Nelson said. 'We look up and see the board.'
Hey, they're human, OK.
The No. 6 Hawkeyes (10-1, 7-0 Big Ten) had Northwestern squished at that point in their 62-10 victory.
So, naturally, thoughts drifted to what was going on with the Buckeyes, who went into Saturday's game at Purdue with a 5-0 mark in the Big Ten and holding the best overall record tiebreaker over Iowa for the automatic bid to the Rose Bowl.
'Once we were up by a lot there in the third and fourth, we were all looking up Ohio State,' defensive end Matt Roth said. 'I wish they would've lost, but they came through.'
At 1:48, the final flashed, Ohio State 10, Purdue 6. Ohio State quarterback Craig Krenzel threw a 37-yard TD pass to Michael Jenkins on a fourth-and-1 play with 1:36 remaining.
The Kinnick crowd reacted. So did the Hawkeyes, just not the way you'd think.
Instead of gnashing their teeth and calling for a title game — and they could have, by the way, but Big Ten commissioner Jim Delaney left the Kinnick press box at halftime — they pointed to next week's season finale at Minnesota and the big picture.
'I don't think we're worried about the Rose Bowl,' senior defensive tackle Colin Cole said. 'We're thinking about the Big Ten championship, really. That's what's on our minds right now.
'We want that ring, and then, whatever bowl we go to, we'll be satisfied with that.'
If the Kinnick crowd would've hung out until around 6 p.m. or so, they would've seen something that made them happy on the scoreboard.
Texas A&M 30, No. 1 Oklahoma 26.
So, now, with Oklahoma out, No. 2 Ohio State is in line for a spot in the national title game opposite No. 1 Miami in the Fiesta Bowl. That could give Iowa the Rose Bowl bid, or maybe not, because the Rose, with the Big Ten champion in the title game, could pass on the next Big Ten team.
Head spinning? Here's all you really need to know: Iowa goes into the Metrodome next Saturday with a chance at its first perfect Big Ten season since 1922.
'The Big Ten title is what we really want right now,' Cole said. 'Nobody on this team can say they've won a Big Ten title.'
That, more than the Rose Bowl and Ohio State, is what's on their minds.
'We don't really talk about those things,' Iowa Coach Kirk Ferentz said. 'You might think I'm lying, but I really am not concerned about what happens with Ohio State.
'All I know, if we play week in, week out like we're supposed to, if we prepare week in, week out like we're supposed to, what else can you do?'
A victory would put Iowa 8-0 in the Big Ten for the first time and ensure the Hawkeyes, who moved up to No. 5 in the USA Today/ESPN coaches poll, of at least a tie for the conference championship.
Coming off a 41-24 loss to Michigan, the Golden Gophers (7-3, 3-3 Big Ten) have lost two straight after starting the season 7-1. They're bowl-bound, but they're also hungry for a quality win.
'If we do what we're supposed to do next weekend and they (Ohio State) do whatever they do, we'll be happy with where we go,' Nelson said. 'The title is our goal. We set out to win the Big Ten.
'You can't control other teams. You can't control what they do. You just have to look at it as we did our job.'
Still, in the Big Ten title derby, the Hawkeyes find themselves in the strange position of cheering for Illinois QB Jon Beutjer, who transferred from Iowa last season after an off-field incident and a failed bid for No. 1 quarterback.
Beutjer and Illinois host the Buckeyes next week.
Beutjer completed 22 of 34 passes for 319 yards with four TDs and three interceptions in Illinois' 37-20 blowout of Wisconsin.
'Go Beuty,' Iowa quarterback Brad Banks said. 'I wish I could talk to him, tell him he's bounced back and done a good job.'
Ironically, Banks took Beutjer's playing time before he left and his No. 7 jersey after he left.
Irony can be pretty ironic sometimes.